Ninety Percent of Everything: a Look Inside Shipping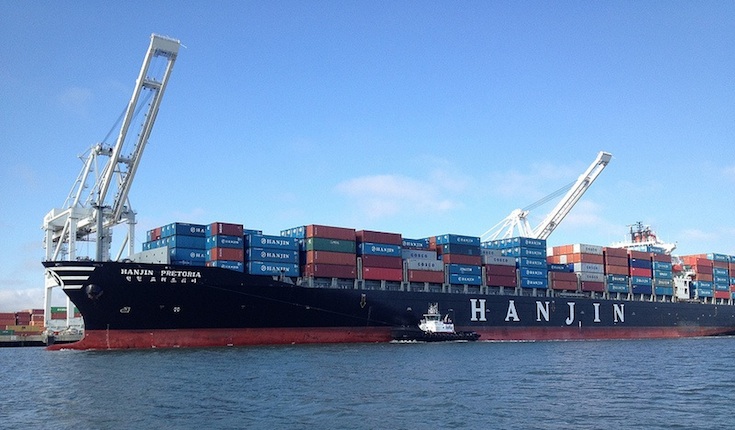 Rose George's recent book, "Ninety Percent of Everything," offers an outsider's look inside an immensely important, but remarkably obscure industry. George is a stranger on a strange sea, but she is able to enter deeply into the world of the shipping industry in a short time.
Her writing is clear, elegant and direct, making even discussions of shipping's many acronyms and abbreviations—TEUs, UNCLOS, IMO, MARPOL, ECDIS—compelling.
George brings the personal into a world that has grown ever more distant and impersonal. She gains her entry into the closed world of shipping by traveling as a "supernumerary," a working guest (her book is the work) on the Maersk Kendal.
She also joins a European Union Naval Force vessel, the Vasco de Gama, to see firsthand the international efforts to combat piracy off the coast of Somalia in the Gulf of Aden.
On occasion, as with her discussions of piracy, her storytelling becomes almost too personal, and her viewpoint and prejudices become distractions. For the most part, however, her stories bring us to the ocean and remind us that there are people behind the clothes we wear, the food we eat, the computers we rely on—behind 90 percent of everything.
Shipping has transformed radically in the last half century. Ships have become bigger, crews have become smaller and more international, and containers have replaced "breakbulk" shipments, where goods were packed and unloaded singly, in barrels, bags and boxes.
The increasing automation has led to a faster and more solitary lifestyle, and George conveys the changes with clarity and compassion. She describes the dangers, the loneliness, the hardships and the economic struggles of officers and crew alike in a way that draws the reader in and lets us see the hardships behind international trade.
George also devotes a chapter to the hardships shipping can cause on non-humans, particularly whales. There is the obvious danger of ship strikes (although it is not always obvious to the ships, which are so big that they often do not notice if they strike an animal).
There is also the more pervasive problem of noise pollution: With more and more ships, the ocean is becoming increasingly noisy. As George says, "Sound means life for aquatic animals. And now, because of us, it can mean death."
Both of these problems have some partial fixes. To avoid ship strikes, shifting routes and slowing down can help—and new technology can help captains know where whales are and avoid them. Slower speeds and more efficient propellers, which are quieter, can cut down on noise.
In modern shipping, automation and containers have driven up loading and unloading speeds, meaning that port visits are so short that there is practically no time to leave the ship and see the sights that were historically such a compelling draw for young sailors. Shipping is a difficult, dangerous business.
Despite all this, the sea still has a draw—in some cases, economic, but also more viscerally. George does a remarkable job of translating this ineffable pull by bringing us into the lives of the people she meets and the places she travels.
"Ninety Percent of Everything" combines history, technical information, personal travel stories and mini-biographies into a highly readable and informative book.