High Tide on the Hill: Stakeholders Ask Congress for Funding to Prepare for a Changing Ocean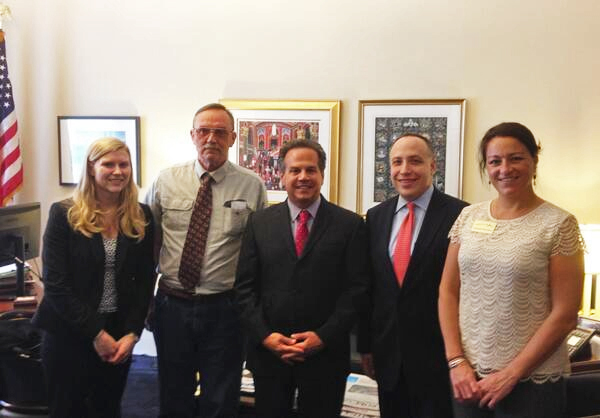 Last week, I wrote about the benefits of coastal and marine spatial planning, or smart ocean planning. To make smart ocean planning work, decision-makers need accurate data on all the ways the ocean is used. Regional Ocean Partnerships coordinate with stakeholders and officials to collect this data. The Northeast, Mid-Atlantic, and West Coast regions have already made this data publicly available through data portals.
The ocean economy supported over 2.6 million jobs and contributed $223 billion annually to the U.S. GDP in 2009. However, billions of dollars are lost every year as a result of changing ocean conditions, extreme weather events, and climate hazards that impact the many sectors of the ocean economy. Fortunately, the data that Regional Ocean Partnerships collect and share can be used by decision-makers to make smart planning decisions that promote the resiliency of coastal communities to these threats.
Congress will soon begin negotiations on the FY15 budget bill, and that's why we're asking legislators to appropriate $10 million to Regional Coastal Resilience Grants. These grants can be used to support the Regional Ocean Partnerships. With so much relying on our ocean economy and so much to be gained by preparing for coastal threats, $10 million for Regional Coastal Resilience Grants is an incredibly reasonable investment in our ocean future.
So, last week, Ocean Conservancy brought some of the stakeholders that represent our ocean economy to Washington, D.C. to talk to their Congressional members about funding Regional Ocean Partnerships. From offshore wind developers to fishermen, stakeholders already know how critical smart ocean planning and Regional Ocean Partnerships are to our ocean future.  Above is an awesome picture from one of our many great meetings – this is Representative David Cicilline of Rhode Island with Bill McElroy of the Rhode Island Lobstermen's Association, Deepwater Wind CEO Jeff Grybowski, Sailors for the Sea's Heather Ruhsam and Ocean Conservancy's own Christine Hopper. Thanks for making Regional Ocean Partnerships a priority, Representative Cicilline!
How you can help
Are you one of the hundreds of millions of people that use our oceans, coasts, and Great Lakes? Whether you depend on the water for your livelihood or your leisure, you deserve a stake in our ocean future. If you're interested in keeping informed on smart ocean planning and how you can get involved, please contact Jayni Rasmussen at  [email protected] with your name, your location, and why the oceans, coasts, and Great Lakes matter to you.