Keep Boating Practices Shipshape with Good Mate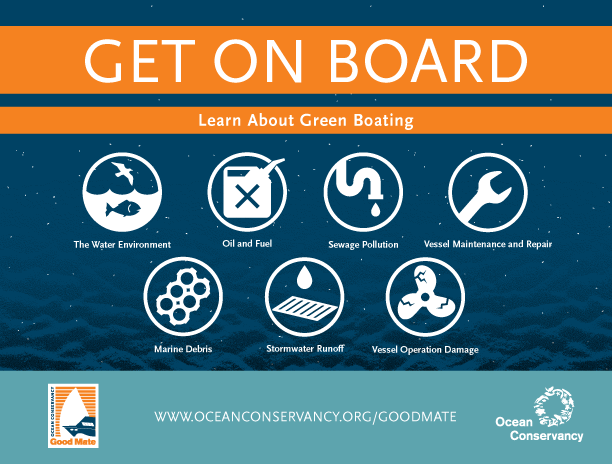 As much of the country shakes off the cold of winter, newly budding trees, blooming flowers and balmy temperatures all signal spring's imminent arrival. The warmer weather also means that boating season is right around the corner.
Just in time, Ocean Conservancy has released its updated Good Mate Manual for green boating. So, while you're getting your vessel shipshape for its return to the water, take a moment to ensure that your boating practices are in good order as well.
Boaters and marinas are in unique positions to stop trash and other pollution from entering the water. The Good Mate program offers informative and useful tips to help these important user groups be leaders in water protection.
The Good Mate Manual covers six key areas related to boating: oil and fuel, sewage pollution, vessel maintenance and repair, marine debris, stormwater runoff, and vessel operation. And it offers simple, sensible steps that boaters and marina staff can take to develop best boating practices.
You don't have to wait for the final spring thaw to start incorporating these environmentally friendly management strategies into your operations. Here are five easy ways boaters can protect our ocean and waterways, starting today:
1. Be a leader in your community.
Talk about marine litter prevention with members of your boating community, from your neighbor in the next slip to boating clubs and marina managers.
2. Offer your time.
Volunteer in boat and marina cleanup programs, especially at sites only accessible by boat. And participate in Ocean Conservancy's annual International Coastal Cleanup, the largest volunteer effort of its kind for the ocean.
3. Be prepared for accidents.
Accidents happen. Be prepared with absorbent pads to clean oil or fuel spills. Dish soap doesn't work. It just causes those liquids to sink and contaminate the bottom.
4. Take it all back to shore.
Don't allow cigarette butts to go overboard; small but significant, they are the most prevalent marine litter item found during the International Coastal Cleanup. Dispose of them properly onshore.
5. Set the pace.
Recycle everything you can, from beverage containers to propeller-snarling fishing line or plastic bags.
For more in-depth information on how to practice green boating, visit www.oceanconservancy.org/goodmate.