Communities Come Together to Restore the Gulf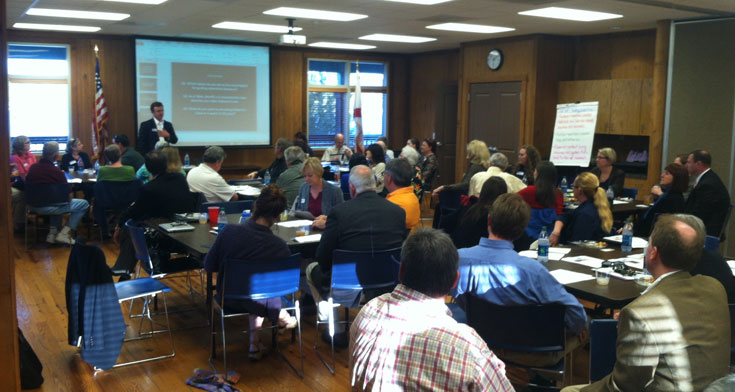 Great things happen when people come together and collaborate on a shared vision, especially when that shared vision is a healthier Gulf of Mexico. This notion rang true at a series of workshops Ocean Conservancy helped to coordinate in Mobile and Baldwin counties on the Alabama Gulf Coast. These "Community Conversations" were an opportunity to share information with and collect ideas from residents and business owners about the National Fish and Wildlife Foundation's (NFWF) Gulf Environmental Benefit Fund.
As you might remember, NFWF established this fund with $2.544 billion from a settlement resolving the criminal cases against BP and Transocean as a result of the BP Deepwater Horizon oil disaster. Alabama will receive $356 million over the next five years to fund projects that benefit Alabama's coastal and marine wildlife and habitats. Last fall, 22 projects were selected to restore and protect our natural resources around the Gulf Coast. Alabama received $12.6 million for three projects, which will restore oyster reefs and watersheds around Mobile Bay.
As NFWF begins to look toward the next phase of funding, it is important that communities begin to think about their priorities for restoring the natural resources in the coastal and marine environments.
Providing a forum and an opportunity for a conversation about community restoration priorities, the workshops proved to be a great success, with a total of nearly 100 people in attendance. Not only did residents have the opportunity to share their ideas for Gulf restoration with their neighbors, but the director of the Gulf Environmental Benefit Fund for Alabama, Florida and Mississippi was on hand to give more information about the purpose of the fund and the process of soliciting and selecting project proposals. Officials from the Alabama Department of Conservation and Natural Resources, as well as local elected officials, were also there to hear what folks had to say. The most valuable part of these workshops was the hour spent in small groups with community members talking about restoration priorities and activities needed in their communities.
Those who attended identified their top priorities for restoration in Alabama, including improving water quality and restoring estuaries, rivers, streams, wetlands, marshes and oyster reefs. Many people expressed a need for better public access to beaches and water. It was clear that their vision for Alabama focused on investments in sustainable, resilient environments and economies; a sustainable fishing industry; clean waters, bays and estuaries; and a good quality of life for all people living on the coast.
The feedback from these community conversations will be compiled into a report to be given to restoration authorities, including NFWF and state agencies, to inform their decision-making. Meaningful public engagement is critical to the success of restoration in the Gulf, and Ocean Conservancy is proud to help our local leaders in that effort.
For more information about Gulf restoration through the National Fish and Wildlife Foundation, check out our .