Implementing Solutions in our "Plasticene Epoch"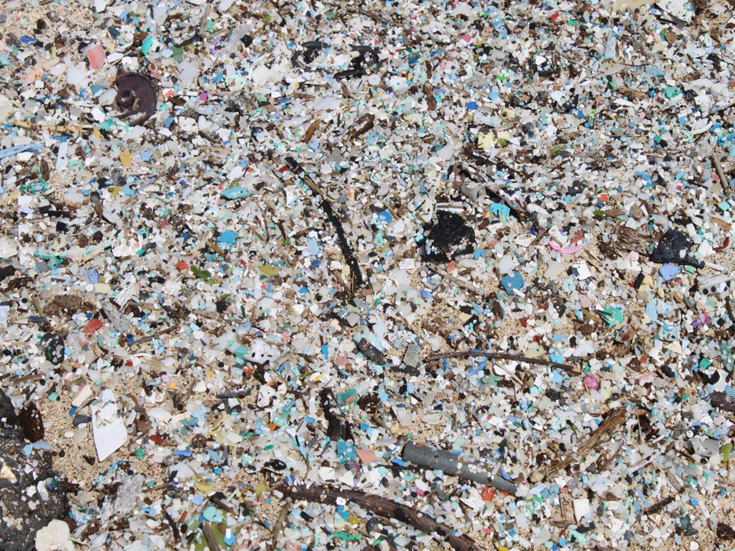 Plastics are everywhere. And by that I don't just mean in the physical sense, but also in terms of the media. Everywhere I look lately newspaper and blog headlines are focused on the increased pervasiveness of plastic pollution in our ocean.
In the New York Times' Sunday Review, the Editorial Board highlighted the plasticization that's taking place "From Beach to Ocean" around the world. Their focus was Kamilo Point, Hawaii. For the past decade, the Hawaii Wildlife Fund has worked tirelessly to keep Kamilo clean from the onslaught of plastic pollution that washes ashore daily by removing almost 350,000 pounds of debris. I've had the personal (mis)fortune of working at Kamilo and in some places I measured plastics densities upwards of 84,000 pieces per square meter of beach. These plastics are not in the form of bottles or caps or bags but rather the fragmented, millimeter-sized version of their original consumer product form. And on a nearby beach at Kamilo, geologists have identified a new kind of plastic-infused rock that will NEVER break down.

It's not just about the beaches of Hawaii though. Scientists participating in a NCEAS Working Group, sponsored by Ocean Conservancy, reported to National Geographic that "…we're going to have millions of tons of plastic going into the ocean."  And we know the pathway to harm associated with plastics is very real:  plastics enter the ocean, marine wildlife ingests or becomes entangled in these plastics, and then many of these animals suffer mortality due to either the physical or toxicological effect of these interactions. The only question remaining is how big of impact are these plastics having and should we, as humans, be worried about the threat of these plastics via seafood on our dinner plate? Personally, I'm concerned.
News reports have focused on solutions too. Concepts of an ocean cleanup solution have captivated the public and media alike while Baltimore's Water Wheel is seeking to keep trash from ever reaching the ocean in the first place. Waste management expert, Ted Siegler, told National Geographic that abating ocean plastic pollution is largely a problem of insufficient infrastructure. "In many ways, this is really simple. This is putting trucks on the road and picking up the garbage and bringing it to a proper place…But none of that is occurring in almost all of the places that I've been working in the last 20 years." We agree strongly with Mr. Siegler's perspective on the issue.
Cleanups are an important part of the solution, but we believe that in order to truly stop the plastics crisis from progressing, we must stop plastics from reaching the ocean in the first place. This is not a vote against the longer term re-think that needs to happen in terms of a circular economy or regenerative consumption, but it is a way to stop the avalanche of plastics from doing very serious and systemic damage in the decade (or two) to come. This means looking to developing nations where increasing populations and affluence are fueling a desire for the single use disposable plastics that have been a part of our society for decades, but where even the most basic of waste management infrastructure does not yet exist. Doing so will require working with the most capable and sophisticated corporations on this planet to partner with governments to remedy these basic waste management needs.
I encourage everyone to tune in today and tomorrow for the Our Ocean Conference hosted by Secretary of State, John Kerry. Our CEO, Andreas Merkl, will present our long term plan to stem the tide of ocean plastics and asking the many governments, industry members and leading NGOs in the room to join us in this endeavor. We must embrace a shared responsibility to manage the world's waste. If we don't, the oceans will continue to suffer.