Sea Star Epidemic Plagues Oregon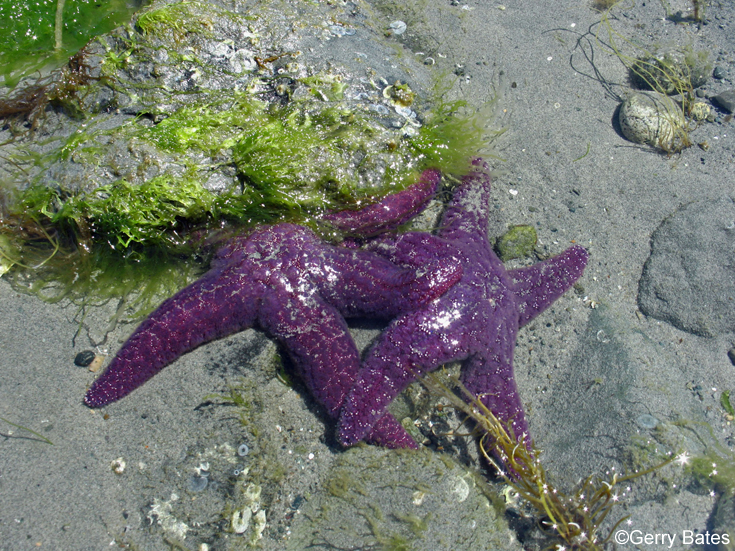 Since June 2013, millions of sea stars along the West Coast have disintegrated and died. Scientists have relentlessly tried to identify the cause of the "sea star wasting syndrome." (See map of locations with outbreak.)
Typically, the first signs of an afflicted sea star are white lesions appearing on its body. Shortly thereafter, sea stars lose their limbs and their internal organs disintegrate. Although sea stars have the ability to regenerate limbs, the disease often progresses too quickly for them to recover. The exact cause of this disease is unknown. Scientists believe that sea star wasting syndrome may be due to a viral or bacterial infection, and could be exacerbated by increased water temperature. Populations of the ochre and sunflower sea stars, two common West Coast species, have been hit especially hard. Similar die-offs have occurred in the past, but never at the magnitude we see today, and over such a wide geographic area.
Oregon's sea stars seemed to have been spared the dreadful fate of their West Coast neighbors. However, in recent weeks, Oregon's monitoring networks have estimated that 30-50% of ochre sea stars in the intertidal area show symptoms of the syndrome. Researchers project that they may see local extinction of ochre sea stars at some Oregon sites.
While pretty to look at, most people do not usually think about the importance of sea stars. They're not economically beneficial like oysters or salmon. And when you think of the ocean's top predators—sea stars don't usually come to mind.
However, sea stars are ravenous hunters who serve an important role controlling sea urchin and other invertebrate populations. Without some sea star species, unchecked populations of sea urchins have the ability to devastate kelp beds, which act as important nesting and foraging grounds for many species of fish.
Though sea star wasting syndrome may only affect sea stars themselves, the impact of the disease can cause a ripple effect through the marine ecosystem. This devastating outbreak highlights the need for consistent science funding and continued marine research. Once the cause and transmission of the disease are known, scientists will have a better idea how the environment will be impacted and whether sea stars will be able to recover.
How can people help? West Coast residents and divers can help scientists by recording observations of where they have and haven't seen the wasting syndrome in sea stars at seastarwasting.org. This information will help researchers assess and, hopefully reverse this devastating syndrome.