Washington, DC: "Farewell Foam… Hello Clean Water!"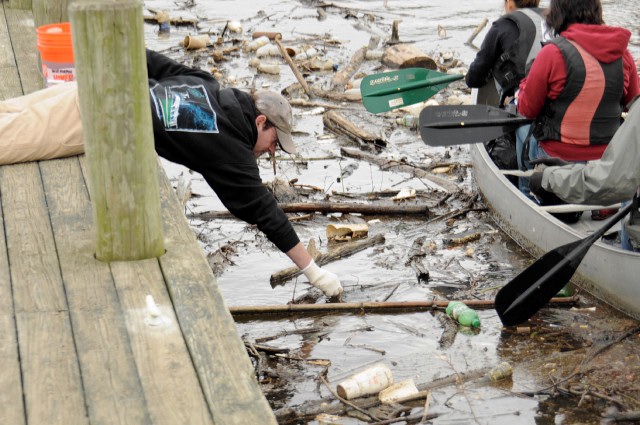 July 18, 2014 update: Our nation's capital has banned plastic-foam food containers!
As a conservationist, ocean lover and resident of Washington, DC, I have some exciting news to share! Last week, lawmakers in our nation's capital voted to ban the use of plastic-foam food and drink containers throughout the District by 2016. This is a fantastic step for the health of the Anacostia River and a major step towards trash-free seas!
Each year during Ocean Conservancy's International Coastal Cleanup, we see massive quantities of foam polluting beaches, waterways and coastlines—1.2 million items of foam during the 2013 Cleanup alone. And foam doesn't just disappear. A best-case scenario would have a single plastic-foam cup fully "biodegrading" in 500 years; however, it's likely that these plastics will never truly go away. Foam is lightweight and brittle, fragmenting into small pieces at the slightest touch. These properties are the very reason it disperses so easily and widely on beaches and into rivers and marine environments.  With each piece of foam that fragments into waterways or the ocean, the likelihood that fish, sea turtles, or seabirds will mistakenly eat those plastic bits increases, threatening the health animals and our oceans.

While ocean cleanups help to lessen the problem – they are not the long-term solution. Cities and communities banning products like foam and encouraging fewer single-use products with actions like bag taxes, along with the production of fewer disposable goods are key in preventing trash from reaching the water in the first place.
But, before this new legislation becomes law, there will be a second and final vote on the bill this summer. We'll be keeping an eye on the progress of this bill and hope that DC joins the ranks of Seattle, San Francisco and many other cities that have banned foam containers.
And, don't forget—YOU can make a difference. Take the pledge to turn the tide on ocean trash and fight for a healthy ocean.