What's Lurking in the Ocean's Depths?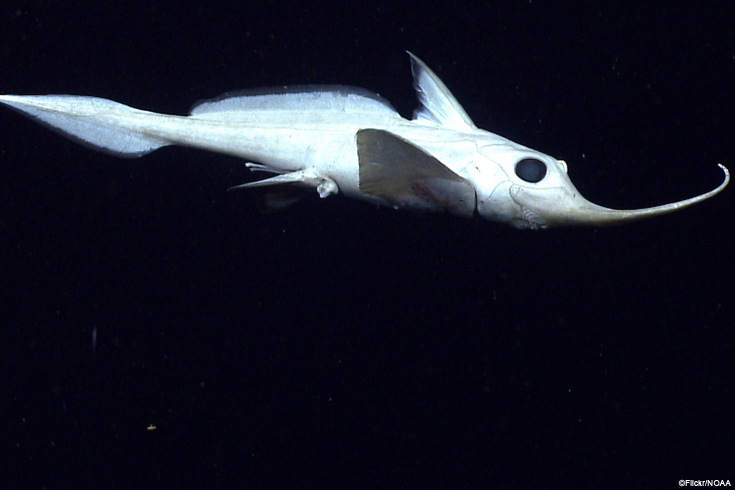 Trick or treating in the ocean can be a matter of life or death. Meet four ocean creatures who might just surprise you!
Vampire Squid
You've no doubt heard of the famous vampire bat, but did you know that there's a vampire squid? Don't worry. It won't fly out of the ocean to suck your blood. These cephalopods don't even spray ink like other squids. They produce a bioluminescent mucus cloud that can glow for up to 10 minutes. They were given their names due to their blood red eyes, which can also look blue depending the lighting. Their bodies definitely reflect the gothic nature of vampires by being black or red. A web like material connects their tentacles. They can even envelop their bodies in their tentacles and webbing to shield themselves from predators.
Vampire squids live in really cold depths of the ocean with very little oxygen. This makes them far less threatening to humans than their name suggests. In order to conserve energy, they simply drift along the ocean currents and only eat dead plankton and fecal matter. Instead of fangs, vampire squids eat with their beaks.
Goblin Shark
The goblin shark is an incredibly amazing and terrifying shark. Males can grow up to 8 feet long and females can be up to 11 feet in length. They're often a pale white color with blue fins. Their most distinctive feature is their jaws. Unlike your jaws that move up and down, their jaws can project from their mouths like the movie Alien! Goblin sharks locate their prey by using electroreceptors in the nose. Because these sharks inhabit the dark ocean depths, fishermen can sleep well at night, knowing that only a few have ever been caught.
Their range is suspected to be very wide. These bottom dwellers have been documented in the Atlantic, Pacific, and Indian oceans.
Smallspine Spookfish
The smallspine spookfish, lives in the deep ocean. As their name suggests, they're pale white like ghosts and have an elongated snout, which can track prey with sensory nerve endings. In fact, they sort of resemble the ghost dog from the Nightmare Before Christmas! Not many have been seen or documented because they live in extreme depths, like more than a mile below the ocean's surface. As if they weren't scary cool already, they also have a venomous spine. Unfortunately not much else is known about them, so they're a regular fish of mystery.
Giant Devil Ray
The devil ray isn't as scary as it sounds. They're not actually named for their devilish behavior, but rather from the fins on top of their heads that resemble devil horns. The only way they might scare you is if you see a large dark shape in the water before you realize what it is! They often sport dark colors on the top of their bodies and are typically white on the bottom half. They swim using their pectoral fins, flapping them almost like wings. Giant devil rays are really gentle giants. They only feed on plankton and small fishes.
The only truly devilish thing about them is that they're endangered. By-catch is a major threat to this species. Since they spend a lot of time close to the surface, ocean traffic and oil spills also pose serious threats to these gentle giants.