Fishues: NOAA's 2013 Report on Fisheries of the United States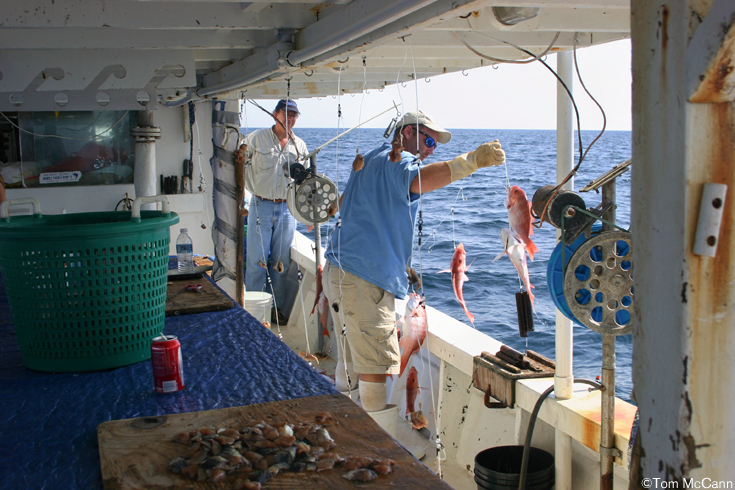 On Wednesday, the National Oceanic and Atmospheric Administration released their 2013 report on the status of Fisheries of the United States. This annual report from the National Marine Fisheries Service is a critical survey of United States recreational and commercial fisheries, and is important for tracking changes on the water. The past few years have seen major successes in ending overfishing and rebuilding U.S. fish stocks. This is due in part to the Magnuson-Stevens Fishery Conservation and Management Act, which the law that protects and promotes sustainability of fisheries in the U.S. Check out some fun fish facts below!
Big catch: Last year, commercial fishermen caught an astounding 9.9 billion pounds of fish. That's 31 pounds of fish per person in the United States!
Eat up: Of the fish brought in by the commercial sector, 77% was used for human consumption. Doesn't take a brain sturgeon to realize that we love our seafood.
Don't forget to feed Fido: 15% of fish caught last year was used to feed animals in the U.S.
You're shore to love this: Commercial fishermen brought in a total of $5.5 billion in revenue to the United States economy. That would buy you approximately 1.1 billion bags of goldfish snack crackers.
Go fish: In 2013, 11 million anglers took 71 million recreational fishing trips. We bet they had a whale of a good time!
Brrrrr: Dutch Harbor, Alaska is the most productive commercial fishing port in the country, bringing in a whopping 753 million pounds of fish. Thinking about moving? They get an average of 91 inches of snow and 221 inches of rain each year.
Don't be crabby: Blue crab landings decreased by 36% from 2012. Don't worry – the fishery still brought in 134 million pounds of crab!
And the bronze goes to…: The U.S. is the world's third largest consumer of seafood! China and Japan took gold and silver, respectively.
Aw, shucks: Oyster aquaculture brought in an impressive $136 million in revenue last year!
Don't run a-wave! For more fishy facts, check out the 2013 Fisheries of the United States Report.