In Peru, A Picture's Worth a Thousand Pounds (of Trash)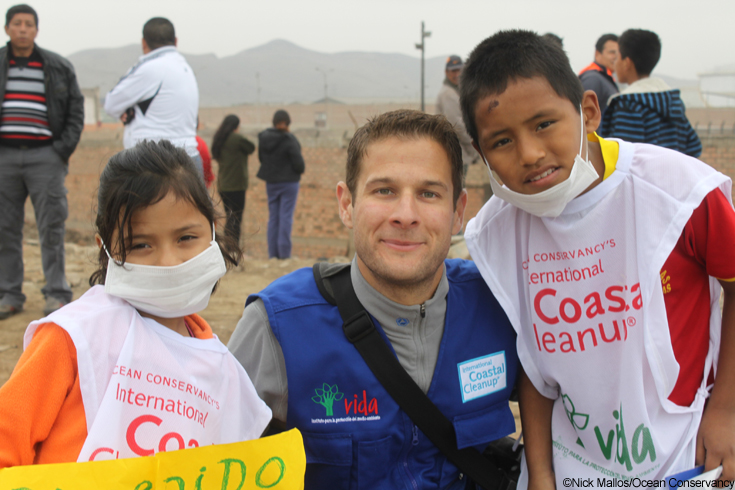 I had the great fortune to head south of the equator last September for Ocean Conservancy's 29th International Coastal Cleanup. VIDA Peru, Ocean Conservancy's longtime Cleanup partner in Peru, invited me to participate in a weeklong series of events on ocean trash, culminating with one of their country's signature Cleanup events at Marquez Beach. Having been my first time to Peru, and South America for that matter, I was uncertain of the beach and waterway conditions I'd find. Unfortunately, as I spoke more and more with folks from VIDA Peru in advance of the Cleanups, my expectations of clean beaches were quickly dispelled.
I asked Arturo Medina, President of VIDA Peru, what the major culprits were for ocean trash in Peru. He noted that "the waste infrastructure is drastically lacking in Peru to handle the increased waste flows. Ultimately, it all ends up in the rivers, on the beaches and flowing into the sea. Legal and illegal dumpsites located directly on the beaches are also a major issue, yielding steady streams of debris into the water." I witnessed this first hand as one such site was visible on the beach as I sat on my surfboard offshore—dump truck after dump truck offloading rubbish onto the sand.
And while I thought I got a taste of the debris conditions on the beaches in downtown Lima, I was not prepared for what I encountered at the Marquez Beach Cleanup Beach. 50,000 residents live amongst the unacceptable conditions in Marquez, dealing with both debris flowing down the town's river and the massive accumulations of trash on their beach. Ursula Carrascal, VIDA's Cleanup Coordinator, explained to me that 30 years ago Marquez residents could clean their clothes and fish in the river. Today, no one would even think of doing such activities.
When the time finally came to roll up our sleeves and clean Marquez, the local community came out in force. Over the course of two hours, 300 volunteers under the direction of VIDA Peru, removed 26,000 pounds of trash from a half-mile stretch of beach. As on other beaches, plastics dominate the rocky shore but truly anything you can imagine can be found on Marquez: syringes, toy soldiers and vials of blood were all among the items I picked up. In 2013, volunteers found an undetonated grenade on the same stretch where the children of Marquez play daily. And Marquez is just a microcosm of Peru's countrywide Cleanup effort—in total, more than 18,000 volunteers removed 540,000 pounds of trash from their country's beaches and waterways during the one-day effort
As I congratulated Ursula on a tremendous event, she tells me in a forlorn voice, "Thanks…but it will all be back in two weeks." I turn my gaze to the ocean and see exactly what she's referring to—with each crashing wave new accumulations of trash wash onto the rocky shore. And beyond the physical challenges presented by continuous debris accumulation, Ursula shares with me her frustration and concern for future generations in Peru:
"I'm just frustrated. Most of our children here in Lima have never seen a clean beach. How can we get children to care when a trashed beach is all they know. We need 2,000 people on every beach just to make a dent."
The situation is not hopeless though. Through the tireless efforts of organizations like VIDA Peru, conditions are changing—slowly, but changing nevertheless. Over the past several years, businesses and residents in Lima have increasingly become aware of the importance of waste management and new recycling systems has yielded a significant reduction in the number of bottles and other recyclable plastics found in Lima and on nearby beaches.
As evident from my time in Peru, the problem in Marquez, and places like it around the world, isn't as simple as people littering on the beach. It's about the rivers and streams filled with trash that all funnel into our ocean.
The only way we can stop this vicious global cycle is to stop trash at its source. If we provide the means to establish locally appropriate waste management solutions in the places that need it most, we can stem the flow of plastics into the ocean, ensuring healthier communities and more resilient marine ecosystems.
And whether in Peru, the Philippines, or Pennsylvania, every kid deserves the right to play on clean beach.