Ocean Plastic is a Problem We Can Solve – Together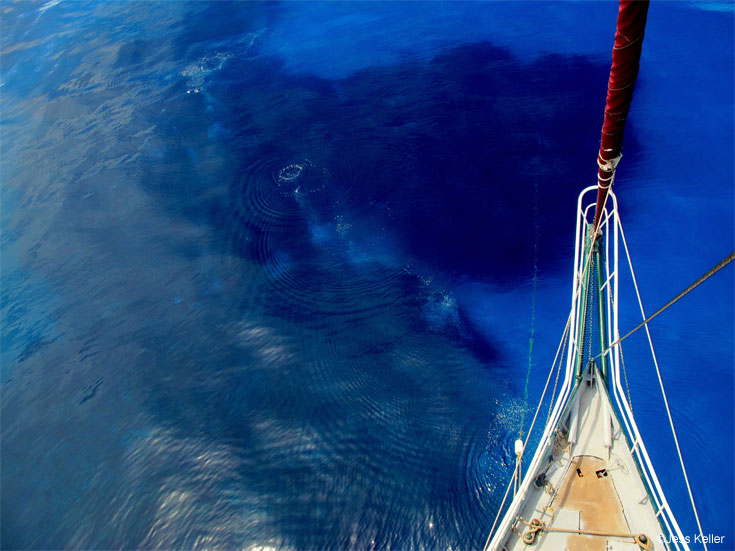 Charlie Enright, a Rhode Island native, is skipper of Team Alvimedica, the youngest of the seven international teams in the 2014-2015 Volvo Ocean Race which began last October and recently completed Leg 7 (out of nine) in Lisbon, Portugal. The Volvo Ocean Race is the world's premier offshore race, an exceptional test of sailing prowess and human endeavor, which began over 40 years ago. At 30, Enright has already accumulated thousands of offshore miles and inshore racing results—including a Transatlantic and Rolex Fastnet Race in 2011. Before dedicating himself full time to the Volvo Race campaign, he worked at North Sails Rhode Island and managed multiple sailing campaigns for All American Ocean Racing. Charlie is an Ambassador for 11th Hour Racing, a program of The Schmidt Family Foundation, which establishes strategic partnerships within the sailing and marine communities to promote collaborative systemic change for the health of our coastal, offshore, and freshwater environments.
You can follow Charlie on Twitter @enright_charlie or Instagram @cte02809.
Andreas Merkl is in his third year as CEO of Ocean Conservancy, a D.C.-based nonprofit dedicated to the health and productivity of the ocean that covers over 70 percent of the planet. Merkl is an experienced strategist with a lifelong commitment to environmental causes. Prior to taking the helm at Ocean Conservancy, Merkl served as a principal at California Environmental Associates, a San Francisco-based think tank and consultancy focused on the management of the natural resource commons. Earlier in his career, he was a founding member of McKinsey & Company's Environmental Practice and vice president and co-founder of the CH2M HILL Strategy Group, a leading provider of environmental management consulting worldwide. Andreas is on Twitter as @andreasmerkl.
Enright and Merkl:  While one of us is a native of Rhode Island and part of the Millennial Generation and the other hails from Germany and came of age in the 1970s, we share one thing in common – a great passion for the ocean.
Enright: As a sailor, I race through the ocean's surface on some of the fastest sailboats in the world. The ocean is my home, and it is everyone's backyard. When I'm not sailing, I try to get home to the Ocean State, Rhode Island, where I'm from and where my family – including my wife and soon-to-be-born son – make our home. Having grown up here, the sailing and the sea are in my DNA.
Merkl: And as CEO of Ocean Conservancy, I wake up every morning thinking about how to solve tough ocean challenges. When I can, I explore some of the deepest ocean recesses in my beloved dive spots of Indonesia.
Enright and Merkl:  We have different day jobs and have had different life experiences. But one thing we completely agree on:  the ocean, in every spot from the fragile Arctic to the most remote areas of the Southern Ocean, is besieged by plastics.
Enright: This is my first Volvo Ocean Race and I've been shocked by the amount of plastic debris seen throughout the first seven legs of the nine-leg race. I've sailed from Alicante on Spain's Costa Blanca to Abu Dhabi, on to Sanya in southeast China, then to Auckland, Brazil and Newport before reaching Lisbon. The sailors have been surprised by the amounts of trash and floating plastic they've encountered, especially in stretches of ocean near population centers such as the Malacca Strait. The Volvo Ocean Race produced a short documentary film that includes the reactions of many of my fellow racers. Our goal in doing this is not only to increase awareness of ocean plastic but also to inspire action. As the skipper of Team Brunel observes, "Plastic, plastic, plastic…it doesn't matter where you point." We sailors agree:  the ocean is being overwhelmed by plastics and other debris even in the most remote spots, and it needs to be cleaned up.
Merkl:  I wish I could say that the teams of Volvo Ocean Race had an uncommon situation in their distressing encounters with ocean plastic, but that is simply not the case. It is a pervasive and proliferating catastrophe that, left unchecked, will continue to escalate until in a few short years – as soon as 2025 – we can expect to see one ton of plastic for every three tons of finfish in the ocean. We know from recently published research that approximately eight million metric tons of plastics enter the ocean annually from land-based sources. This has produced nothing less than a global crisis for ocean waters, marine wildlife and habitat, human health and safety, and wasted resources and lost revenues for many nations, especially those in developing countries where the economies are already strained.
Merkl and Enright:  But we are not without hope. We are optimistic because we CAN solve this problem.
Merkl:  At Ocean Conservancy we are working through our Trash Free Seas Alliance® with corporations, scientists and nonprofits – all working together to stem the tide of plastics entering the ocean from land. It's a sophisticated strategy to support locally relevant waste management interventions in countries where the plastics leakage is occurring.
A mechanism must be implemented to ensure plastics are collected, securely transported, and then properly disposed of so that these materials are recovered and not lost to the ocean. In addition, there must be international collaboration of industry, governments, aid agencies and NGOs to advance efficient and effective waste management in developing economies where plastic leakage is currently greatest. With implementation of this two-pronged solution, we can begin to see drastic reductions in the amount of plastics that end up polluting the seas.
Enright and Merkl:  The ocean provides much of the food our global population consumes, along with the air it breathes and the waters that nourish it. In addition, the ocean provides for the two of us – and for countless others – the source of our greatest happiness and pleasure as we sail its waters and explore its depths. We owe this miraculous and marvelous system all we can muster to protect it and its inhabitants. Science has shown us where a large majority of the plastic waste is coming from and current research is showing us what we can do to stem the tide of plastics entering the ocean. Let's make sure that future Volvo Ocean Races do not encounter the vast amounts of plastics that the 2014-2015 Race has observed. Let's focus our efforts on solving this global problem – together.