Make Your Holiday Greener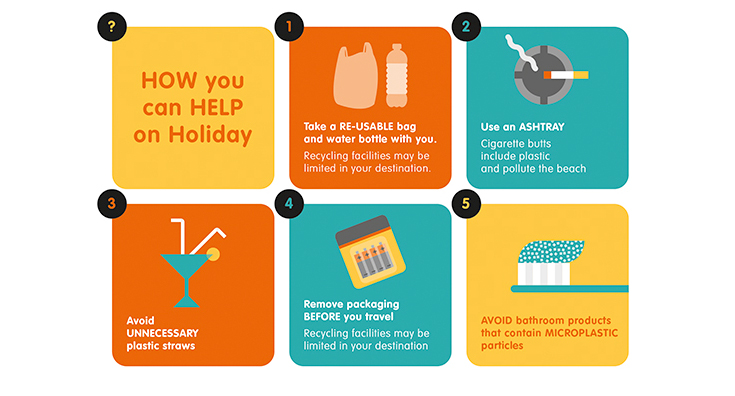 The Travel Foundation is a non-profit organization that works with the travel industry to integrate sustainable tourism into their business — to protect the environment and create opportunities for local people in tourism destinations. Their annual Make Your Holidays Greener Month, during July, celebrates the locations around the world we love to visit and encourages visitors and the travel industry alike to take part in a cleanup — the Big Holiday Beach Clean.
Earlier this year, a report from the World Wildlife Fund valued the world's ocean at $24trillion – a figure largely calculated from the value of fishing, shipping and tourism.  Whilst many already view the ocean as priceless, the attempt to put a monetary value on it highlights to businesses around the world the importance of taking action to protect marine ecosystems.
For tourism, the ocean and sea are vastly important.  Many of the holidays we take have beaches and coastlines at their center and these environments are an inherent part of the product marketed by tourism companies to their customers.  As a result, this industry is well placed to mobilize action, particularly on the growing and pervasive threat of marine litter.
The Make Holidays Greener campaign is focusing its efforts on engaging travel companies and their customers in celebrating cleaner, greener beaches.  The campaign is organized by sustainable tourism charity, the Travel Foundation, in partnership with Travelife a sustainability certification system for hotels and accommodations.  The organizations are urging hotels, tour operators and other tourism companies to support the campaign by organizing a beach clean this July and by reducing plastic waste.
Beach cleans are a great way to engage customers, staff and local communities in a positive and memorable action, with publicity generated by the campaign helping to spread the message more widely. The Make Holidays Greener infographic about plastic waste, which has already been shared widely, highlights that everyone can make a difference by taking simple actions – such as disposing of litter and cigarette butts properly, taking a reusable bag and bottle to the beach and not using straws.
Plus, every bag of rubbish taken out of the environment makes a difference to birds, turtles, fish, dolphins and other marine life, and the more people who participate, the greater the impact. Last year the campaign gathered great momentum with over 100 companies taking part, cleaning 97 beaches in 22 countries.  It is hoped that these efforts will also feed into the Ocean Conservancy's database and support further efforts to minimize waste going into our seas.
The campaign website makeholidaysgreener.org.uk features a range of free resources, including how to organize a beach clean, support for hotels to reduce plastic waste, and top tips for holidaymakers.  Follow us on Twitter, @TravelTF, and join the conversation using #greenerhols.