A Lobsterman's Thoughts on the Deepwater Wind Block Island Wind Farm Project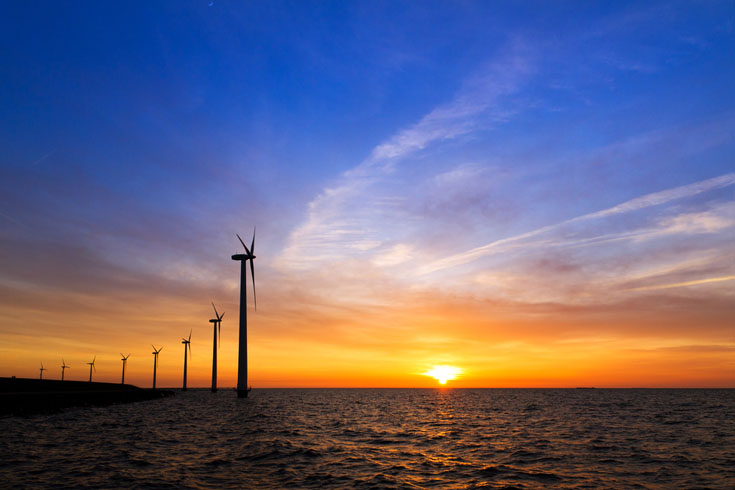 Next week, the country's first offshore wind farm will begin construction in Rhode Island. Deepwater Wind is a five turbine, 30-megawatt renewable energy development off the coast of Block Island, Rhode Island. This project has moved forward in record time, thanks to an ocean planning process that took into consideration the views of many ocean users including fishermen to ensure the best possible outcome for Rhode Island, its residents, and businesses.
Below is a Q&A with Bill McElroy, a lobsterman and the Chairman of the Fisheries Advisory Board for Rhode Island's Coastal Resources Management Council, which is the entity that initiated the Ocean SAMP.
What is the SAMP?
BILL: The SAMP is a Special Area Management Plan for Rhode Island's waters that tries to bring all the various stakeholders together at the same time so we can all put forward our mutual interests and disagreements in a forum.
Were you initially nervous about Deepwater Wind's project off of Block Island? Traditionally, fishermen and wind developers have had their disagreements.
BILL: Initially we were scared to death at the idea of a wind project because we were afraid what might happen. We were scared a developer would come in and pick a site in essentially a vacuum and turn around and say here you go- like it or leave it. It was the fear of the unknown; we didn't know what to expect, and of course, we've been as an industry beaten up pretty well in the press over the last decade or so. So we saw this as just another possibility of bad news for the industry, but then when Deepwater Wind assured that they would do everything they could to avoid taking over prime fishing grounds and work with us- it allayed those fears. When they followed through and negotiated with us, how can you go wrong with that?
The Ocean SAMP provided a vehicle and made it possible for us to discuss our concerns. And you have to give the SAMP and Deepwater credit. That doesn't mean that any side wins, but at least it provides an opportunity to have a seat at the table and have our issues brought forward and it's worked out great.
How has the project progressed from those initial meetings?
BILL: Deepwater chose a site at Block Island to install a certain number of windmills. They came to the industry at the Ocean SAMP, and we pointed out that if they moved a couple of the turbines one way or the other, it would be much less intrusive to the fishing industry. Deepwater was more than willing to do that, once they checked with their engineers and found out it wasn't going to triple the price of the project or anything like that. The SAMP allowed for those kinds of things to happen.
So here's an example where Deepwater said okay we won't put them here, we're going to move them over a little bit. And it worked great. So as soon as we saw things like that, it made us realize that we might not get everything we want, but we are getting most of it, and we are getting a seat at the table and have the opportunity to give them our opinion.
So are you happy with this project and how the partnership has progressed?
BILL: Well there's been things we haven't agreed on- even to this day. But they've been relatively minor and we made progress on almost all the major issues. I have to say its number one operation—
Deepwater Wind — has been a good corporate citizen, the Coastal Resources Management Council of Rhode Island did a fine job of putting together an Ocean SAMP, and I think the fishing industry has done a responsible job in responding and trying to make realistic requests and demands, instead of outlandish ones.
What else is Deepwater Wind doing to support fishermen?
BILL: Well, there is data being collected at the expense to them [Deepwater Wind] in a fashion that makes it identical to the techniques that are used for the data gathering for the fisheries managers up and down the coast, so all of this information that is being generated is in a format that they can plug into their system and make heads or tails of it, because it conforms with the type of system that they're using and Deepwater didn't have to do that. All they had to do was study what was given and answer as to whether or not there was a harmful effect or no effect to having the windmills there, but they went beyond that and created it in such a fashion that RI's Department of Environmental Management now has lobster data and some fin-fish data that's coming in independent of their studies, but that's done the same way. That's enormously valuable, so that's good for the state of Rhode Island, that's good for the fisherman, it's good for Deepwater Wind — it's a win-win all around.
What would you say is the number one benefit of the ocean planning process?
BILL: Number one- we've gotten a seat at the table, which we wouldn't have had and it would have created a lot of antagonism. This trust we've built that we've built up would have been very hard to achieve otherwise, so that's been enormous. So number one — a seat at the table.