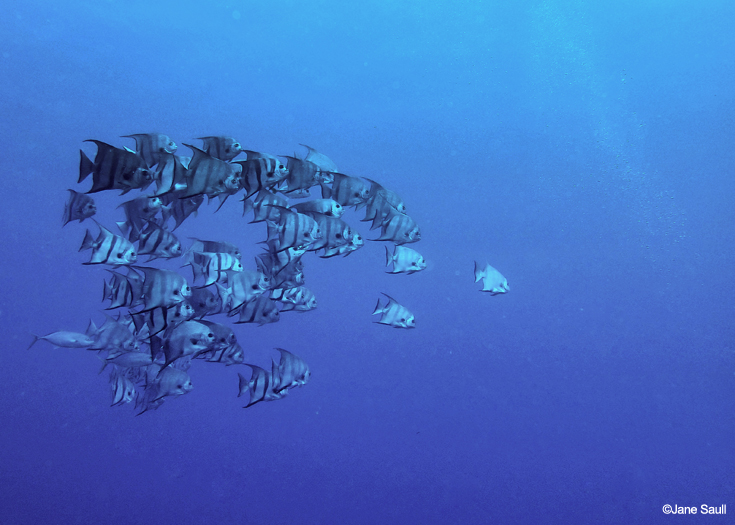 Ocean change is happening, and all of us who love and rely on the ocean are recognizing how important that is for our future. Ocean Conservancy recently participated in the Our Ocean conference in Chile, where global leaders convened to advance solutions to changes and threats to our ocean like illegal fishing, marine plastic pollution, and ocean acidification. Scientists, too, have been focusing on these challenging problems and responses to them. It is clear that if we are to confront the consequences of a changing ocean, we will need more and better science to anticipate these changes and respond proactively to protect the ocean's future and our own.
The recently-released Nereus Program report, "Predicting Future Oceans: Climate Change, Oceans & Fisheries," is a key tool for helping us do so. It lays out the key challenges in managing the ocean under climate change and also presents key strategies to address these challenges. Based on the latest scientific findings from innovative research on marine ecosystems and ocean governance, the Nereus report offers a short, easily-readable overview of current and future ocean phenomena and a guide on the actions needed to keep our ocean healthy and productive, especially with respect to fisheries and seafood production. The report highlights a large body of research from over 25 academic articles written or co-authored by global ocean experts affiliated with the Nereus Program.
Central to the report are seven main conclusions. The report states:
1. Due to CO2 emissions, changes in global ocean properties – particularly temperatures, acidity and oxygen levels – are occurring at a scale unprecedented in the last several thousands of years.
2. Climate change is expected to affect the oceans' biological productivity — from phytoplankton to the top predators.
3. Climate change has already been affecting global marine ecosystems and fisheries, with further impacts expected given current trends in CO2 emissions.
4. Fishing exerts significant pressure on marine ecosystems globally – altering biodiversity and food web structures – and affects the ability of the international community to meet its sustainability goals.
5. The impacts of climate change interact with the existing problems of overfishing and habitat destruction, driven largely by excess fishing fleets, coastal development and market expansion.
6. Aquaculture is developing rapidly, with the potential to supersede marine capture fish supply. Yet, the full understanding of its impact, including its long-term ecological and social sustainability, is unclear.
7. Sustainable fisheries in the future require the further development and strengthening of international fisheries law, as well as the overarching international framework for ocean governance.
To address these challenges, the report recommends six strategies that can work in concert to improve ocean and socioeconomic health:
1. Bringing CO2 emissions under control.
2. Maintaining biodiversity, habitat and ecosystem structure.
3. Diversifying the "toolkit" for fisheries management.
4. Adopting economic systems that support sustainable practice.
5. Enhancing cooperation and coordination between international fisheries regulation and regulation of other maritime activities.
6. Ensuring equitable distribution and access for fishing in vulnerable communities.
At Ocean Conservancy, we know the ocean is critical to all life. Actionable and effective solutions require that we better understand and predict changes to our coasts and ocean. The Nereus Report is an important contribution to bringing the best, most relevant information to bear to protect, maintain, and restore healthy ocean ecosystems. It is especially relevant to our ongoing work at Ocean Conservancy; right now, for example, our fisheries and ocean planning programs are grappling with how multiple human-induced stressors affect ocean and fishery health. We are applying new tools and techniques in improved fishery management and smart ocean planning to ensure we can rely on and enjoy the ocean for years to come.
The future is coming to the ocean of today. We need to take action now to ensure we protect our future ocean. More science — like that in the Nereus Report — can help us do that.