Last Minute Costume Ideas for Ocean Lovers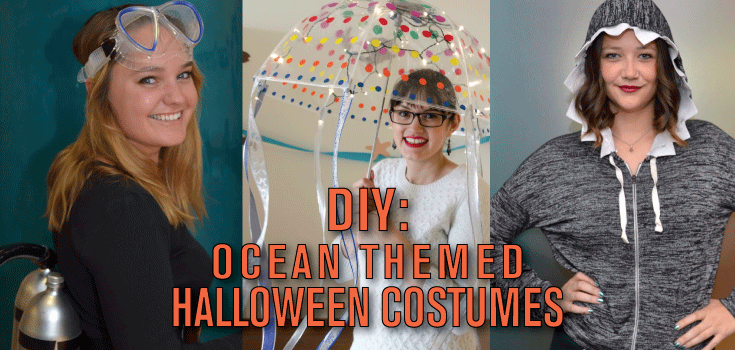 Once again, October 31st is upon us. Soon your Facebook and Instagram will be flooded with photos of the creative costumes your friends have been concocting for months. And you'll be left frantically googling "last minute costume ideas."
If you procrastinated your Halloween costume (again!), have no fear: we've got you covered. We pulled together a few easy-to-assemble ocean-themed costumes you can make with everyday objects laying around the house. Remember to reuse as many costume parts as you can and always recycle them afterwards (see more tips for reducing trash this Halloween here).
So grab some candy corn, put on the Monster Mash and get ready to make an epic ocean costume.
Shark (Inspiration: A Little Something About Everything)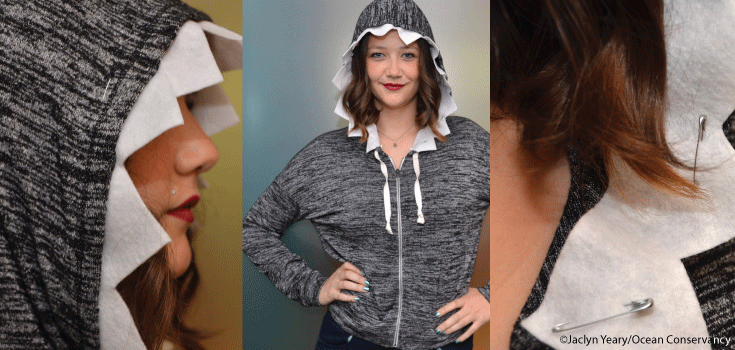 What you'll need:
A grey hooded sweatshirt
White felt
Safety pins
Instructions:
Cut teeth out of a strip of white felt.
Attach teeth around edge of hood using bobby pins.
Congratulate yourself on saving lots of time and money on your Halloween costume.
Jellyfish (Inspiration: Almost the Real Thing)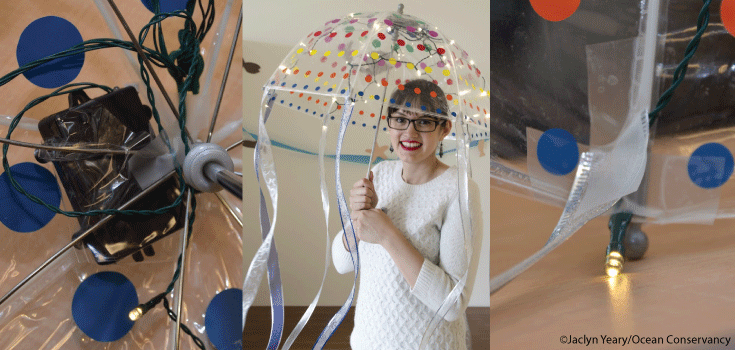 What you'll need:
Clear umbrella (dome shaped is ideal)
LED lights
Assorted gift wrapping ribbon
Tape
Instructions:
Use tape to attach LED lights to inside of umbrella. Tape battery pack (typically comes in LED light package) inside the umbrella as well.
Cut ribbon in 25-30" strips and attach to perimeter of umbrella so they hang down as tentacles.
Prepare yourself for the compliments you'll receive for having such a creative costume.
Scuba Diver (Inspiration: Thrifty Ginger)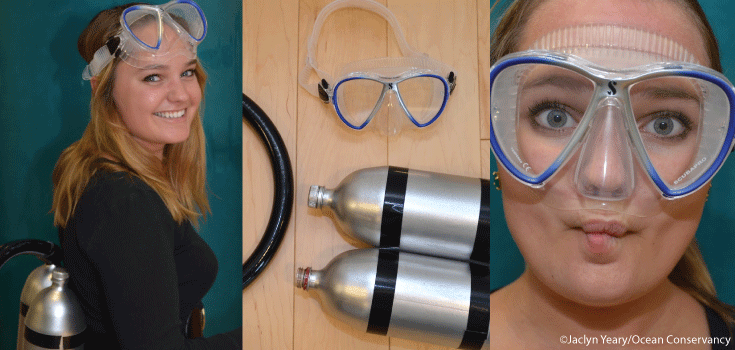 What you'll need:
2 two-liter bottles
Silver spray paint
Goggles
Yellow felt
Black tubing
Black electrical tape
Instructions:
Spray paint the two-liter bottles in a well-ventilated place and let dry (check the spray paint instructions to see how long to wait before handling).
Attach bottles with two strips of electrical tape around the top and bottom section of bottles.
Connect end of black tubing to the opening of one of the bottles. Use electrical tape to secure.
Cut felt into the shape of a circular mouthpiece and attach to the other end of the black tubing.
Attach a strip of felt to the back of the bottles (aka your tank!) to use as a belt.
Strap on your tank, put on your goggles and go impress your friends.
Don't be modest, once you've successfully made your costume – brag and show us your shark, jellyfish or scuba diver costume!! Or, if you have another creative ocean costume this Halloween, just tag your photos on Twitter and Instagram with #OCeancostume, and follow along as we share our favorites. We can't wait to see all the fin-tastic ocean costumes this Halloween!