On America Recycles Day – Remember the Ocean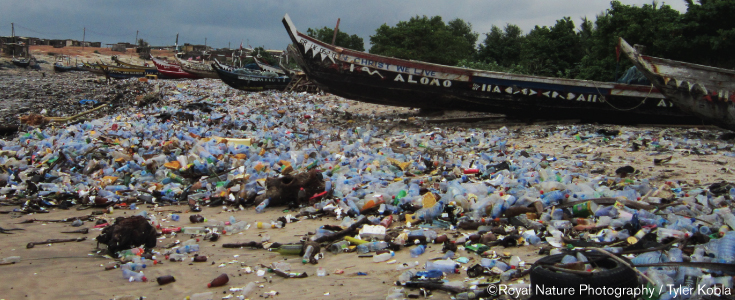 Ocean Conservancy strives for a clean, healthy ocean for all. But the ocean trash problem is vast, which means we all need to do our part. We are advocates for reducing unnecessary waste, reusing items as often as possible and recycling as much as we can.
Keep America Beautiful, a longstanding International Coastal Cleanup partner, is inviting all of us to celebrate and act on America Recycles Day, Sunday November 15, 2015.
In honor of America Recycles Day, Ocean Conservancy's Trash Free Seas team is diving into recycling—with an ocean spin. We reached out to experts at the National Waste & Recycling Association (NWRA) to better understand recycling and to learn why some plastics collected at beach and waterway cleanups can be tricky to make anew.
Chaz Miller, Director of Policy and Advocacy at NWRA explains that the symbol we all recognize as "recycle"—three arrows in a triangular shape—first came about in the early 90's. The symbol actually notes the type of plastic resin used to make the product, rather than "this item is recyclable." The number within the triangle provides a quick reference to know if an item is recyclable or not.
Some resin types are easier to recycle than others. For example, a typical plastic soda or water bottle is #1 which means it's made from Polyethylene Terephthalate (PET, PETE). Plastics #1 and #2 (High Density Polyethylene, HDPE) are most recyclable for two main reasons: quantity and quality. These higher-grade resins allow for easier recycling. On the other hand, another common disposable item like the plastic lid on a coffee cup is plastic #6, Polystyrene, which is a lower grade resin and not as easy to recycle. Knowing which items are easier to recycle than others makes recycling a breeze and can help inform our purchasing decisions too.
Exactly what recycling centers will and will not accept varies depending on location and the state of the market. When introducing plastics into the recycling stream, Miller explains, the cleaner the plastic the better. This is why some recycling centers are hesitant to accept plastics that have been out in the environment for some time. If you've ever participated in a coastal or waterway cleanup, you know that some items found can be quite dirty and filled with gunk. They may even be encrusted with barnacles or other marine organisms. Recycling centers pay for recyclable materials by weight. Dirt and other natural materials mixed in with recyclables are dead weight and costly for recyclers to clean. Furthermore, dirty items are more likely to clog or break recycling machinery.
As consumers, we should be aware of where our waste goes. If you're not able to reduce or reuse items in your daily lives, please consider these alternatives:
RECYCLE
Dispose of your item properly
Help your local recycling center by always rinsing recyclable items before tossing them into the bin.
Don't be shy! Ask your recycling center what plastic resins they accept and check out local stores as a venue to recycle items not accepted by your recycling center. Did you know that many grocery stores have bins to collect and recycle retail bags and other types of plastic wrap (e.g., dry cleaning bags, bread bags, etc.)? Ask your local stores what they accept.
Clean plastics collected at coastal and waterway cleanups may be recyclable, after a quick rinse.
Ocean Conservancy always tries to recycle everything picked up during a Cleanup, but even if an item cannot be recycled removing it from the environment ensures it will not enter the ocean, eliminating the threat posed to marine animals, people and coastal habitats and economies.
Learn more about America Recycles Day and pledge to recycling more at www.americarecyclesday.org.