"Recycling Cougars" Are Fighting Back Against Plastic Trash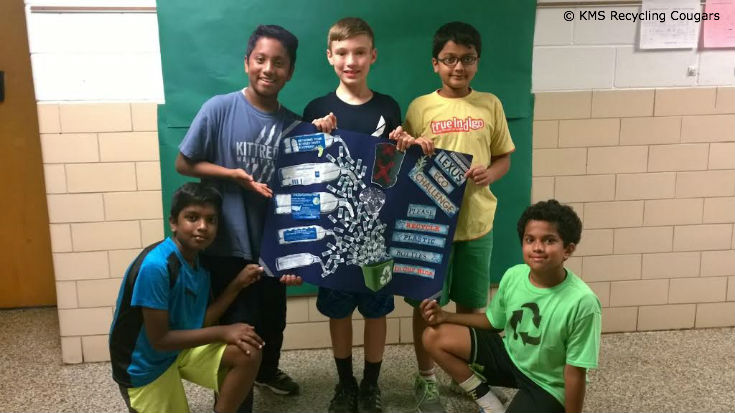 During a single day of coastal and waterway cleanups, volunteers around the world collected nearly 990,000 plastic beverage bottles and 975,000 plastic bags. These efforts are truly amazing but the amount of debris in the environment, especially our ocean, is still daunting. Along with cleaning up what's out there, we need to be proactive in stopping these common consumer items from reaching the environment in the first place.
Thankfully, there is a stellar group of sixth grade students who are showing us the way.  The Kittredge Magnet School's "Recycling Cougars" of DeKalb, GA have been working to turn plastic water bottle and plastic bag recycling into a reality in their school and community.
This past fall, the five student team created signs, walked door-to-door and reached out to local businesses, churches and civic organizations, asking all to participate by separating out their plastic beverage bottles. They strategically posted signs and bins throughout their school and even sent flyers home with each student. The team gathered hundreds of pledges and collected around 700 plastic bottles in a week! Their drive earned them a national award, one of only 16, through the Lexus Eco Challenge.
Having mastered plastic bottles, the KMS Recycling Cougars are turning their attention to plastic bags for the "Final Phase" of the Lexus Eco Challenge. The team has delved into plastic pollution research and learned that plastic bags are particularly threatening to marine wildlife. They hope to form more recycling partnerships and garner more pledges on this initiative.
Moving forward, the team plans to promote the 6-Week Trash Free Challenge and hopes to establish a Talking Trash & Taking Action Young Ambassadors Program with Ocean Conservancy's Trash Free Seas Team to help pave the way for more students who want to take charge on recycling in their communities. Ocean Conservancy is excited to work the KMS Recycling Cougars on their idea. No matter the outcome of the Eco Challenge, their campaign will surely inspire and motivate others to help eliminate trash in our ocean.