Inspiring the Next Generation of Ocean Advocates to Leave Their Mark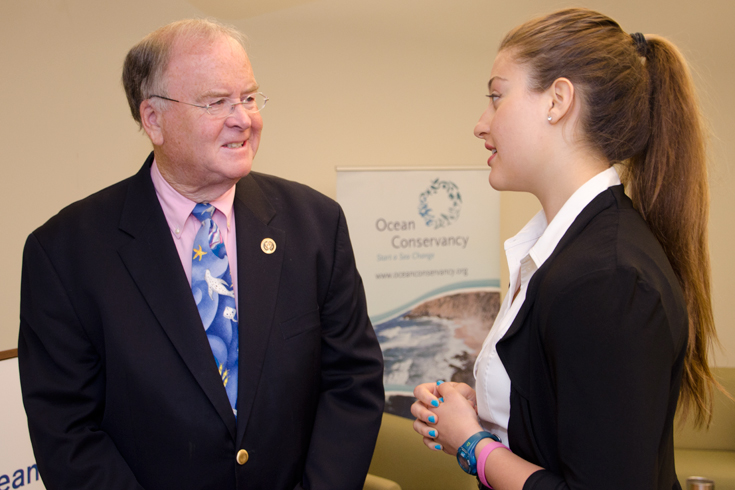 Most college students like me are familiar with the all-too-common rollercoaster: late nights spent pondering the future, deciding how to leave our proverbial mark on the world. We feel weightless as the pieces of one puzzle seem to fall into place, but then watch miserably as those visions crumble, battered by new uncertainties.
But I have known of my purpose for years: to save the ocean.
Ever since I was little, I have found the ocean's vast complexities intriguing. The ocean influences almost every aspect of life on our fragile planet—an awe-inspiring fact that is underscored as I learn more as a student of environmental science and policy at the University of Maryland.
Despite my passion to fight for the ocean, I have occasionally ridden that rollercoaster, questioning my capacity to make a difference. How can one individual really make a difference in saving the biggest entity on our planet?
I needed a healthy dose of inspiration, and quickly.
And inspiration is exactly what I received today at Ocean Conservancy, where I work as an intern with the government relations team. It was delivered by Representative Sam Farr of the 20th District of California, who has been a true champion of our ocean during his decorated Congressional career.
I listened in fascination as the Representative eloquently reflected on his ocean conservation journey. As a founding member of the bipartisan House Oceans Caucus, the Representative works to inform Members of Congress about topics from marine debris to ocean acidification. He has introduced robust ocean legislation and initiated the B-WET education program, nurturing the next generation of budding ocean enthusiasts.
The Representative stressed the importance of the individual activist's voice, noting that "the squeaky wheel gets the grease…so we gotta keep on squeaking." I am inspired to "keep on squeaking," because the Representative's tenure has taught me two significant lessons:
1. My generation is not starting from scratch–we are building on the strong foundation laid by Representative Farr and other ocean advocates. Ocean conservation is gaining ground due to the collaboration of Members of Congress, environmental nonprofits and other marine champions. Even whilst economic and international security issues dominate the political sphere, these trailblazers secure funding for ocean research, strengthen marine policy and expand environmental outreach: effectively giving ocean issues a vital seat at the table. Their dedication is lighting the way for others like me to follow.
2. Saving the ocean is in the best interest of all life on Earth. The beautiful thing about the ocean is that amid our growing differences, the ocean remains, reminding us that we are all intrinsically connected to everyone and everything. We breathe the same air, drink the same water, and live on the same globe–vital resources that are provided by the intricacies of ocean processes. There is no option to be or not to be a steward of the blue, because without it, we would be lost.
Congressman Farr retires at the end of 2016, but leaves a powerful message: "We need grassroots support to say our ocean is important. It starts with you."
These are words that inspire me–and should inspire us all–to never doubt one individual's capacity to make change. Rather, they are the words that keep us up at night, pondering not the uncertainties of the ocean, but the possibilities of saving it.
Thank you, Congressman Farr, for your inspiring legacy!
Samantha Bingaman is an intern with the government relations team at Ocean Conservancy. She is a junior environmental science and policy major with a concentration in marine and coastal management at the University of Maryland, and loves to study and spend time on the coast.