Microplastics in Paradise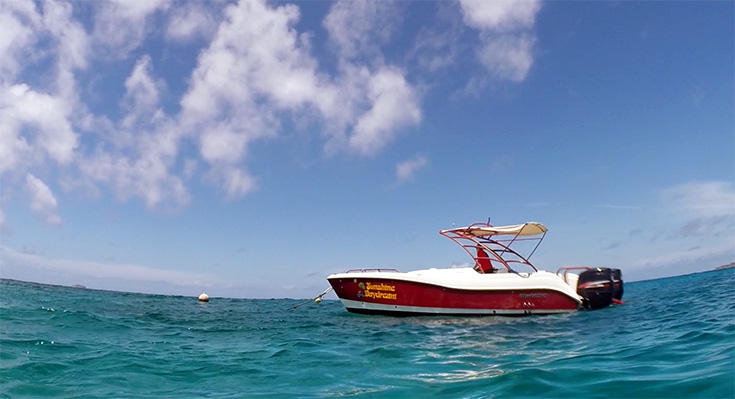 At first glance, the waters of St. John, USVI, are pristine: Rich blues and greens mix in a postcard-ready Caribbean vista while schools of tropical fish dart just below the surface.
But beneath the shimmering turquoise waters lurks a hidden peril: microplastics.
Microplastics—or plastic particles less than five millimeters in size—are an emerging threat to marine ecosystems. These pesky plastics enter the ocean in a number of ways, including washing nylon clothes or using toothpaste or shower gel that has plastic beads. They also come from larger plastics that have broken down due to exposure to sun, sand and waves. Research suggests that as many as 51 trillion pieces of microplastic are estimated to be circulating the ocean, globally.
Because they're so tiny, it's easy to adopt an "out of sight, out of mind" mentality. But these small particles have big consequences. Pollutants like pesticides, PCBs and DDT adhere to microplastics' surface and can then be ingested by fish, birds and other marine organisms. As plastics are ingested up the food chain, these chemicals accumulate, causing problems for marine predators and potentially humans. Chemical risks aside, consuming plastic is never a good plan—buildup of plastic materials can cause abrasions and digestive blockage in marine organisms.
We know frighteningly little about the long-term impacts and reach of microplastics. Thankfully, organizations worldwide (including Ocean Conservancy!) are looking to change that.
Last week I teamed up with Adventurers and Scientists for Conservation to contribute to their Global Microplastics Initiative. The organization, which pairs the skills of the outdoor adventure community with the vision of scientists worldwide, is compiling a massive, comprehensive dataset on the prevalence of microplastics in aquatic ecosystems.
After completing an online training course to learn how to correctly collect samples (always be up current, don't wear fleeces that might contaminate the sample, don't open the sample after collection) I was ready to go. Armed with reef-friendly sunscreen, snorkel gear and an assortment of one liter sample bottles, I boarded the Sunshine Daydream charter boat in Cruz Bay harbor.
My guide for the day, Captain Rob, took me to some of the island's best hidden snorkeling spots. I filled a sample bottle at each stop, carefully marking the coordinates, depth and conditions. As I gazed in awe at the schools of bait fish and vibrant corals, I felt a pang of worry at the impacts microplastics could be having on the reef ecosystem.
After a very long, very awkward conversation with postal workers curious as to why I was shipping so many duct-taped plastic water bottles, I sent my samples off to researcher Abby Barrows in Stonington, Maine. There, the samples will be analyzed to see just how prevalent microplastics are in the waters surrounding St. John.
Each water sample collected brings us one small step closer to quantifying the abundance and determining the impacts of microplastics—and how we can mitigate them. ASC's database will help inform decision makers about the range of microplastics and provide valuable information that can be used in future research.
Although the issue of microplastics might seem massive, I'm happy to play my part in finding a solution: one water sample at a time.
Learn how you can contribute to ASC's microplastics initiative, and see how Ocean Conservancy is fighting back against marine debris.