Standing Before the Senate to Address the Ocean Plastics Problem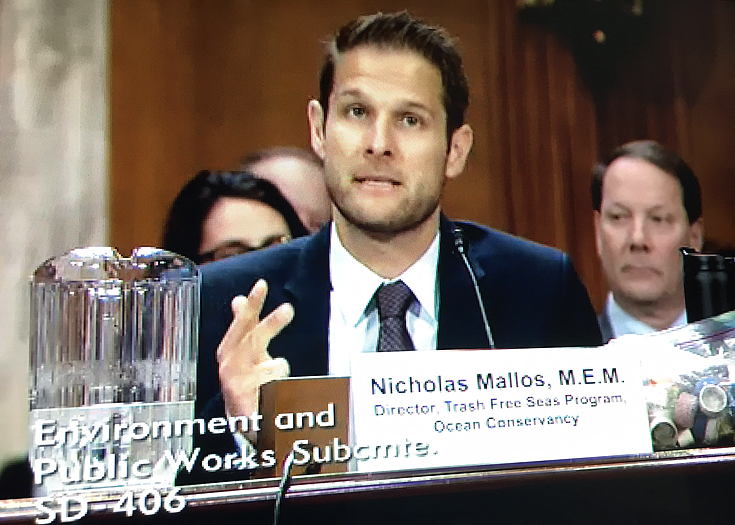 Earlier today, I testified before the Senate Environment and Public Works Committee on the problem of ocean plastics and how it negatively affects ocean animals. Ocean plastics are a problem that affects us all. From our fisheries to our beaches to our protected environments—ocean plastics are a cause of concern for all Americans.
The growing tide of ocean pollution is a problem for sea turtles that ingest plastic, sea birds that get tangled in fishing lines and marine mammals that wash ashore with belly's full of trash.
I'm grateful to the Senate for passing the U.S. Marine Debris Research, Prevention and Reduction Act of 2006, which authorized the creation of the Marine Debris Program (MDP) within the National Oceanic and Atmospheric Administration (NOAA). The NOAA MDP has been instrumental in informing and catalyzing marine debris research and solutions in the United States and abroad.
In order to stem the tide of ocean plastics, however, more action is required by Congress. In my testimony before the Senate, I urged Congress to:
Increase funding for independent research on ocean plastics; and
Identify opportunities to partner with industry for sustainable solutions.
I commend the Senate Environment and Public Works Committee for having this public testimony and bringing sorely needed attention to this issue. We hope that this hearing will be just the beginning of concerted action against the problem of ocean plastics, and that together we can work toward a future of trash free seas.
Thank you to the more than 11,000 ocean advocates who joined Ocean Conservancy's call to action—and sent in letters to their Senators. I was able to deliver YOUR letters to the Senate during my testimony. It was nice knowing that I wasn't alone, but that all of you were standing with me as I testified before the Senate. Thank you!
Together, with scientists, governments, businesses and YOU—we can push for real solutions that help reduce marine debris and save countless animals that depend on a healthy ocean for their very survival.