What Inspires a Spear Fisherman to go to Capitol Hill?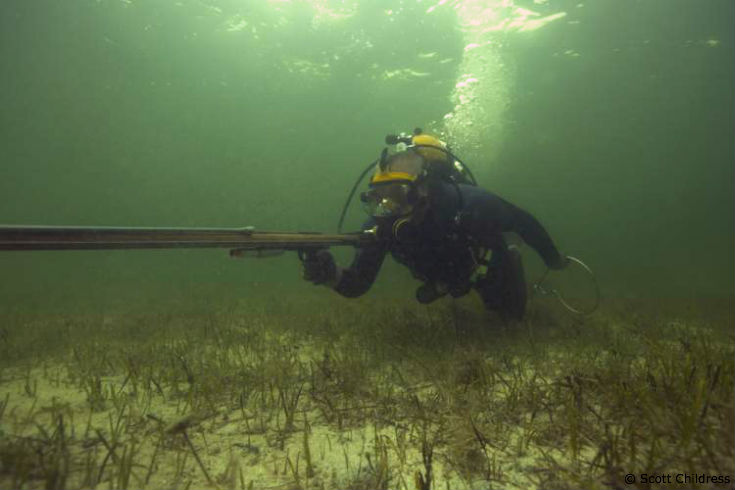 Captain Scott Childress owns and navigates a commercial spear fishing vessel located in Hudson, Florida.
When Ocean Conservancy asked me to join them to visit elected officials on Capitol Hill to celebrate the 40th anniversary of Magnuson Stevens Fishery Conservation and Management Act (MSA), I was quick to say a resounding "yes," but a little nervous about my new role.
What the heck would I—a commercial spear fisherman—say to congressmen? As it turned out, quite a lot. I have a unique perspective on fishing in the Gulf of Mexico and on the U.S. law that has served as "tough love" for America's fisheries.
I'm a small businessman. I run a boat with two to three divers for trips of two to three days each. On a good trip, we'll pull in 2000 lbs. of fish. It's a small enterprise, but my crew and I work full-time thanks to fisheries management that has allowed fish species to rebound.
MSA was definitely an act of "tough love" that called on all of us to make sacrifices so that we would have sustainable fisheries in the long run. It means our children and grandchildren will be able to fish and enjoy seafood.
As a commercial spear fisherman, I work below the waves, so I see more than those who fish with hook and line. Now that the revised MSA has been in effect for a decade, I'm seeing stocks come back—and it's fascinating. I see a broader range of age and size of fish: The younger year classes are thriving, and I'm seeing a huge jump in bigger, older, grouper. In other words, they aren't all being caught as soon as they mature. There is a healthy population now, and the physical environment is looking lusher as well. It is an improvement for the ecosystem as a whole.
But some groups don't see it that way. They want fewer restrictions, less monitoring and longer seasons. They want to take the teeth out of the law. In my mind that would be the worst thing we could do. It took years of restraint and hard work to rebuild the fish stocks, and we shouldn't undo that now.
This is what I discussed with the Florida delegation, particularly Congressman David Jolly (R-FL). Talking with him, I realized members of Congress are really interested in your perspective. They see you as a person in the fishery with hands-on knowledge. You have the information they need.
But you do need to be prepared.
Here is my advice for how to get the most out of a trip to Capitol Hill:
Capitol Hill can be overwhelming, even to an adrenaline junky like me. The halls are bustling and someone is always running in or out of rooms. Everyone is on a schedule, so when you're visiting your elected officials, be punctual.
In order to communicate with your U.S. Representative or Senator, you have to take the time to bring your concerns to their staff. Staff members are extremely intelligent and knowledgeable, and members of Congress rely heavily on them for information on the issues that matter to their districts and states.
Finally, working on the Hill is about building relationships. It doesn't happen overnight. You have to get to know the people as well as the issues. I was talking with one staffer about spear fishing and at some point he said, "I do like to dive." That was my opportunity. I said, "Well next time you're in the district, I'll take you out." I hope he'll take me up on that offer.
In the end, I'm glad I went to Washington, D.C. and met with the Florida delegation. They represent me and make decisions on a wide range of legislation that impact small and large fisheries businesses. Our elected representatives need to hear our voice on issues that matter most to us. In my case, it's the benefits I've experienced as a result of America's law on fisheries management.
Would I make the trip to Capitol Hill again? Yes, and I hope you'll join me.