Exploring Icebergs in Our Nation's Capital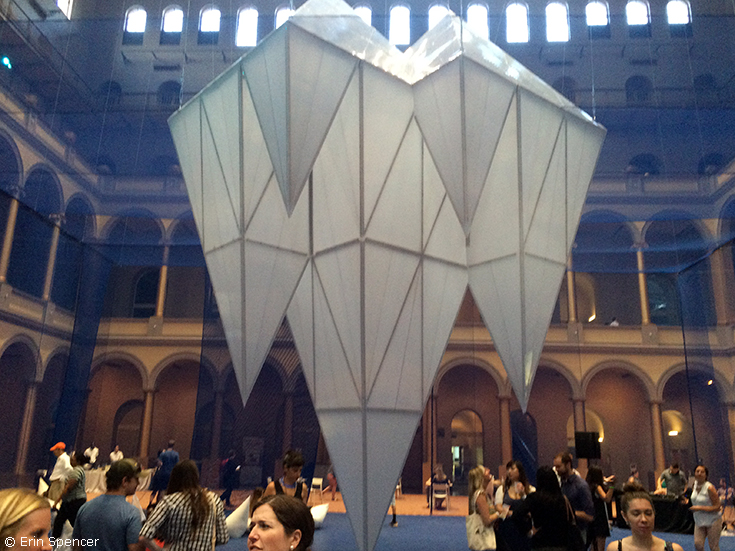 When the heat index is well over 100 degrees, Washington, D.C. locals will do whatever it takes to stay cool. This summer, the National Building Museum is making it easier than ever to escape the heat—by bringing an icy environment straight to our backyard.
Their new exhibit, Icebergs, is a massive installation that allows visitors to immerse themselves in a polar ecosystem. Designed by James Corner Field Operations, the tallest iceberg stretches 56' high to the third story of the museum and allows panoramic views from high above the "ocean" surface. The entire system is built from re-usable construction materials, such as scaffolding and polycarbonate paneling.
But the installation is more than an engineering marvel: It's a way to raise awareness about the threats facing polar environments around the world. After-hours events feature polar researchers and conservationists, allowing visitors to mingle among the 'bergs while learning how glaciers form, how researchers conduct studies in the field and how various threats are impacting these ecosystems.
Spreading the word about the threats facing icy habitats around the world is crucial. From 1979 to 2012 alone, summer sea ice extent in the Arctic decreased 40 percent, and sea-ice dependent mammals will face great challenges if melting continues. The Arctic is warming two times faster than the rest of the world, and it is projected by 2037; summer sea ice will disappear completely.
What happens in the Arctic doesn't stay in the Arctic. Without careful planning, management and regulation, industrial activities like oil drilling and shipping could have dire consequences for a region that is already under enormous stress from global climate change and increasing acidification. Icebergs is a creative way to combine art and science to raise awareness about a massive problem, and will hopefully inspire people from D.C. and beyond to take action and protect polar ecosystems like the Arctic.