Exploring the Remote Midway Atoll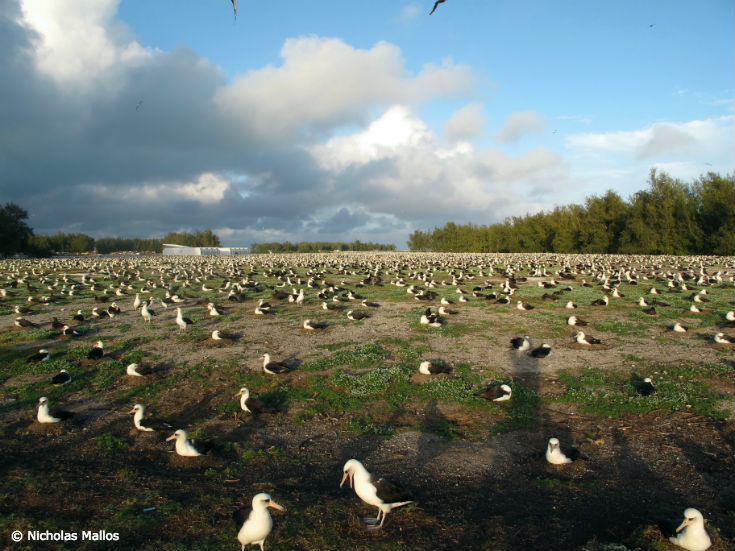 Just last week, President Obama announced that he will quadruple the Papahānaumokuākea Hawaii Monument—creating the world's largest protected marine area. At 582,578 square miles, Papahānaumokuākea will be nearly four times the size of California and 105 times larger than Connecticut. This is huge news for the endangered Hawaiian monk seals, sea turtles, sharks and more that call this uniquely biodiverse seascape home.
Nicholas Mallos, Director of our Trash Free Seas program, traveled to Papahānaumokuākea in 2010 to see first-hand the beauty—and the dangers—in this spectacular ecosystem.
Setting foot on land more than 1,000 miles from your nearest neighbor, one might suspect to find themselves in an unspoiled environment with little or no sign of human presence. Unfortunately, on Midway Atoll, this is not the case. Part of the Papahānaumokuākea Marine National Monument, Midway is at the northwestern end of the Hawaiian archipelago, roughly equidistant from Asia and North America.
Midway is truly "out there." The atoll's nearest population center is Honolulu, which is 1,311 miles to the southeast and a five-hour trip by plane. Having reviewed the literature, perused the photos and watched the films, I thought I was prepared for my 2010 research trip to the Atoll. But I was not.
Lying literally in the middle of nowhere, Midway is a beautiful and deeply surreal place, mystical and transformative. At night, Bonin petrels, small nocturnal seabirds, flock the skies in the hundreds of thousands, emitting shrieks eerily synonymous with their avian counterparts in Alfred Hitchcock's, "The Birds." During the day, petrel shrills are replaced by the relentless chatter of more than one million Laysan and black-footed albatross. Midway is the largest nesting colony for Laysans and the second largest for black-foots. Offshore, the roar of the ocean is equally sonorous with a monster swell that breaks over the atoll's fringing reefs.
Seventy years ago, Japanese and U.S. military forces pummeled these islands with artillery during the Battle of Midway, one of the most important naval battles of the Pacific Campaign of World War II. But despite decades without troops or thunderous artillery, these islands remain endangered by a far more persistent threat manufactured by humankind: plastics.
The Northwestern Hawaiian Islands act like a filter in the North Pacific, ensnaring large amounts of drifting fishing gear and debris on its fringing reefs and sandy shores. The daily accumulation of large debris on Midway's shores—almost entirely plastics—threatens the monk seals and sea turtles that haul out on its beaches and forage in the atoll's shallow waters. With only 1,200 monk seals remaining, the loss of even a single animal can substantially impact the species. Entanglement in debris and ingestion of plastics is also a serious concern for Hawaiian green turtles, a subspecies that is genetically distinct from all other green sea turtles found throughout the world.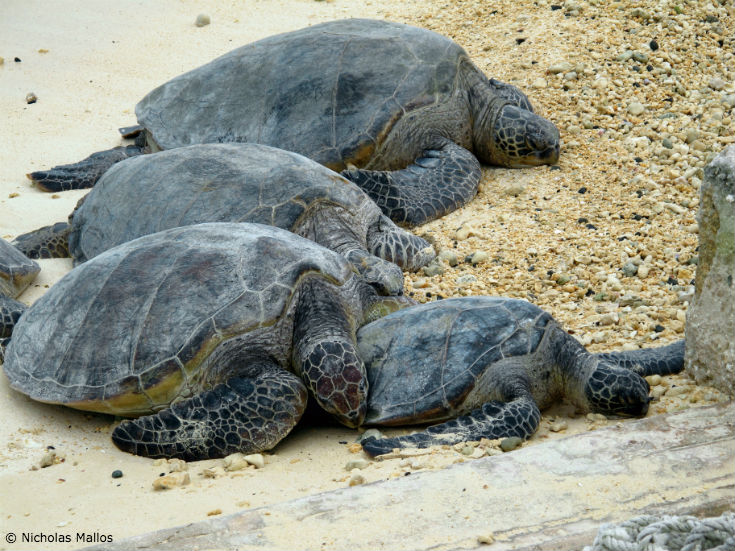 But seabirds, most notably albatross, incur the greatest impact from plastic debris. Each year, approximately 4.5 tons (nearly 10,000 pounds) of plastics are brought to Midway not by currents or wind, but in the stomachs of the birds themselves. Mothers and fathers forage at sea for weeks in search of fish eggs, squid and other prey in hopes of nourishing their newly hatched chicks that wait anxiously hundreds or even thousands of miles away. All too often, adult albatross return to Midway and regurgitate offerings more reminiscent of a convenience store than that of a natural albatross diet. Plastic bottle caps, cigarette lighters, fishing floats and great quantities of plastic fragments are now part of the albatross diet. Unlike their parents, Laysan chicks do not possess the ability to regurgitate; once consumed, these plastics are often fatal to chicks through a variety of mechanisms including starvation, stomach rupture or asphyxiation.
I witnessed the unintended consequences of plastics on Laysan and black-footed albatross firsthand during a two week stay on Midway in 2010, where my colleagues and I completed a preliminary assessment of plastics' impacts on marine wildlife. Trekking around the islands, it was impossible to avoid plastics—colorful shapes and sizes speckled the ground while other types of plastic protruded from the guts of recently perished albatross chicks.
By analyzing the stomach contents of a deceased chick found lying on the old airstrip amid the sprouting grass, I further deconstructed the plastics-albatross relationship. Finding a specimen was not difficult; hundreds of options were available on that same runway. The stomach contents of my single albatross included nine plastic bottle caps, two strands of dental floss, one five-inch orange fishing float, 103 miscellaneous plastic pieces, six pumice stones and 60 squid beaks—the latter two items being the only naturally occurring components of a Laysan's diet. While this was only a single sample, the total mass of the synthetic stomach contents was roughly 100 grams, about the same as a quarter-pound hamburger.
The magnificent albatross on Midway Island are more than just birds. As part of our natural world, they are an object lesson in how we are treating our planet. Albatross, along with the other inhabitants of Midway, are the recipients of the collective impacts of the "out of sight, out of mind" mentality that permeates our global society. While I have been fortunate to visit these animals in this far off world, one need not travel to Midway to witness the persistence and proliferation of marine debris. The ocean plastics crisis is just down the road or over the nearest sand dune.
Take a moment to say mahalo (thank you) to President Obama for creating the world's largest protected marine area.