Inspired and Connected for Trash Free Seas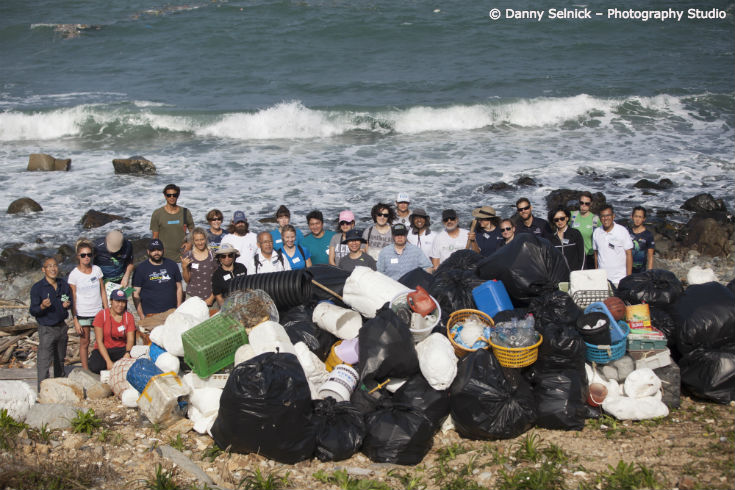 As we ease into the holiday season, I am grateful to have been part of an amazing event halfway around the world where I witnessed the positive energy and impact that can only arise when we work together. It was a powerful reminder of how our ocean brings us together.
As part of the Ocean Conservancy's Trash Free Seas Program, I went to Hong Kong for our first-ever International Coastal Cleanup (ICC) Asia Pacific coordinators meeting. As you may know, the International Coastal Cleanup is the world's largest volunteer effort on behalf of the ocean and collectively, partners from around the world have kept 100 million tons of trash out of our ocean in the past three decades.  The Asia Pacific region is where much of the world's ocean trash originates, and Ocean Conservancy was eager to learn from our partners on the front lines.
At the regional meeting, there were 12 countries represented, and attendees from California, Hawaii, Oregon and Washington, all bringing a wealth of talents, expertise and experience to the table. Their leadership and work in the marine debris field as well as their community organizing skills continues to make a huge difference to the health of our ocean. The meeting in Hong Kong was an opportunity to celebrate their accomplishments and identify new paths based on science, best practices and a shared commitment to stem the tide of trash in our seas.
Our meeting began with a cleanup at Lap Sap Wan led by our co-hosts and ICC partner, Hong Kong Cleanup. This beach, similar to many locations in Asia Pacific and around the world, was completely covered in debris. At times it was knee-deep.
We noted the types of items (polystyrene, plastic PET bottles and fishing gear, to name a few), inferred how they may have reached that location and tracked our findings on Ocean Conservancy's new marine debris data collection app called Clean Swell (IOS /Android).
The cleanup spurred conversations around an issue that is overwhelming and complex but ultimately connects us all and compels us to seek solutions on a global level. With so much knowledge, talent and energy in one place the meeting was rich in discussion, not only in regards to cleanup practices but also in the realm of new research and innovative solutions.
We shared successes stories like a system that upcycles discarded fishing nets into carpet. We also heard about challenges like addressing misconceptions and finding ways for the public to understand that marine debris is not your or my problem, it is our problem.
Between brainstorms and panel discussions, we also found time to talk about SCUBA diving and surfing and experience Hong Kong. One of my favorite meals was dinner at Linguini Fini, a zero-waste restaurant on Hong Kong Island.
I came away recognizing the power and increased impact in working together. I am thankful for the partnerships—and friendships—that the ICC has helped to build across cultures, geographies and time zones as we all work towards trash free seas.