Preventing Marine Debris, One Straw at a Time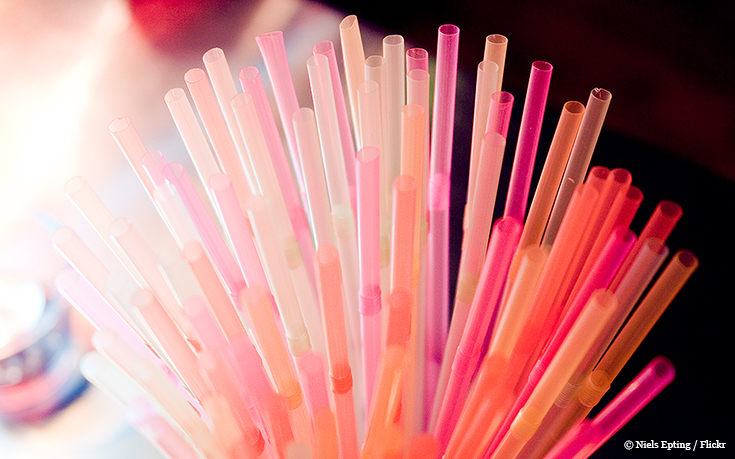 Over the past several weeks, Ocean Conservancy has received a wave of 2016 International Coastal Cleanup data. Thanks to volunteers from Idaho to Indonesia, data from the 2016 ICC and the Clean Swell app are pouring into our new ocean trash database. The trash by the numbers provides us with a year-by-year snapshot of the top items that plague our waterways and coastlines.
Lately, there's been some buzz around one top ocean trash item in particular: plastic straws (over 211,000 already logged!). With a debris item that is so easily preventable, and a host of alternatives out there, individuals, organizations and whole communities are now taking action. The most recent success story: Chiles Restaurant Group of Anna Maria, Florida.
This group of three waterfront restaurants—Mar Vista Dockside Restaurant in Longboat Key, Beach House Restaurant in Bradenton Beach and Sandbar Restaurant in Anna Maria—is concerned about plastic pollution and has turned its attention to reducing their own impact in a number of ways.
The Chiles Restaurant Group is making significant strides in its efforts to be "plastic-free" and have implemented Single Stream Recycling in all three locations. This includes the introduction of a plastic cup alternative made exclusively of a commercial food grade cornstarch product which is completely biodegradable, unlike many other industry options. Other eco-initiatives include the elimination of all foam containers, saltine cracker wrappers and other non-biodegradable products normally associated with Food Service operations. Next steps include the introduction of a complete line of eco-friendly "to-go" containers and reusable packing crates for produce and seafood.
Chiles' restaurants will communicate its environmentally-responsible actions through local restaurant marketing in the form of green messages designed to engage, educate and encourage its customers to join in their sustainable efforts to "Skip the Straw." Equipped with ICC data and an understanding of the issue, the restaurants are spreading the word about what individuals can do to prevent marine debris, one straw at a time.
"As we ramp up our efforts to reduce our plastic footprint, we hope we can encourage others to do the same," said Restaurant Group owner Ed Chiles.
YOU can take action, too. Sign the pledge to Skip the Straw and consider other ways to reduce single-use plastic in your life.
We are thrilled to work with environmentally-conscious businesses like the Chiles Restaurant Group. For more information on their "Skip the Straw" movement and other eco-initiatives, check out: http://www.islanddining.com.
Don't forget to download Clean Swell and keep the data coming!