A NOAA Budget That Cuts to the Bone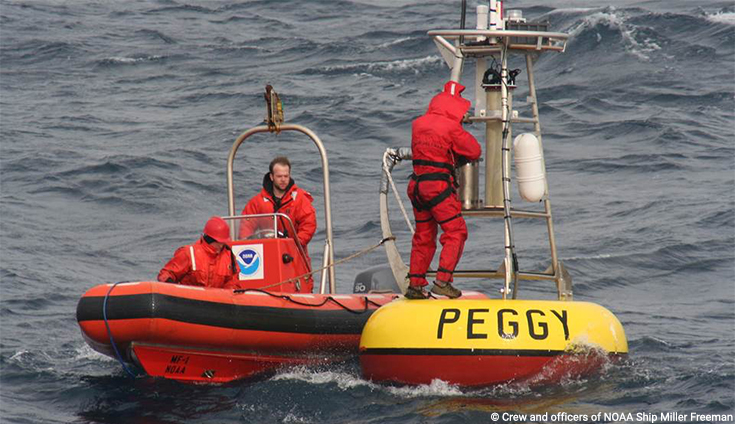 UPDATED: This blog was updated with new information on March 16, 2017
Early morning on March 16, 2017, the Trump Administration released its proposed budget—often called the skinny budget—that alarmingly confirms what The Washington Post reported about the devastating cuts for the National Oceanic and Atmospheric Administration (NOAA).
Today, we learned that the budget for the Department of Commerce, which houses NOAA, would be cut by $1.5 billion. While the proposal lacks some specifics about NOAA's budget, it makes clear that at least $250 million in grants and programs that support coastal and marine management, research, and education including Sea Grant would be zeroed out. The administration recognizes that these programs primarily benefit local stakeholder, industry and state– and they are cutting it out anyway.
Based on what we already know, NOAA faces a massive overall cut of $990 million to their operating budget. Cuts on this scale aren't just "trimming the fat" to make the agency more efficient. They're cutting straight to the bone.
It's worth closely examining the proposed cuts, because they provide valuable information on how the Trump administration views our ocean and coasts—and the people that rely on them. If the proposed budget is approved by Congress, here are just a few examples of what could disappear:
The forecasting system in place to alert the over two million coastal Lake Erie residents of algal toxins in drinking water.
The Sea Grant College program would be completely eliminated, shuttering our nation's highly-respected network of 33 university Sea Grant programs that help local businesses, communities and states leverage local university experts to find practical solutions to tough, on-the-ground ocean, coastal and Great Lakes challenges.
Coastal resilience and monitoring.

Rapid Response marine debris plan for the Gulf of Mexico region.
Oil spill studies, providing critically important information on how oil and ice interact if there is an oil spill in the Arctic.
The numbers reported by the Washington Post are not final and will likely change. But this snapshot into the administration's plans is deeply, deeply unsettling.
What's at Stake
The scope of responsibilities that NOAA carries is truly astonishing. America relies on the team of world-class professionals and scientists at NOAA to do essential work ranging from the bottom of the ocean all the way up to the reaches of space. It's NOAA who is responsible for exploring and protecting the depths of our ocean. It's NOAA who manages America's fisheries. It's NOAA who protects endangered marine mammals and other ocean wildlife. It's NOAA who gives your local meteorologist the data they need to do their jobs and give you your local nightly weather forecast. It's NOAA who forecasts and tracks hurricanes. And it's NOAA who even predicts "space weather" to forecast solar storms that could disrupt our nation's critical satellites, including GPS services that we all rely on every day. That's right—NOAA even has a role in keeping the GPS on your phone up and running.
The services that NOAA provides aren't theoretical. They're very, very real. And they're in your hands, on your television, and on your dinner-plate virtually every day. You don't see a NOAA logo pop up each time NOAA touches your life, but NOAA is there—whether you're aware of it or not:
Here are just a few more examples of NOAA's work that Americans rely on every day:
NOAA's National Fisheries Management Service oversees our nation's fisheries and seafood sector, a $214 billion dollar industry. Fishermen rely on information from NOAA to make the most informed decisions on where to fish, how to fish and when to fish.
The Marine Debris Program keeps trash off our coastlines, supports partnerships and research to prevent more from going into our ocean and tackles the global threat of plastic pollution.
NOAA's Coastal Zone Management provides states with the support to protect 61,000 miles of ocean and Great Lakes coastline.
Our Regional Coastal Resilience Grants support regional collaborations of states, tribes, local communities and public/private partnerships to address coastal vulnerability and risk—a program that received 30 times more requests for help than they could accommodate
NOAA's Protected Resources works to slow, halt and reverse the population decline of endangered species, with a focus on Hawaiian monk seals, southern resident killer whales, white abalone, Cook Inlet beluga whales, Atlantic salmon, Pacific leatherback turtles, Sacramento River winter-run Chinook and Central California Coast Coho.
NOAA's Climate Research advances the understanding and projecting the future impacts of climate change on fish stocks
The Sea Grant programs located in every U.S. coastal and Great Lakes state, Lake Champlain, Puerto Rico and Guam train the next generation of ocean and coastal experts and provide on the ground support in communities on issues like sustainable fisheries and workforce development.
NOAA's Office of Oceanic and Atmospheric Research includes vital programs such as the National Severe Storms Laboratory and the Office of Ocean Exploration and Research and the Ocean Acidification Program.
What it all means.
As a nation of fishers, sailors and entrepreneurs that built much of its fortune out on the water and still relies on a thriving ocean that supports an economic engine worth $359 billion, we should be worried.
As a nation of farmers, growers and gardeners that relies on accurate weather patterns and predictions, we should be concerned.
As a nation seeking to grow and striving to prosper, we need to recognize that this proposal, along with the EPA cuts leaked earlier this week, is a worrisome sign that the Trump Administration may be planning a full-scale retreat from supporting the lives, livelihoods and safety of millions of hardworking people in America's ocean, coastal and Great Lakes communities.
It's important to remember, though, that even if that is the Trump Administration's vision—and I truly hope that it isn't—the President doesn't get to make these decisions single-handedly. Congress also has a say. And so do the rest of us.