These Quilters Have Sew Much Love for the Ocean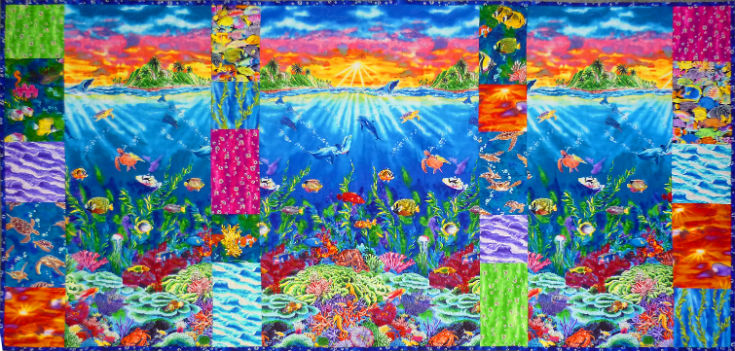 As a young boy, Luana and Paul Rubin's son Mason, now 27, was in love with the ocean. He decided for his eighth birthday party to eschew gifts and instead have his guests make contributions to the Jacques Cousteau Society.
"He raised a nice little sum of money," Luana says, and even received a thank you letter from Mrs. Cousteau.
"I've always been an environmentalist, but sometimes your children lead you further down a path," Luana says. "He started saying, 'By the time I grow up, the Great Barrier Reef will be dying off, along with all of these ocean animals. We've got to do something.'"
The Rubins did do something. When Luana, a textile artist, and Paul started eQuilter in 1999, they decided to devote two percent of their sales to charity. Their Boulder, Colorado-based mail-order company specializes in high quality quilt fabrics and related products. When customers buy from the eQuilter website, they can choose which of seven charities receive their support.
"Our customers responded so passionately and wholeheartedly," Luana says. "It became an integral part of our business model. Our customers feel invested."
Since then, eQuilter has donated over $1.4 million to philanthropic organizations. The company has supported Ocean Conservancy for over 12 years, giving nearly $70,000 and helping to educate their customers about threats to our ocean.
"I love having very personal relationships with the organizations we give to—we choose them very carefully," Luana says. "We did some very thorough vetting and research and Ocean Conservancy kept coming up as the most effective ocean organization.
"We feel the ocean is critical in so many ways," she adds. "We're very concerned by poisoning and contamination going on in the ocean and how that effects not only the health of the ocean but the eco-balance of the entire world."
In addition to Ocean Conservancy, eQuilter supports breast cancer research, rainforest conservation and humanitarian aid to those in need throughout the world, especially children and refugees. They also collect donated quilts and ship them to places reeling from disasters like earthquakes and tsunamis.
Luana feels strongly that being charitably minded makes good business sense—and encourages other companies to support the causes they are passionate about. "I've found customers are really hungry to make a positive impact if given the opportunity," she says. "This is a great way to market your company that also makes a difference for the planet."
This piece, authored by Kirsten Ferguson, originally appeared in the summer issue of Ocean Conservancy's newsletter, Splash.