One Bedsheet Lost, Thousands of Straws Saved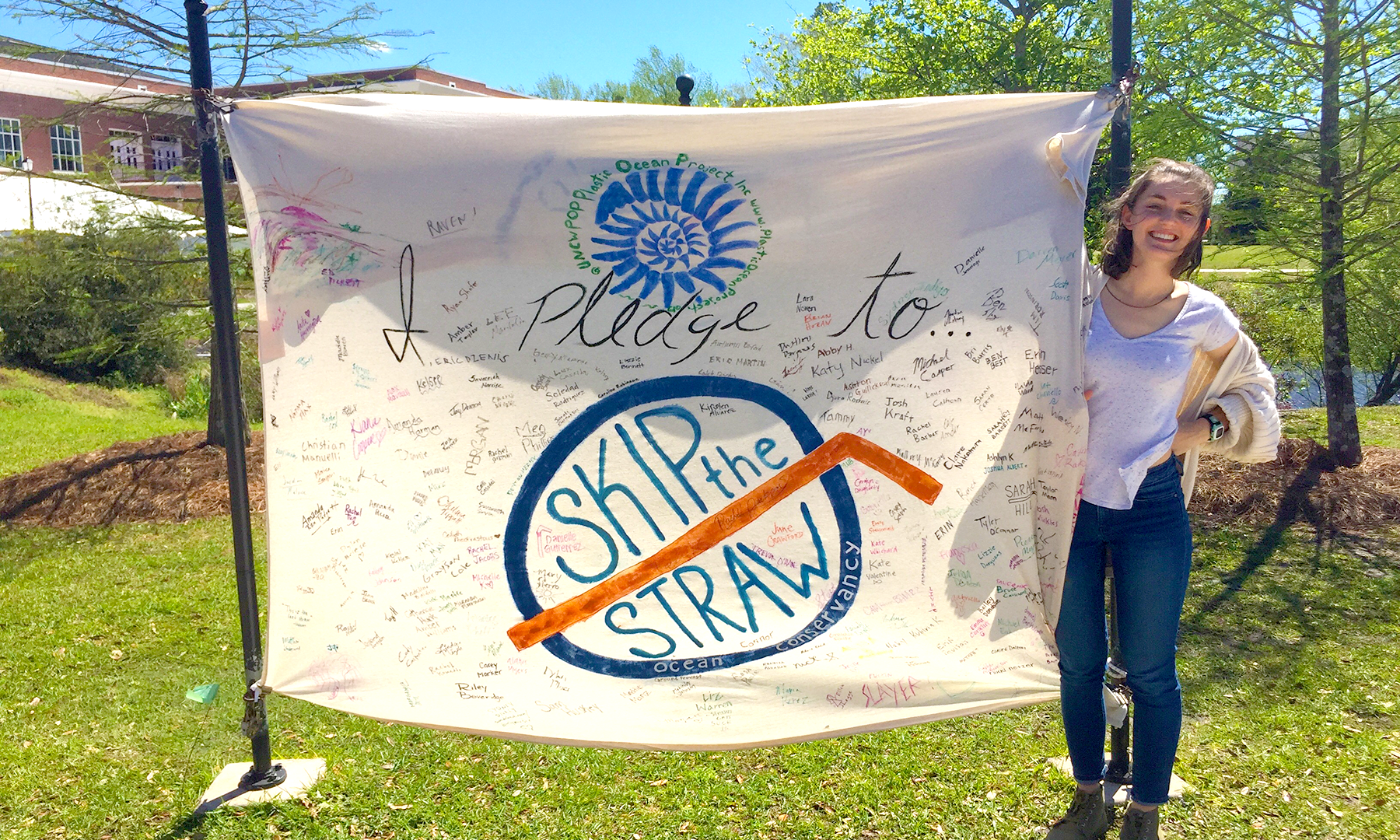 University of North Carolina – Wilmington's, Plastic Ocean Project (UNCW-POP) is ahead of the tides. A group of students, passionate about protecting and preserving the oceans, formed UNCW-POP to perform progressive educational outreach and find solutions to combat global plastic pollution. The group hosts events that are widely attended by UNCW students, such as their annual Art Gala with student made art constructed from ocean plastics, Benefit Concerts featuring local bands and environmental movie nights. Successful outreach begets productive cleanups: UNCW-POP has over 150 volunteers who pick up thousands of pounds of trash off the North Carolina coastline each year.
Spotlight: Sam Huskey, Community Outreach Committee Leader
Sam was initially drawn to UNCW-POP shortly after its foundation in August 2015, thanks to Ginger Taylor, Founder and Director of Keep it Clean, Wrightsville Beach. The Wrightsville Beach Sea Turtle Project and Keep it Clean are part of a collaborative project with Ocean Conservancy that documents the types of debris that are found on vital sea turtle nesting beaches. Their work on the beach and partnership with Plastic Ocean Project and Cape Fear Surfrider Chapter in the community has resulted in many local restaurants eagerly becoming Ocean Friendly Establishments. After joining the group and learning more about the devastation caused by single use plastics, Sam was determined to reduce Wilmington's footprint.
Sam heard about Ocean Conservancy's Skip the Straw campaign, an effort that began three years ago and has since stretched across the country, and she immediately took action on her campus: "I wanted the Skip the Straw campaign to be implemented on campus because it is the perfect environment to expose the idea to a niche of specific people." Sam applied for a grant from the university to buy reusable steel and bamboo straws for interested students. Sam hosted a tabling event in the library, where UNCW students stopped to learn more about single-use plastics, specifically straws, and signed a large canvas with Ocean Conservancy's "I Skip the Straw" painted on (her bedsheet!), committing to Skip the Straw. They also received reusable straws when they made the pledge to reduce their use. Sam plans to continuously reinforce the reduction of straws on campus in the coming fall semester by tabling, posting flyers and adding signs to dining areas.
Sam's story is what the trash free seas movement is all about. As many volunteers of Ocean Conservancy's International Coastal Cleanup note, each of us must commit to make these small changes to reduce waste that will ultimately help stem the flow of trash into the ocean. Our individual actions plus the cross-sector solutions we achieve with partners in research, industry and academia will truly make the difference for a cleaner ocean.