The More You NOAA: What Budget Cuts Mean for Florida's Sponge Business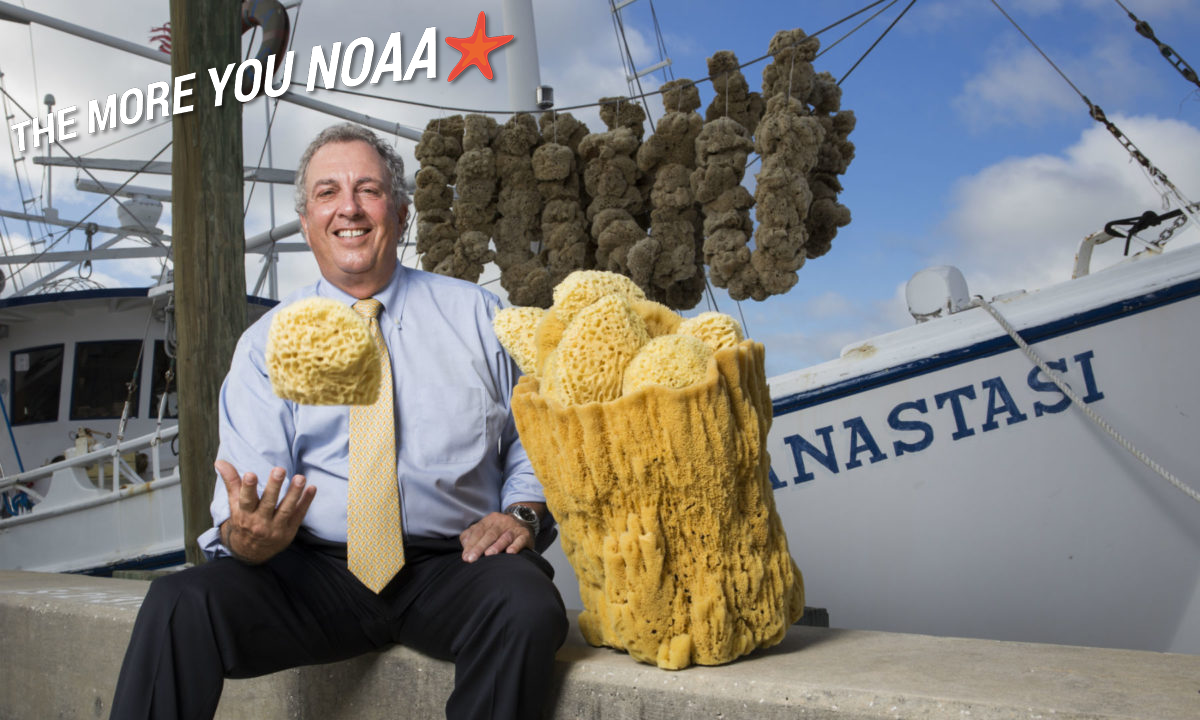 The Trump administration's newly proposed budget would cut nearly $1 billion from NOAA. Follow along with our "The More You NOAA" blog series to see how these cuts would impact the families and communities who rely on a healthy ocean.
The Trump administration has proposed cuts to the National Oceanic and Atmospheric Administration (NOAA) budget that will have huge impacts on the economies of coastal communities. Growing up in Florida, I know that these cuts mean more to my community than numbers on a spreadsheet. For so many of my neighbors, from the commercial fisherman to the marine researcher, these cuts will impact how they make a living and provide for their families.
Among the cuts is the complete elimination of the Sea Grant program, which has helped meet the needs of coastal communities through innovative research, new and pragmatic solutions, job-based training and workforce development.
If you're not from a coastal state, you may not realize that the service Sea Grant provides to coastal industries is akin to the support farmers receive from the U.S. Department of Agriculture. It conducts relevant research and works with coastal industry to develop innovative ways of meeting the ecological and economic needs they face. For the past half a century, Sea Grant has had helped to build and sustain the needs of coastal economies that may have otherwise faced dire times.
Just ask Jim Cantonis, a fourth-generation sponge merchant and president of Acme Sponge and Chamois in Tarpon Springs on the west coast of Florida. Natural sponges found off the west coast of Florida and the Florida Keys are in high global demand because of naturally occurring antibacterial properties.
"Without Florida Sea Grant, there would be no sponge fishery in Florida," he states.
Harmful algae blooms were causing sponge die-offs, threatening the marine ecosystem and risking many small businesses. Researchers at Florida Sea Grant were able to develop a harvesting method that helps speed up the recovery timelines of certain sponge species.
The research team also discovered that new populations of sponge can emerge when cuttings are transplanted to new restoration sites, greatly increasing the speed of restoration. They found that leaving a portion of the sponge behind after harvesting allows the sponge to regenerate. This simple, innovative technique has been successfully adopted by fishermen, allowing sponges to become a renewable resource of a multibillion dollar industry.
This success story from NOAA's Sea Grant program is just one example of many from across America. The investments made in ocean sciences and coastal communities pay rich dividends.
In 2015 alone, the Sea Grant program delivered a $320 million economic impact, or a 475 percent return on federal investment. It has also just celebrated 50 years of success stories of putting science to work in our coastal communities. Let's ensure they have at least 50 years more.
The bottom line
Cutting NOAA's Sea Grant program will eliminate a scientific lifeline that has small business, local economies and industries thrive in America's coastal communities. We can't allow that to happen.