As National Ocean Month Comes to a Close, There Are Reasons for Optimism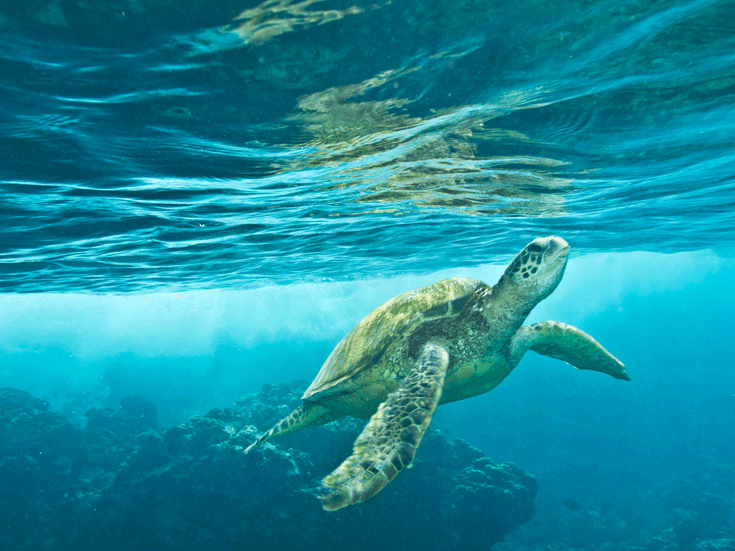 On May 31, President Trump declared June National Ocean Month. Despite this proclamation, in just a few short months his administration has demonstrated a notable disregard for the ocean and the people and communities that depend on a healthy ocean. Since January, the administration has:
Proposed slashing the National Oceanic and Atmospheric Administration's (NOAA) budget by 16%.
Proposed slashing the Environmental Protection Agency's budget by more than 30%, zeroing out cleanup and restoration efforts in the Chesapeake Bay, Great Lakes, Puget Sound and San Francisco Bay and—right before beach season begins—eliminating the beach water quality testing program.
Initiated a review that puts at risk all of our national marine monuments and some sanctuaries.
Revoked protections—requested by more than 70 Alaska Native tribes—that would have safeguarded marine life and subsistence communities in the Bering Strait region, home to one of the largest marine mammal migrations on the planet.
Paved the way for the expansion of risky offshore drilling by ordering a review of the current offshore oil and gas leasing program.
Threatened to roll back specially designed offshore drilling regulations created to promote safety and environmental protection in U.S. Arctic waters.
Withdrew the United States from the Paris Climate Agreement.
These actions taken together spell real, unprecedented trouble for our ocean and coastal communities—and for all of us.
The ocean buffers us from the effects of climate change. It absorbs most of the excess heat of global warming, resulting in increasing ocean temperatures. And it absorbs much of the world's CO2 emissions that turn the ocean more acidic, making it hard for oysters, clams, mussels, corals and other animals to build the shells necessary for survival.
To top it off, there are signs that the administration will go even further. The signals are alarming when it comes to public transparency and the role of science in decision-making, especially for natural resources.
For an organization like Ocean Conservancy that is dedicated to conservation of the ocean—for marine life, for people and for the planet—these could be incredibly dark times. Many of the policies listed above were tossed aside with the stroke of a pen—with heedless disdain for years of work by Republicans, Democrats and Independents, by fishermen, scientists and ocean advocates, by people who make their living from a healthy ocean, who rely on a healthy ocean, who love a healthy ocean.

And yet, in the face of these threats, and others to come, I am optimistic.
I am optimistic because with a 45-year track record, Ocean Conservancy knows that the benefits, the enjoyment, the recreation, the livelihoods that come from the ocean and the way of life that depends on the ocean are not associated with one single political party. We keep our feet wet in the places we work, and immerse ourselves in the federal policy and process that governs the ocean. We have had great ocean conservation victories in Republican and Democratic administrations and congresses—and our membership reflects a healthy mix of ocean advocates from across the political spectrum. We have spent years building coalitions of fishermen and conservationists, wind farm operators and lobstermen, sailors and surfers. We all love and rely on the ocean and will fight to defend it.
I am optimistic because of the incredible groundswell of support for ocean issues that we have seen over the past several months. We must defend the policies and protections that we have accomplished together. And, at the same time, we have the opportunity to build for the future that all of us want—a healthy ocean for marine life, people and the planet. There is an unprecedented level of interest and engagement—and a real appetite for action. And Ocean Conservancy is stepping up. It's easy to focus on the bad news, but let's take a minute to remind ourselves of the good news of the past few months:
In May, an Arctic ministerial declaration was signed by Secretary of State Rex Tillerson, and seven other Arctic nations' heads of state that highlights the profound impacts of climate change in the Arctic, and agrees to move forward with reductions in black carbon pollution.
There has been unprecedented pushback from our members, partners and stakeholders against the proposed 16% cut to NOAA's budget, and unprecedented support for common sense protection of the Bering Strait.
The United Nations Ocean Conference, held the first week in June with high-level officials from global governments, industry and conservation organizations, led to significant commitments from countries around the world to prioritize the ocean and the people and communities that depend on it. These commitments included strong support for the Paris Agreement, commitments to the International Alliance to Combat Ocean Acidification, and a pledge to combat ocean trash—all of which Ocean Conservancy supported with its own pledges, including millions of dollars committed by Ocean Conservancy's Trash Free Seas Alliance® partners to tackle marine debris and ocean plastic.
And there's more to do. Over the past several months, Ocean Conservancy has been mobilizing our networks and adding staff to defend not just our program priorities, but also ocean priorities from our state and local partners and other ocean advocates. Our network is wide, deep, diverse and it is growing.
In a world where perception seems to matter more than reality, we are focused on connecting people to policy. We're gearing up to tell the stories of why the ocean matters, why thriving coastal communities matter, why funding for NOAA directly benefits our coastal economies. We are going to make ocean policy real for people and make ocean people real for policymakers at the state, local and national levels. We honed and perfected this story-to-action approach across our programs, making the case for why healthy fisheries, smart uses of the ocean and solutions to address the ocean plastic crisis and ocean acidification make a difference not just to the ocean, but to people and communities around the country. And there's more to come.
Finally, I am optimistic because the threats to the ocean are truly universal, and we're going to listen. We know that there are concerns from people in local and coastal communities that don't always make it to the forefront of the conversation in Washington, D.C. Ocean Conservancy is proud of our work outside the beltway, but we can do better. We're conducting a research project we're calling a listening exercise. Modeled after recent successful campaign efforts, we're going to rediscover the values we all share when it comes to conservation, so that we can understand each other and work together for a healthy ocean.
I'm optimistic, but I'm also a realist.
We're going to lose some—we already have, these first five months. Every time, the losses will hurt. But we are committed to working together to build for the future.
This is a moment in time when all of us can learn something from each other, and work together to make progress on something that unites all of us—a healthy, thriving ocean.