Going to Great Depths for Ghost Gear
Shining the spotlight on GGGI partner, Myanmar Ocean Project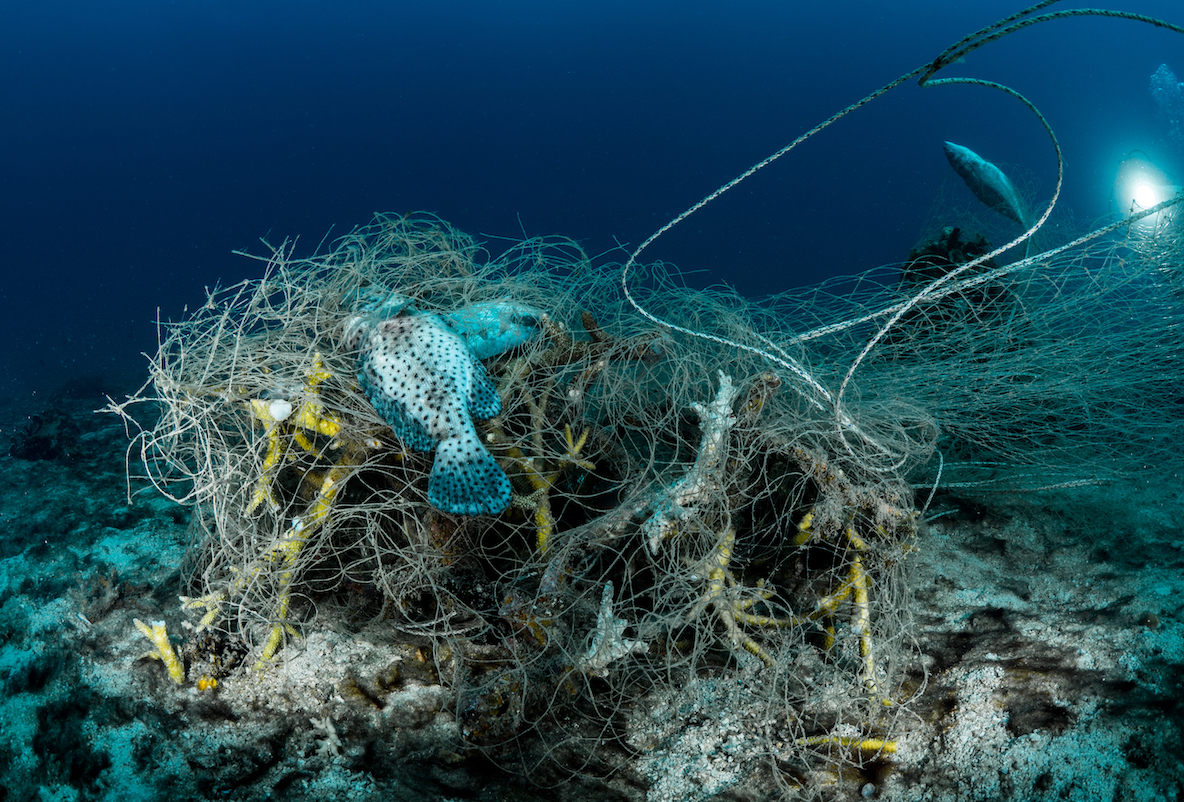 This blog was written by Jenna Schwerzmann. Originally from upstate New York, Jenna began her marine conservation career on Long Island after graduating from Stony Brook University with a B.S. in Marine Vertebrate Biology and M.A. in Marine Conservation and Policy. She has experience with both research and outreach for local estuarine conservation efforts, including horseshoe crab monitoring, shellfish restoration and water quality projects, all through Cornell Cooperative Extension's Marine Program. Jenna has also volunteered aboard whale watches since 2015 and interned at NOAA Fisheries in Gloucester, Massachusetts to assist with outreach for the Whale SENSE Program.
---
When SCUBA divers plan a trip to Southeast Asia, popular destinations include Thailand, the Philippines and Indonesia. Divers travel from all over the world to see pristine reefs of the Coral Triangle, teeming with underwater wildlife. But in nearby Myanmar, a quieter dive mission has begun. After multiple encounters with ghost gear on Myanmar's reefs, one diver decided to take matters into her own hands.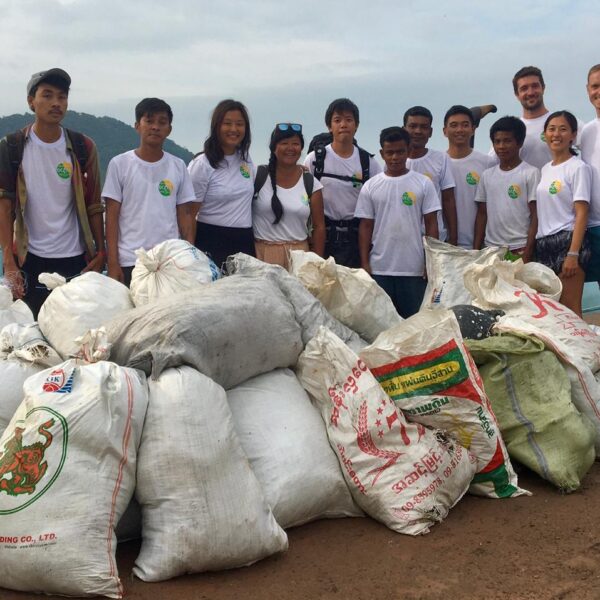 Thanda Ko Gyi is a professional SCUBA diver who founded the
Myanmar Ocean Project
in 2018 in response to the abandoned, lost or otherwise discarded fishing gear (ALDFG or "ghost gear") she discovered littering her home reefs
.
In response, Thanda started a project to restore and protect the health of Myanmar's ocean by removing ghost gear and engaging local communities with support from World Animal Protection,
National Geographic
Society and the Ocean Conservancy's
Global Ghost Gear Initiative
(GGGI). Since starting the project, Thanda and her dedicated team have successfully removed nearly two tons of ghost gear from remote reefs around Myanmar.
Thanda chooses her gear removal sites carefully to ensure the safety of her divers and to prioritize sensitive reefs and marine life habitats. One site in the Myeik Archipelago called Sloop Rock was identified after a visit to see the bamboo sharks residing in the reef, but they discovered the sharks were in trouble. "The whole place was covered in nets," Thanda said. And it was clear that the nets had just been lost or abandoned because the sharks weren't fully dead yet, [but] they'd been struggling entangled in the nets for a while. Her team had not previously seen nets in this location, but that day the site was "completely blanketed," according to Thanda.
The recreational divers were not able to tackle the massive net and bring it to the surface. They were on a tour schedule, so Thanda had to form a plan to come back in the future. "You do what you can," she said, "but it was a really bad experience."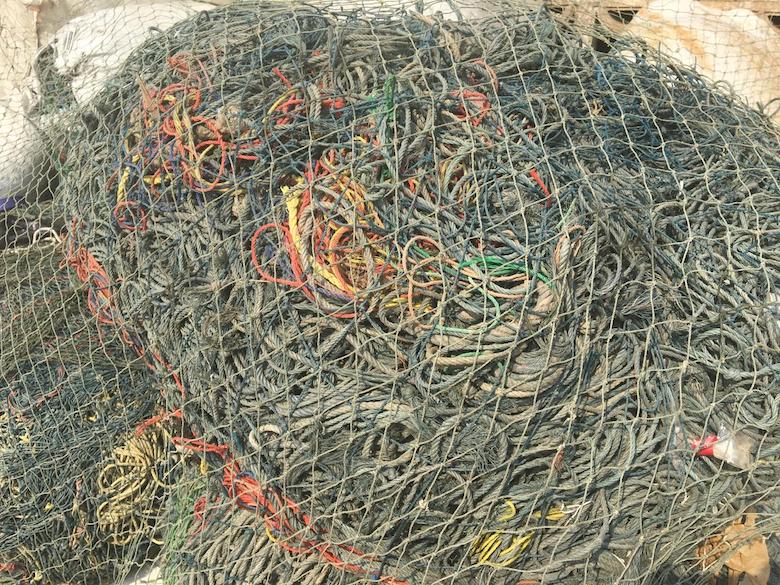 Fishing gear moves with ocean currents and tends to accumulate in hotspots, causing some reefs to change drastically within a relatively short period of time. A once-popular dive location called High Rock was expected to be relatively clean, as only one piece of gill net was observed on a 2016 visit. "By the time we went back in 2019, it had so many layers. And those used to be amazing dive sites," Thanda said." Dive boats stopped visiting High Rock when they repeatedly found the reefs covered in nets and longlines, some of them hooking the divers and putting their safety at risk.
Thanda has documented ghost gear presence at 95% of the sites she visited, but why? Fishers never want to lose their fishing gear. It is expensive to replace and fishers lose valuable fishing time doing so. The nets that Thanda retrieves often still have their valuable lead weights on them, which is a good indicator that they were unintentionally lost. Rough weather, entanglement with other gear or rocky structures underwater can all lead to accidental loss.
Unfortunately, no formal recycling infrastructure exists in Myanmar to recycle the recovered gear. But people reuse everything they can, and the stronger pieces of recovered nets are often washed and sold back to chicken farmers to use as fencing.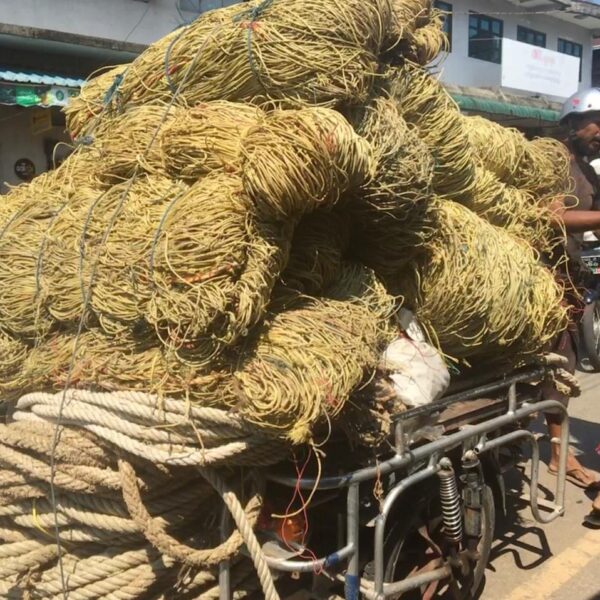 "With gill nets, if it's still white, because it's new, they will buy it," Thanda said. "If it is yellow or green, they can still wash it. It's only been in the water for a few months or up to a season. By the time it's red, I was told, that they will no longer buy it. It means they can't wash off the algae anymore."
Moving forward, Thanda would like to look into creating a proper recycling facility for both land- and sea-based sources of marine litter few organized waste management systems are available in Myanmar or its island communities.
Although Thanda's diving plans are currently on hold due to the ongoing COVID-19 pandemic, she is still hard at work addressing the problem of ghost gear. The Myanmar Ocean Project just released a new report which presents the results that came out of their expeditions so far. Thanda would like to gain a better understanding of the ghost gear problem by interviewing more fishers, researching the gear lifecycle and other potential intervention points to avoid gear loss in Myanmar's pristine waters. Thanda is an amazing example of how one person can inspire a difference, and how help from local communities is essential for success. We are so grateful to Myanmar Ocean Project for their work in protecting the ocean from ghost gear!