Beyond the Straw: Ocean Conservancy Launches #suituptocleanup Campaign ahead of 33rd International Coastal Cleanup
Hundreds of Thousands Expected to Participate in World's Largest Single-Day Volunteer Event Dedicated to the Ocean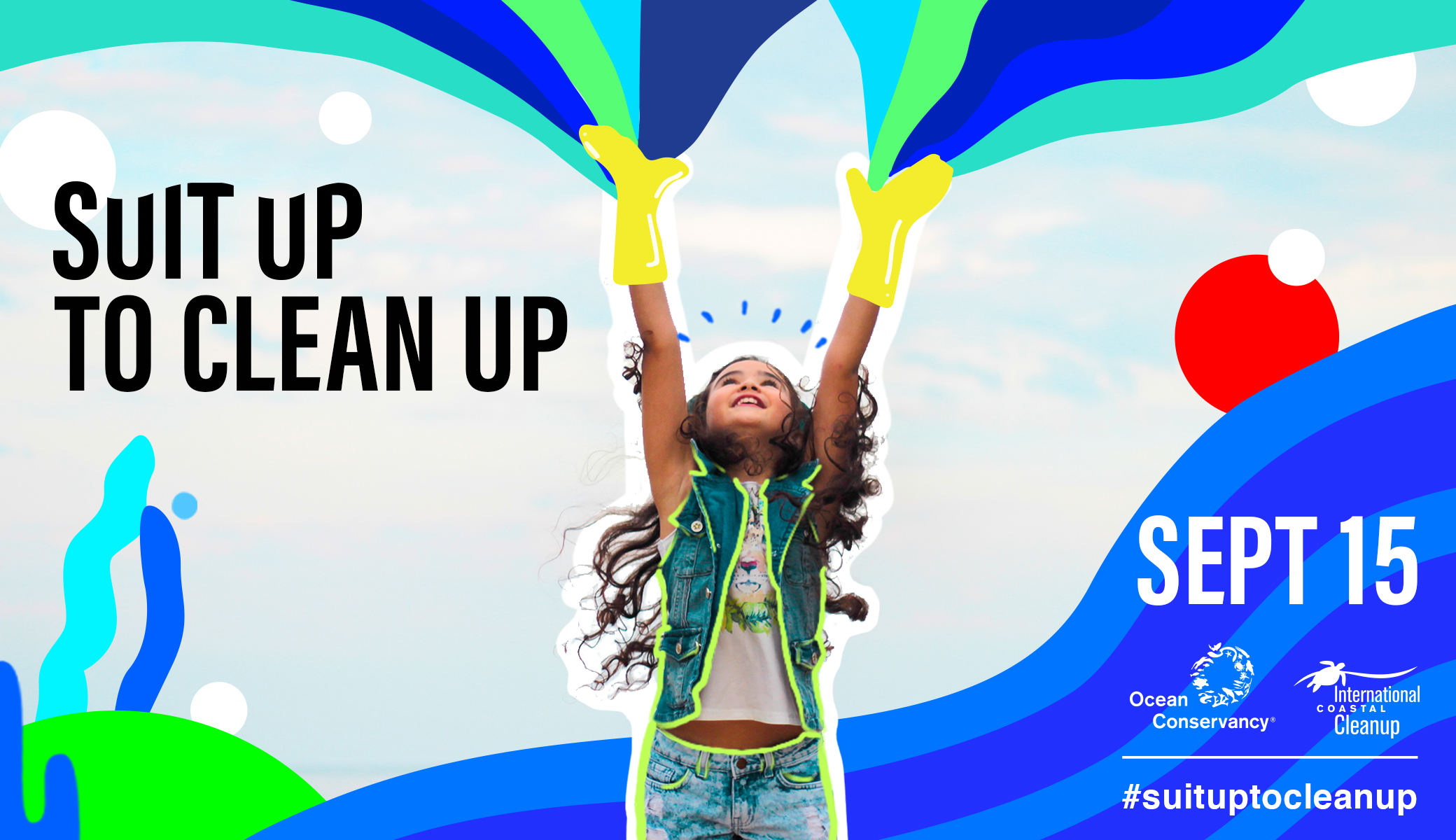 Washington, D.C. – Washington, D.C.-based nonprofit Ocean Conservancy today launched its new #suituptocleanup campaign. Capturing the wonder and whimsy of the ocean through colorful imagery, the campaign encourages people around the world to suit up and head to their local beach or waterway on September 15th as part of Ocean Conservancy's 33rd annual International Coastal Cleanup (ICC).
"The ocean plastic crisis has seized the public's attention like never before," said Ocean Conservancy CEO Janis Searles Jones, "and people are looking for ways to take action. The message behind #suituptocleanup is simple: whether in cutoffs, superhero capes, or simply a bathing suit, you can be an ocean hero and have a real and immediate impact on ocean health by joining the ICC, rolling up your sleeves, and picking up trash."
Launched in 1986 on a single beach in Texas, Ocean Conservancy's International Coastal Cleanup has mobilized nearly 13 million volunteers and removed 250 million pounds (more than 113 million kilograms) of trash from beaches and waterway worldwide. In addition to removing trash, volunteers contribute to the world's largest database on marine debris by logging each trash item using paper data cards or in real-time using Ocean Conservancy's Clean Swell app. Scientists, researchers, industry leaders and policymakers rely on Ocean Conservancy's Ocean Trash Index to inform policy and craft solutions to the growing ocean plastics crisis.
Last year alone, nearly 800,000 volunteers in more than 100 countries collected nearly 20.5 million pounds (or 9.3 million kilograms) of trash, much of it plastic. In fact 2017 marked the first year in ICC history that all ten of the top-ten items collected by volunteers were made of plastic.
Every year, millions of tons of trash—including an estimated 8 million metric tons of plastic waste—flow into the ocean, entangling wildlife, polluting beaches, and even infiltrating the food chain. Because plastics never fully biodegrade but rather break up into smaller and smaller pieces called microplastics, they accumulate in the marine environment. Scientists predict that without concerted global action, there could be one ton of plastic for every three tons of fin fish in the ocean by 2025.
"Ocean plastic has devastating consequences on marine wildlife and the communities around the globe that depend on a healthy ocean," said Nicholas Mallos, director of Ocean Conservancy's Trash Free Seas® Program. "While a suite of solutions will be needed to address this problem—from rethinking and reducing our plastic use to investing in locally appropriate waste management systems—participating in a cleanup is one of the single most impactful actions an individual can take to fight ocean plastic. That's why we are urging everyone to #suituptocleanup."
"Last year, our incredible network of partners and volunteers removed some 20 million individual items of trash from coastlines, globally," said Allison Schutes, associate director of Ocean Conservancy's Trash Free Seas® Program. "That's 20 million fewer items putting turtles, seabirds, fish and other beloved animals at risk, in just a day's time. When you #suituptocleanup, you can do so much good."
To participate in the International Coastal Cleanup and join the fight against ocean plastic, visit www.suituptocleanup.org.
Partners:
The Coca-Cola Foundation has supported Ocean Conservancy's International Coastal Cleanup for more than 20 years. Each year Coca-Cola activates a global employee engagement campaign to encourage participation in the Cleanup. As part of its commitment to address global climate change, Bank of America has supported the Cleanup since 2002, with thousands of employees participating in Cleanup events all around the world. Other global sponsors include American Express, Breitling, The CVS Health Foundation, the Dow Chemical Company, the Forrest C. & Frances H. Lattner Foundation, the National Oceanic and Atmospheric Administration (NOAA), Pacific Life Foundation, Brunswick Public Foundation, Cox Enterprises, Inc., the Martin Foundation and Norwegian Cruise Line Holdings, Ltd.
###
Note to editors: Ocean Conservancy experts are available for comment. Infographics depicting data from the 2017 International Coastal Cleanup, released in June, are available here.
Ocean Conservancy is working to protect the ocean from today's greatest global challenges. Together with our partners, we create science-based solutions for a healthy ocean and the wildlife and communities that depend on it. For more information, visit oceanconservancy.org, or follow us on Facebook, Twitter or Instagram.