Paul Bardo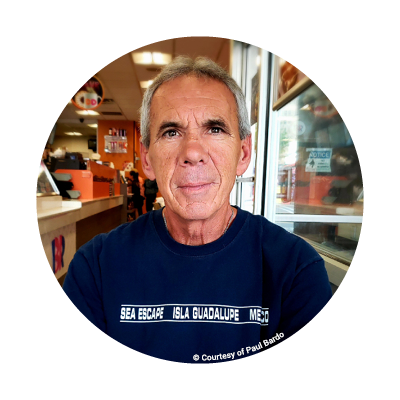 Paul Bardo has been scuba certified since 1977, YMCA SCUBA and an instructor since 1983. Presently, Bardo is a NAUI Instructor Trainer. He owns and operates Ocean Horizons Scuba based in Brooklyn, NY since 1993 and has been doing dive training and dive travel for 35 years
Bardo is a retired New York City Firefighter and has trained numerous FDNY and NYPD students over the years.
Ben Hicks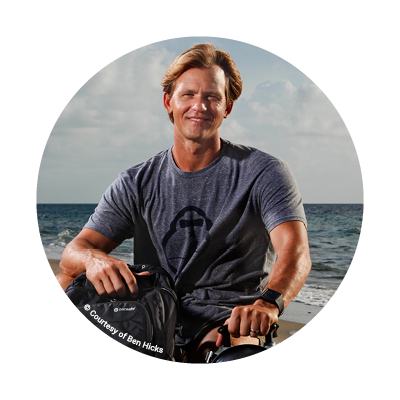 South-Florida based photographer Ben Hicks has journeyed across the Americas and ventured to exotic locales spanning the globe to compose a profoundly diverse collection of fine-art photography that truly captures the majestic beauty of the natural world.  This self-proclaimed "adventure-boy" not only strives to portray the familiar in extraordinarily original ways, but also takes big risks to capture the most complex, often dangerous situations including big waves and precarious animal encounters all to share his admiration for Mother Nature's creations.  Whether shooting tropical beachscapes in the South Pacific, vast sandstone buttes in the American Southwest or the first few open water strides of a leatherback sea turtle hatchling, Ben's distinctive vision and inimitable approach to photography renders intricately detailed images that captivate viewers and serve as a testament to his enjoyment and reverence of nature. Ben strives to serve the global community by using his art to communicate conservation, environmental activism and sustainability so that we can improve the environment today and make way for a better, more prosperous future for many generations to come. For more on his commercial work visit: BocaRatonPhoto.com
Senator Angus S. King Jr.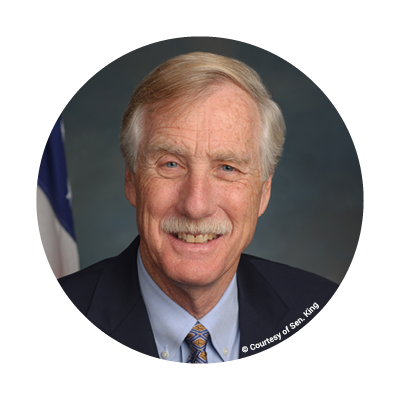 Senator Angus S. King Jr. (I-Maine) represents a state with over 3,000 miles of coastline – which, as he'll point out to you, is longer than the California coast. Senator King is a committed advocate for ocean issues who has fought to protect our natural resources, and earlier this year joined with his Senate colleagues to introduce legislation that would ban drilling off the coast of New England. Senator King serves on the United States Senate Committee on Energy and Natural Resources and is the Ranking Member of the Senate Subcommittee on National Parks, and is a member of the Senate Ocean Caucus. In addition to his passion for protecting the ocean, Senator King is also an avid photographer who the New York Times described as having "a minor fixation with his Instagram account." For samples of the Senator's work, you can follow him at @anguskingmaine on Instagram.
Senator Patrick Leahy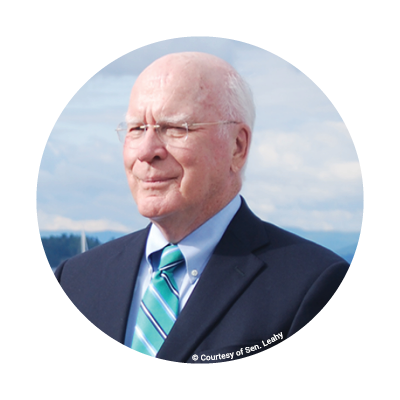 In 1974, following 8 years as State's Attorney, 34-year-old Patrick Leahy became the youngest person ever elected to the U.S. Senate from Vermont.  He is a 1961 graduate of Saint Michael's College, and received his law degree from Georgetown University in 1964.
Leahy, now the Senate's longest serving member, is the Vice Chair of the Appropriations Committee and the senior member of both the Judiciary and Agriculture Committees.
Always ranked among the top environmental legislators, Leahy successfully opposed attempts to allow oil and gas exploration in wildlife refuges, including Alaska's Arctic National Wildlife Refuge and Vermont's Missisquoi Wildlife Refuge.  Leahy has secured millions in resources to invest in cleaning and conserving Lake Champlain and spearheaded congressional efforts to tackle mercury pollution.  He has led in rebuffing the Trump Administration's slashing cuts to environmental programs and enforcement.
ECHO – which educates people about the Ecology, Culture, History and Opportunities for Stewardship of the Lake Champlain Basin – is based in the Patrick and Marcelle Leahy Center for Lake Champlain, a 2.7-acre environmental campus in Burlington.
Senator Leahy is one of Washington's best-known photographers.  His behind-the-scenes images of historic events have been published in newspapers and magazines around the world.
Christopher Michel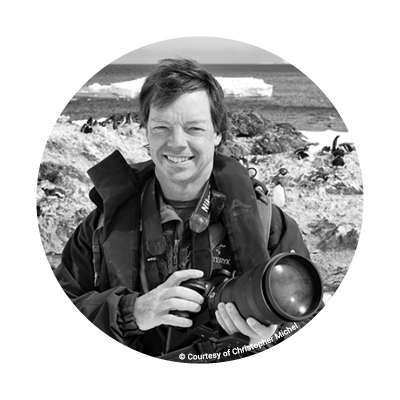 Chris is an accomplished photojournalist. His collection includes photographs from extreme locations like the North and South Poles, Everest, Papua New Guinea, Democratic Republic of Congo and at the edge of space (aboard a U-2 Spy Plane). He's also had the opportunity to photograph a variety of global leaders, including the 14th Dalai Lama. His work is prolific and his photographs have been used by National Geographic, the Smithsonian, the New York Times, the BBC, Outside Magazine and others. His photos have been seen millions of times and have appeared on the covers of many newspapers and magazines. His "Flying Emperor" photograph was the 2nd place finisher in the 2014 Wikipedia Picture of the Year.
Chris is also the Editor at Explorers, a website dedicated to adventure travel, and a member of the Explorers Club. He's published a number of fine art books, including 90 Degrees South, Monochromatic, Roof of the World and more. Chris also serves as the Photo Editor-at-Large for The Bold Italic. His most recent show was "Envisioning Ecstasy" at the Tibet House in New York City.
Chris graduated from the University of Illinois and holds an MBA from the Harvard Business School and an honorary Doctorate from Tiffin University.