Cleanups: Going after Clean Water Hook, Line and Sinker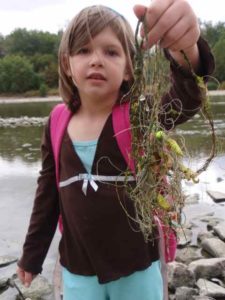 Fishing is fine on North Carolina's Outer Banks. Credit: Catherine Fox
Fishing. It's a cherished pastime that takes us away from the daily grind and instantly sets the mind at ease. "When the fish are biting, no problem in the world is big enough to be remembered," said writer Orlando A. Battista.
Whether you love fishing or just enjoy the thrill of walking along a clean beach and watching wildlife, it's important to understand that lost tackle can have serious consequences if we don't clean it up.
Fishing gear lost in the water may not seem like a big deal compared with other types of trash, but when left behind inadvertently by fishermen whose lines break or snag, it's a definite hazard:
The one (thing) that got away

The small nonprofit Partners for Clean Streams on the outskirts of Toledo, Ohio, participates in Ocean Conservancy's International Coastal Cleanup each fall and also cleans local waterways in spring and summer.
Like Cleanup volunteers everywhere, they find huge amounts of fishing line, often hooks, jigs and lead sinkers attached. The organization recognized the importance of removing trash, including these items, to protect the aquatic environment—not to mention the local fishing experience.
"White bass and walleye run mid-April in the Maumee River where we work," explained Ava Slotnick, outreach coordinator. "The river—the largest going into Lake Erie—is an important breeding ground."
That geography is significant, says Ocean Conservancy Marine Debris Specialist Nicholas Mallos: "Lakes, rivers and streams may seem like isolated ecosystems, but it's important to remember the ocean is downstream from all of us. Fishing gear that enters freshwater ecosystems can find its way into the ocean where it will persist for a very long time."
Environment – and economy
Another key point is how important all these fish and fishermen are to local communities. "The fishing business here is a huge part of our economy," Ava told me. "Anglers are out there in waders and boats, bumping elbows. A lot of commerce happens; you can imagine the hotel boom and full restaurants during fishing season."
Recycling sinkers
Partners for Clean Streams started the Get the Lead Out! program eight years ago. Volunteers have collected more than 90 pounds of sinkers, impressive when you realize
many are BB-sized. "We resell the lead to Zap Lures in Sylvania," said Slotnick. "They melt and reuse it, coating new sinkers to help keep lead from leaching out."
What you can do
Fishing line is  the number-one wildlife entanglement item found during the International Coastal Cleanup. Fishing company Berkley has recycled more than 9 million miles worth of fishing line, and welcomes old line from anyone. They make it into new products like tackle boxes.
And the "Reel in and Recycle" program at BoatU.S. Foundation provides collection bins you can hang at piers and other fishing sites, plus a video on how to build your own.
A local Bass Pro Shops store mails the line in for Partners for Clean Streams, a budget-saver for the tiny nonprofit. It just goes to show that everyone—from nonprofits to volunteers from the community to businesses—has a role to play when it comes to protecting clean water.
The joy of cleanups
Ava Slotnick clearly loves cleanups, especially when she takes young people out on the river: "One teen got in the water and said, 'This is the first time I've been in the Maumee River and I live ten minutes away!' You could just tell by the look on his face that he thought it was so cool."
"And that's where the joy is, in making this transition for people from the notion 'nature is out there and I can't do much with it' to really being out in the water and learning from it," she says.
Last year, Partners for Clean Streams got 726 volunteers out for their Clean Your Streams event, part of the International Coastal Cleanup. In three hours they picked up 15,315 pounds of trash.
So what are you waiting for? Whether you're inland or on the coast, sign up for the International Coastal Cleanup in September, connect with the water and have a great time making a difference!