Cleanup Volunteers Join a Wave of Action to Support Sandy Recovery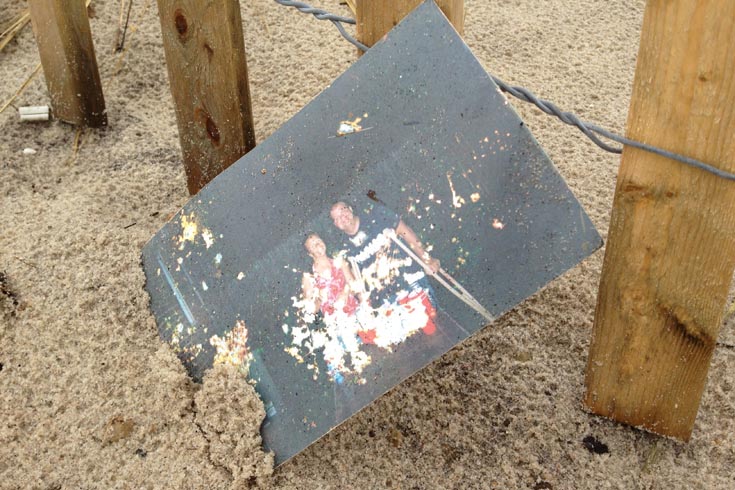 Superstorm Sandy was an unpreventable and unavoidable natural disaster that left in her wake a trail of devastation both physical and emotional that will require not months, but likely years to repair. The total cost of Sandy's destruction may exceed $50 billion. Beach Cleanups alone certainly will not repair the damage that was done by Sandy; in fact, it's likely that it will barely scratch the surface. However, each of these small actions taken collectively has major implications for the recovery of New Jersey and New York shores.
So there we were—Ocean Conservancy—at a desolate Jones Beach State Park on Long Island, NY equipped to do what we've been doing for over 25 years—clean up the beach. The cleanup was just one of many going on throughout the day along devastated beaches in New York and New Jersey as part of an effort called "Waves of Action," which aims to help with coastal recovery efforts. Conditions were less than ideal:  cloudy with light drizzle, 45 degrees, and an ocean breeze that had it feeling much colder We were nervous—would our list of attendees brave the weather and make it out? But just as volunteers do each September during the International Coastal Cleanup, on this chilly December morning more than 70 volunteers—most of whom were Long Island residents—put aside their Christmas shopping to lend a hand for a beach and community they love. In fact, many New Yorkers changed their plans that morning as they heard of the event via WCBS 880's live radio coverage from Jones Beach.
Together, volunteers scoured the sand and dunes for three hours removing a total of 2,000 pounds of debris scattered over 420,000 square meters of beach. Much of the debris found was entangled in dune grasses or deposited along a soundside wrackline created by Sandy's receding waters. The windswept beach was mostly barren with the exception of a few items synonymous with summertime:  boat docking, a soft pretzel stand's signage, a Sirius XM radio and thousands of plastic straws and stirrers that stuck out of the sand like sprouting dune grass. At the base of the dunes, thousands of plastic bottle caps and tampon applicators created a disheartening plastic puzzle and in all directions plastic bags snagged on dune grass or shrubs flapped in the wind. The exact source of these items will never be known, but the proximity of New York Harbor and an up-beach sewer outfall suggests much of the debris was compliments of the Big Apple; yet another reminder that the ocean is always downstream.
Sandy was unpreventable. But we can and should learn from storms like Sandy as well as Hurricane Katrina and last year's earthquake and tsunami in Japan. The threat of natural disasters is not new and we must critically examine our daily activities that make us more susceptible to damage inflicted by these events. This ranges from beachfront development to restoring our natural defenses like oyster reefs and dunes to reevaluating our daily consumption of one-time use disposable plastics.
The ocean is incredible. But we continue to take too much out while concurrently putting too much in. Its limits are not infinite and it's time we give the big blue a little help to make certain the ocean retains its resiliency in the face of a future Katrina, Sandy, or the next vixen who remains TBD.
In addition to the inspiring efforts of the volunteers and Jones Beach Park Service, Ocean Conservancy would like to thank the sponsors of the cleanup, LandShark Lager and Altria, who stepped in on short notice to help provide funding for the event.