A Fashionable Way to Combat Ocean Plastic Pollution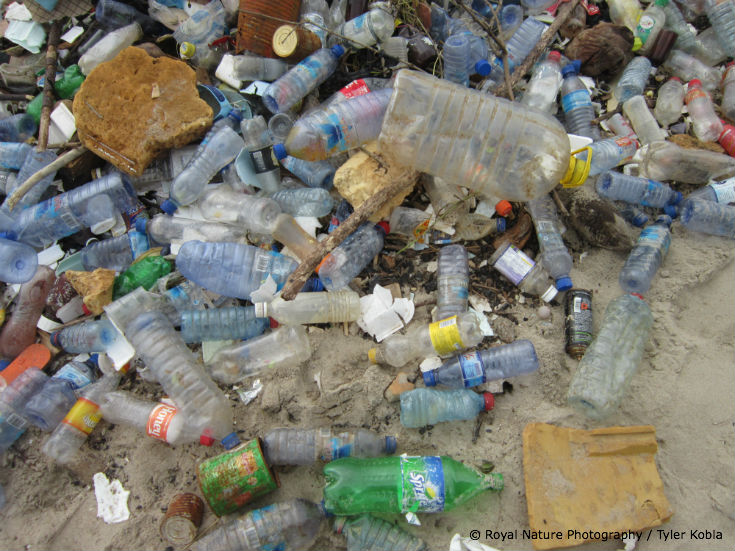 There's no doubt about it: ocean plastic pollution is a big problem. An estimated eight million metric tons of plastic waste flow from land into the ocean every year, meaning that by 2025 there could be one ton of plastic for every three tons of fish! And there's much more to the problem than floating bags, bottles and fishing nets—as many as 51 trillion pieces of microplastic (plastic pieces less than five mm) now circulate in the ocean.
Big problems call for creative solutions. To truly make an impact in the problem of ocean plastic pollution, we have to attack it from multiple directions. This includes minimizing the amount of plastic waste we create, managing our waste to prevent plastic pollution from leaking into the ocean and mitigating the existing marine debris through active cleanup and restoration efforts.
Ocean Conservancy has been fighting back against ocean plastic pollution for the past 30 years. Last year alone, more than 18 million pounds of trash—equivalent to the weight of over 100 Boeing 737s—was collected by nearly 800,000 volunteers during our 2015 International Coastal Cleanup.
Fortunately, we're not the only ones worried about ocean plastic pollution. Socially conscious enterprises are developing innovative solutions to bring attention to this immense problem and create financial incentives for keeping plastic debris out of the ocean.
One standout is eyewear company Norton Point, which is launching a new line of sunglasses that will be made from ocean-bound plastics collected, in partnership with The Plastic Bank, from communities and beaches where plastic waste is overrunning local capacity to manage it. Creative efforts like this help bring attention to the growing problem of plastic debris while expanding the market for recycled plastics. With their new line, Norton Point is creating greater economic incentives to clean our beaches.
We're happy to be Norton Point's charitable partner for their Ocean Plastic Collection. Norton Point will reinvest 5% of net profits from this line back into improving global clean-up efforts and toward stemming the tide against ocean plastic.
Business models like this just go to show that there are many ways to join in the fight against ocean plastic pollution. Whether it's skipping the straw, joining a local cleanup or buying a pair of recycled, ocean-plastic sunglasses; every sustainable choice helps move us towards a healthier, happier ocean.