Local Concerns of Opening the Arctic and the Crystal Serenity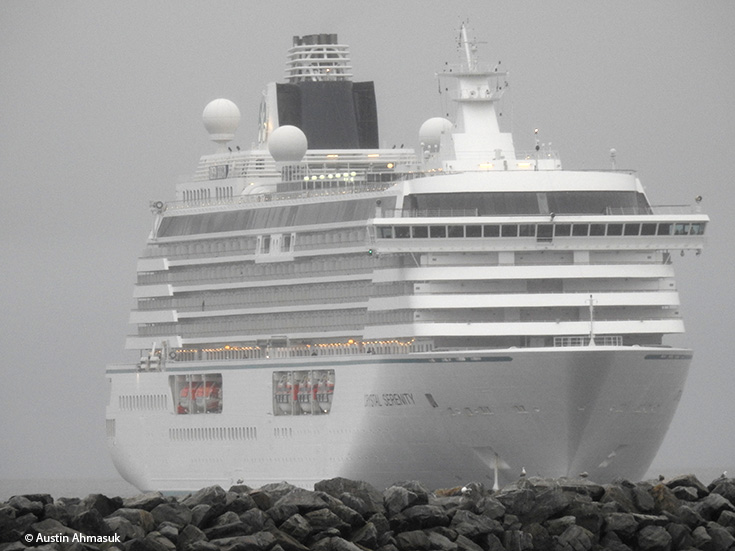 Guest blog by: Austin Ahmasuk
Last month the Crystal Serenity set sail from the Alaskan port of Seward on a voyage through the Northwest Passage to New York City, making it the first cruise ship of its size to attempt this journey. The luxury liner stopped at ports of call along the Alaskan coast, including the town of Nome (population 3,850). Thanks to Nome resident Austin Ahmasuk for sharing his perspective with us.
Peering seaward south of River Street at 7:57 am, I saw the ship climb over the horizon as it materialized out of the fog. The P/V Crystal Serenity, with 1,700 passengers and crew aboard, arrived on time as predicted and slowly made its way shoreward. My eyes were glued to its deliberate movements. I knew it was big and, as the largest cruise ship to visit Nome got closer, its size towered in contrast to Nome's normally modest waterfront.
I scanned for signs of its escort vessel, the RRS Ernest Shackleton. It surely must be near to provide assistance in case something went wrong. But the Ernest Shackleton was nowhere to be seen. The website showed that it was in Baffin Bay, Canada several thousand miles distant!
If something were to go wrong—an oil spill or shipwreck—our small town's local volunteers and handful of response vessels would be the ones expected to answer the call.
Luckily, nothing went wrong and so we avoided a disaster.
The Crystal Serenity loomed over Nome and filled the viewfinder of my camera as it began to ferry passengers to shore. I had paid so much attention to what was happening on the water I didn't notice the commotion behind me. It appeared every available van and bus was summoned to accept the tourists. Ship to shore boats were lowered over the side from gantries. The ship was large enough it created its own leeward sanctuary of calm water.
The efficiency of it all was impressive. This cruise really had it nailed down, everything ran like clockwork. Heck, they didn't need a port!
As the people made their way around town, it reminded of the days when I was a kid when busloads of tourists who had arrived by plane came to Nome. So, I had seen something like this before, but not for a long time. The people looked much the same from what I can remember. As a kid growing up in Nome, my friends and I would often be fishing and we usually became the tourist attraction. People would take pictures. Sometimes, we would hand over the pole and let them reel one in.
The powers that be made sure this visit would please the guests, signs were everywhere it seemed, welcoming people to Nome. The crew of the U.S. Coast Guard Cutter Alex Haley even spent time cleaning up a portion of Nome's beach. Local road crews graded streets and cleared vegetation.
But, as I headed to the west side of Nome's port for some different camera angles, this newest stage of shipping history took a different turn.
There is virtually no existing infrastructure to handle anticipated increases in Arctic vessel traffic. Nome is on the front line. On the west side of our port, administrative change has impacted the landscape, and is just the beginning of the negative impact that if continued will have an astounding impact beyond my lifetime.
The port site is a well-known pre-historic site that was destroyed when the Snake River mouth was moved to its present location to make for port improvements. The site traditionally called sanispik in my language means "place on the side" and has been used by generations for subsistence.
But now the government allows only Transportation Worker ID card carrying persons to enter its restricted areas. Alaska Native people have been using the mouth of the Snake River for millennia. But now a layer of a far removed bureaucracy governs who comes and who goes.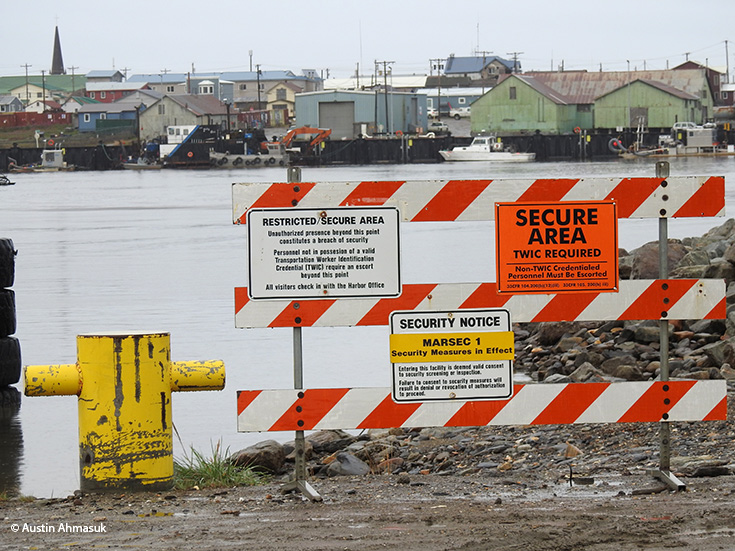 Then my thoughts got dirty—and by that I mean sewage. Surely 1,700 people on board must be generating waste. So, I looked up figures for average daily waste streams of a cruise that size. Those figures of course vary but we can assume some 12,000 gallons of blackwater alone as a conservative estimate are generated each day. The International Convention for the Prevention of Pollution from Ships (MARPOL) stipulates treating those waste streams inside 12 miles, but the gloves are off outside that boundary. Luckily, the Crystal Serenity has stated that on its maiden voyage, it will treat wastewater outside of 12 nm, even though not required by law.
I was born in and raised in Nome, I am old enough to remember the days of the honey bucket in Nome when people used buckets as household toilets. I remember the honey bucket truck and the man who disposed of people's honey buckets. Is the Crystal Serenity just a glorified honey bucket? The Crystal Serenity's population is half the size of Nome. This floating city is allowed under MARPOL to generate untold amounts of untreated waste beyond 12 miles. Fortunately the Crystal Serenity is treating their waste, but, as more and more passenger vessels make their way to this region, will they too treat wastewater when not required by law? No one wants waste in the ocean and I doubt most of us have the kind of optics to see what is going on 12 miles from shore, but who wants to monitor blackwater?
There have been steady cumulative impacts from all this progress and few stories are covering that impact and few probably will until a catastrophe happens. The Crystal Serenity represents a global force of change in the Arctic that has the potential to severely impact the life of Alaska Native people and the environment. Alaskans who are concerned about the environment are asking questions with a critical eye towards the future. For over 100 years, Alaska Native people in Nome have been displaced to some extent by progress, I only hope this global force of change creates a significant departure from the past.
About the Author: Austin Ahmasuk is a lifelong Nome resident, hunter, trapper and fisher.