The Science of Protecting the Arctic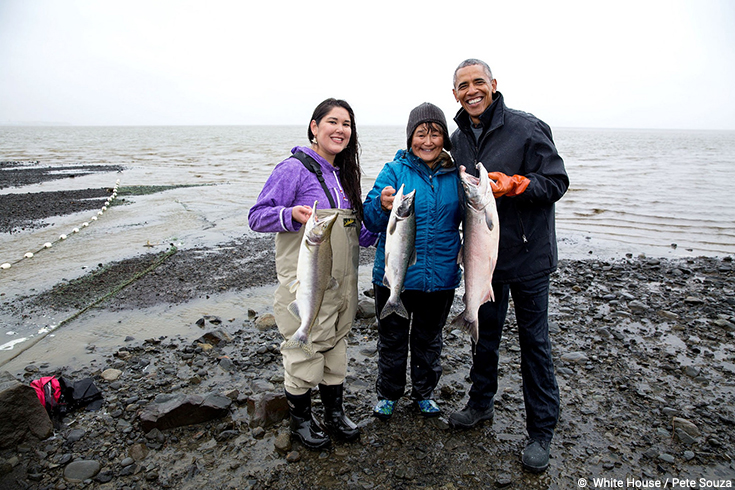 A year ago, President Obama became the first sitting US President to visit the Arctic.
He stood on the banks of Bristol Bay with a freshly caught salmon in hand, joined schoolchildren in a traditional Yup'ik dance, and stood at the toe of the rapidly shrinking Exit Glacier. He experienced awe-inspiring Alaska with its rich cultures and traditions that depend on a healthy, thriving environment. He also saw the effects of climate change firsthand from the ecological impacts of a receding glacier to a village forced to relocate because of severe coastal erosion.
After that trip President Obama said, "What's happening in Alaska is happening to us…it's our wakeup call."
Exactly a year later today, President Obama has convened the first-ever White House Arctic Science Ministerial, bringing together science ministers and indigenous leaders from around the world to focus on collaboration and opportunities around Arctic science.
This could not come at a better time for the people and communities in the Arctic. President Obama deserves our thanks for his bold leadership and recognition of science as a vital foundation for Arctic conservation.
Scientific collaboration is vital to observing, monitoring and understanding the rapid changes taking place in the Arctic. I am thrilled that indigenous communities from the region are part of the meeting taking in place in Washington DC today. Their keen knowledge and understanding of their natural environment is an essential complement to Western scientific understanding and management choices. This may be a region comprised of many nations but it belongs to the world.
What we do with our knowledge is just as important as scientific collaboration. Communities and ecosystems around the Arctic are already reeling from the impacts of global climate change. We must invest in climate resilience. And now is the time to minimize risks from threats like oil and gas development and increased vessel traffic in the Arctic.
President Obama has raised the alarm for the Arctic. This wakeup call is no less urgent today than it was a year ago. Change is happening, and it is happening at a more rapid pace than most predicted. In the end, the Arctic will be different, but with your help it can still be a vital and vibrant place – one that inspires presidents and people, remains a refuge for icons of nature, provides food for millions and keeps our planet healthy and thriving.
Without a doubt, our actions today shape the Arctic of tomorrow.