Trump's New Executive Order Risks Coastal Communities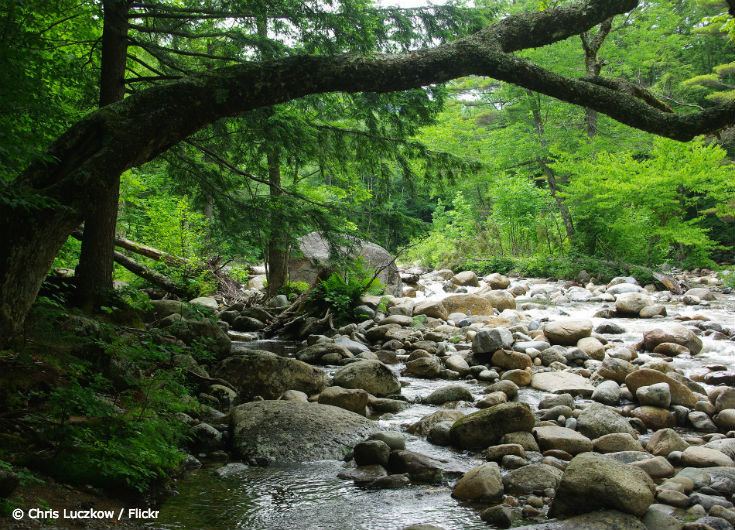 Amy is a stream ecologist who, before working at Ocean Conservancy, conducted research focusing on small stream food webs and the predator and prey dynamics of salamanders. Amy has conducted research in Chile working with the government on invasive beavers and water quality issues as well as nutrient effects on small streams in the southeastern U.S. She also spent several years working on Waters of the United States as part of the Clean Water Act. Her work at Ocean Conservancy currently focuses on ensuring ocean planning is a coordinated, science-based policy to balance all ocean uses.
Yesterday, President Trump signed an executive order that would start rolling back a rule under the Clean Water Act known as Waters of the United States (WOTUS). This rule enhances the health of our streams, rivers and ocean, supporting local communities and their desire for clean drinking water as well as fishable streams and estuaries.  I have spent much of my life working on streams and water quality issues, I'm concerned this executive order will compromise local ecosystems and the clean drinking water Americans value and need.
Our rivers provide drinking water for two-thirds of all Americans—yet the recent action by the Trump administration seeks to rollback protections for keeping these very waters clean. Following Supreme Court rulings in 2001and 2006, ambiguity on the types of water bodies protected under the Clean Water Act left agencies tasked with managing and permitting the use of these waterbodies with little clarity. This ambiguity led to a failure to protect small streams and wetlands that are vital to safeguarding communities from flooding. Since the Court decisions, both the Environmental Protection Agency (EPA) and the Army Corps of Engineers have worked to follow the law, despite the confusing circumstances.
Removing this confusion so that the EPA and Army Corps of Engineers could fill statutory obligations and do their jobs is exactly why the WOTUS rule was needed. Agencies like the EPA and Army Corps of Engineers need clarity on how to interpret the law to ensure clean water is not only suitable for drinking but also supports coastal communities, estuaries and eventually our ocean.
The WOTUS rule was finalized in 2015, offering a clear definition of what waterways are protected and managed under the Clean Water Act. Thanks to this rule, the EPA and Army Corps of Engineers can ensure consistency in managing wetlands, rivers and streams while improving community health and giving industry more consistency so they can make informed decisions. Overall, this rule ensures the protection of streams and rivers that provide drinking water to 117 million Americans.
Despite these clear benefits, President Trump's executive order will begin the process of rolling back this important rule. The order requires the EPA and Army Corps of Engineers to review the rule and recommend whether it should be revised or rescinded. I'm worried that this is a step towards signaling the administration's openness to revoking critical safeguards that protect Americans' health and our environment.
Before WOTUS was enacted, the EPA and Army Corps met with over 400 stakeholders and received more than one million public comments that they took into consideration to ensure the rule was in the best interests of Americans. I hope the Trump administration, EPA and Army Corps of Engineers talk with coastal communities about their clean water needs to fully understand the impacts this rollback could have on our rivers, estuaries, and ocean. Now is the time for coastal communities to stand up and make your voices heard on the clean water needs of your local community.