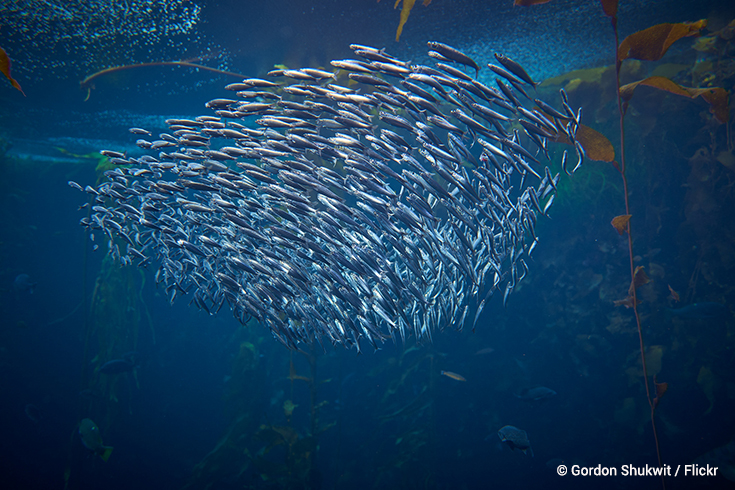 I have another exciting update in the world of fisheries management.
Last year, I wrote about a ruling by the National Marine Fisheries Service (NMFS) to protect forage fish in offshore waters on the West Coast. This was a BIG deal, and was made possible in part by the Ocean Conservancy activists and other conservationists who sent 100,000 letters to NMFS in support of these protections. I also mentioned our goal to secure a follow-up effort by California to take corresponding action to protect forage in nearshore waters.
Now, after a lengthy deliberation, the protections we worked so hard to advocate for are finally being implemented. The final rule prohibits fishing for a list of 11 types of small, schooling marine species—including one that accounts for more than half of all deep-sea fish biomass—unless first reviewed and determined sustainable by federal fisheries managers.
The fish may be small, but they are mighty. Forage fish are crucial to the overall health of the marine ecosystem of the Pacific Ocean. These fish are important for the survival of seabirds, marine mammals, and bigger fish like salmon, halibut and tuna.
These are groundbreaking regulations that will have positive impacts on the West Coast ecosystem and the communities and animals who call it home. This action culminates a years-long process in which environmental organizations, anglers and ocean lovers have voiced support for safeguarding forage fish because of their importance to a healthy ocean.
This is one of my favorite parts of my job: when I get to write to you with good news in the world of fisheries management! We're grateful for the leadership of California Department of Fish and Wildlife, and proud of their vision of sustainable fisheries management. I'm also grateful for the support of ocean advocates like you: this is a shining example of how by raising our voices, we can help enact positive change in our ocean.
We'll keep swimming forward to support corresponding forage protection in other West Coast areas such as California state waters, and keep you posted. Thanks again for helping make this historic conservation achievement possible!