Fight Ocean Acidification One Bite at a Time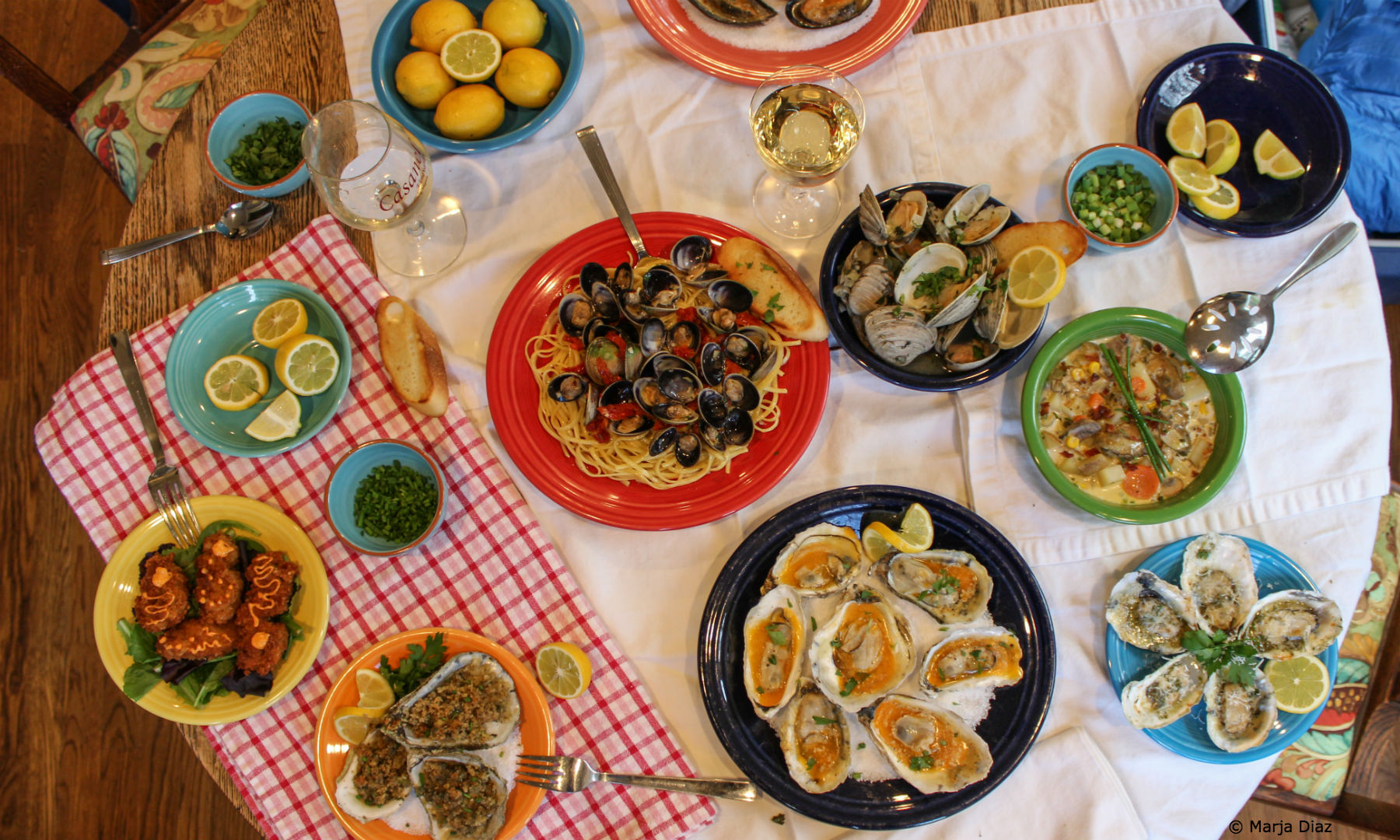 It's no secret we here at Ocean Conservancy love our shellfish! For many, oysters, clams, scallops and other bivalves say "home"—shellfish capture the flavors and smells of the coastal waters we love. More than just a fun-time food, shellfish have sustained our coastal communities by providing food and income for generations, from the earliest Native American settlements to today's tourist towns. These little shelled powerhouses also sustain aquatic communities by filtering out excess algal blooms in our waterways and coasts and providing habitat and food for fish and other creatures.
Yet shellfish, particularly oysters, are facing the threat of ocean acidification. This ocean chemistry change, caused by carbon dioxide pollution from fossil fuel use, makes it harder for shellfish to thrive. But shellfish growers and hatchery managers are a clever, resourceful bunch, and they're leading efforts to take action in many places.
Pacific Coast Shellfish Growers' Association (PCSGA) members Mark Wiegardt and Sue Cudd are shellfish hatchery owners from Netarts Bay, Oregon, who were among the first to work on ways to protect their business from ocean acidification. In collaboration with researchers from NOAA and Oregon State University, they added high-tech water quality monitoring, started buffering intake water (like adding an antacid) and overcame ocean acidification's effects. In Washington State, shellfish grower and PCSGA member Dave Steele raises clams and oysters in Tarboo Bay. He has relied on collecting baby clams from the wild and growing them to maturity on his farm, but because their populations vary so much, this year he will begin to also use seed from a hatchery to keep up with demand.
Shellfish growers on the East Coast started to observe the effects of acidification a little later than West Coast growers. At his hatchery in mid-coast Maine, Bill Mook started monitoring his water chemistry in partnership with the University of New Hampshire after becoming alarmed by Pacific Northwest growers' experiences. By analyzing his water chemistry, and changing the timing of his hatchery's activities, Bill has been able to reduce his oyster larvae losses and increase production. Growers like Mike Oesterling in Virginia and Jay and Jennifer Styron in North Carolina are tinkerers too, and they've been tweaking their methods to develop thriving shellfish aquaculture businesses in sometimes-unpredictable estuary waters. They're learning from growers like Wiegardt, Cudd and Mook about how to safeguard their own growing businesses from ocean acidification.
Shellfish hatcheries across the U.S. from Louisiana to Oregon are at the center of preparations to face ocean acidification. Along with shellfish growers, they are among the first to see the impacts of the changing ocean, and they are among the biggest champions to address declining water quality. Ocean Conservancy works with these people on the water to share knowledge and call on policymakers for research funding. And we are happy to share with you that buying and eating farmed shellfish is a great way you can help fight acidification! This supports growers, who can then invest in their businesses and safeguard their futures, while Ocean Conservancy works to cut carbon dioxide pollution, the root cause of ocean acidification.
If you're not into slurping raw shellfish, we've got the answer for you. Our grower friends have shared some recipes that take advantage of their harvests' best qualities! We loved testing these, and we think you'll enjoy the recipes too.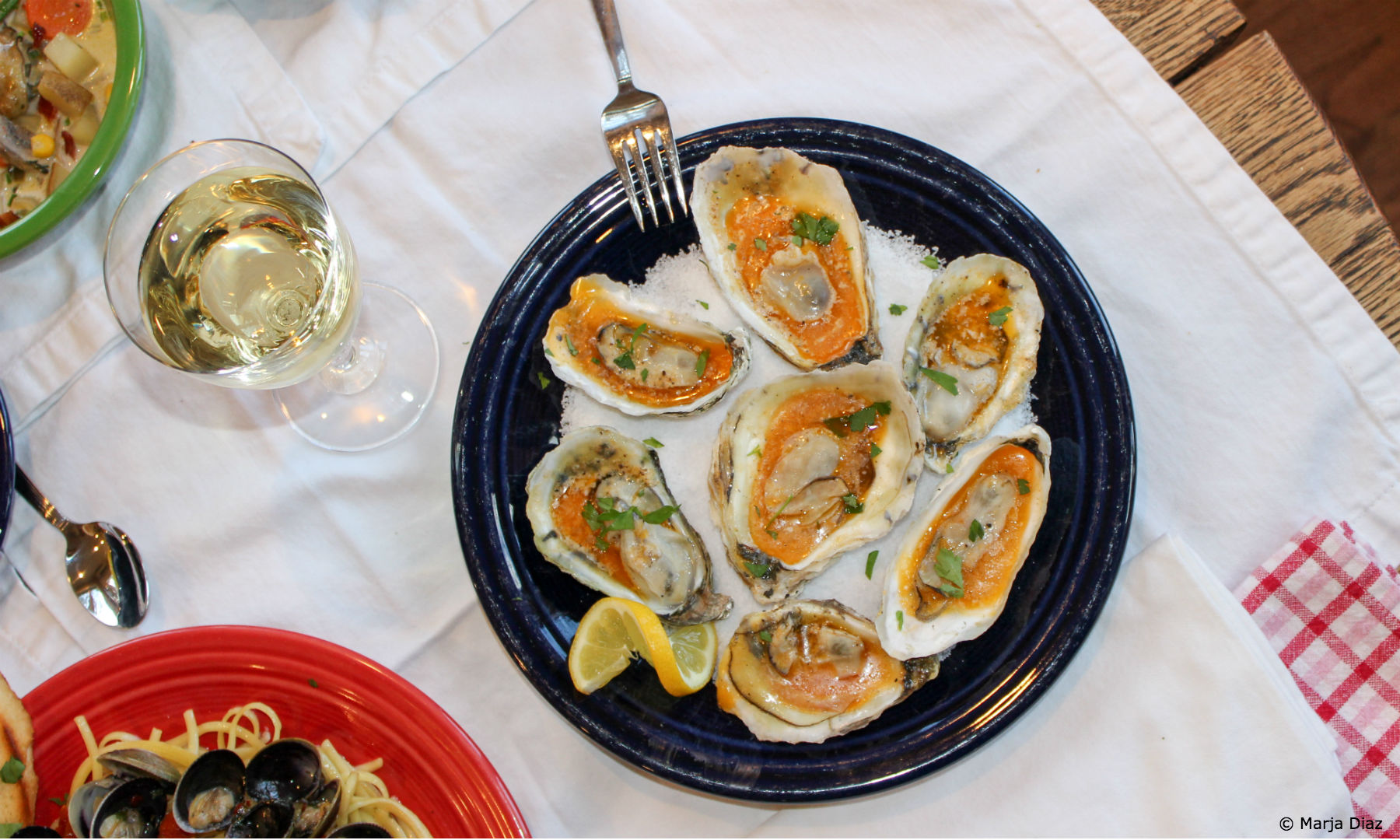 Grilled Oysters with Buttery BBQ Sauce (Recipe from the PCSGA)
Serves 6-8
1-2 dozen oysters (before you begin: Scrub oyster shells under cold running water. Keep chilled, covered with a damp towel, until ready to cook)
Sauce:
½ cup softened unsalted butter
3 tbsp hot pepper sauce
½ tsp kosher salt
¼ tsp freshly ground pepper
Blend all ingredients in food processor or blender and set aside.
Preheat grill. Place oysters, deep shell down, on hot grill. Grill until oysters begin to open, about 7-10 minutes. Use an oyster knife to remove the top shell and sever the adductor muscle from each oyster. Place oysters back on the grill. Spoon sauce on top of each oyster and grill until sauce starts to simmer, approximately 2 minutes longer.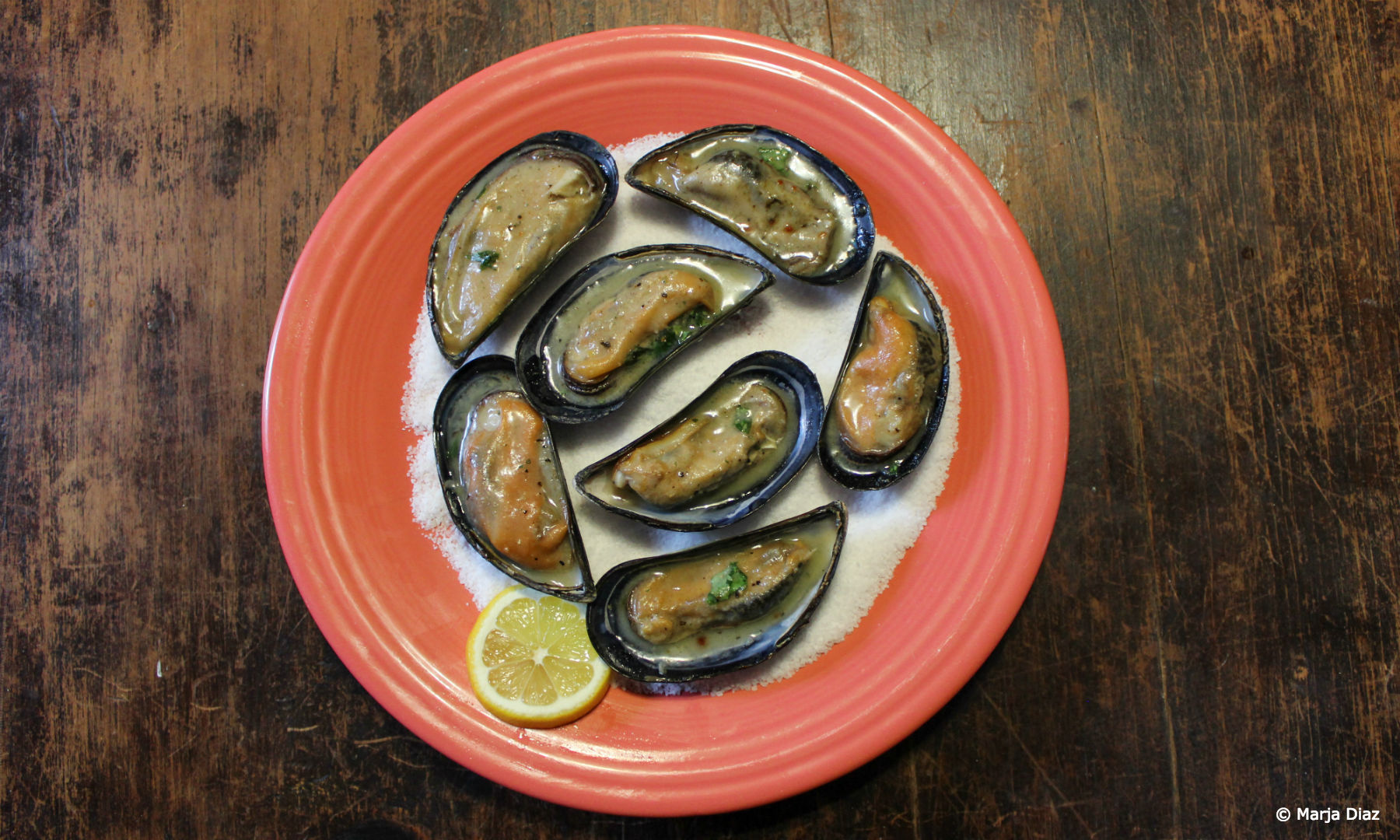 Marinated Mussels on the Half Shell (Recipe from the PCSGA)
Serves 5-10
5 lbs mussels, debearded (see note below)
3 cups water
3 tbsp lemon juice
½ cup vegetable oil
2 tbsp sesame butter (roasted tahini)
1 tsp honey (or sugar)
½ cup fresh basil, chopped (or 1 tbsp dried basil)
1 package dry Italian salad dressing mix
½ tsp salt
¼ tsp black pepper
De-bearding mussels: ½ hour before cooking, remove the beards by pulling toward the pointed tip of the mussels. Lightly rinse the mussels under running water.
In a large skillet, steam mussels in 3 cups water for approximately 7–8 minutes, or until they open, stirring occasionally. Discard any unopened mussels. Drain and remove meats from shells, reserving the shells. Mix remaining ingredients in a large bowl until well blended. Gently fold in mussel meats. Chill in refrigerator. When ready to serve, place each marinated meat on mussel shell and arrange on a serving plate. Garnish with fresh lemon slices and fresh parsley.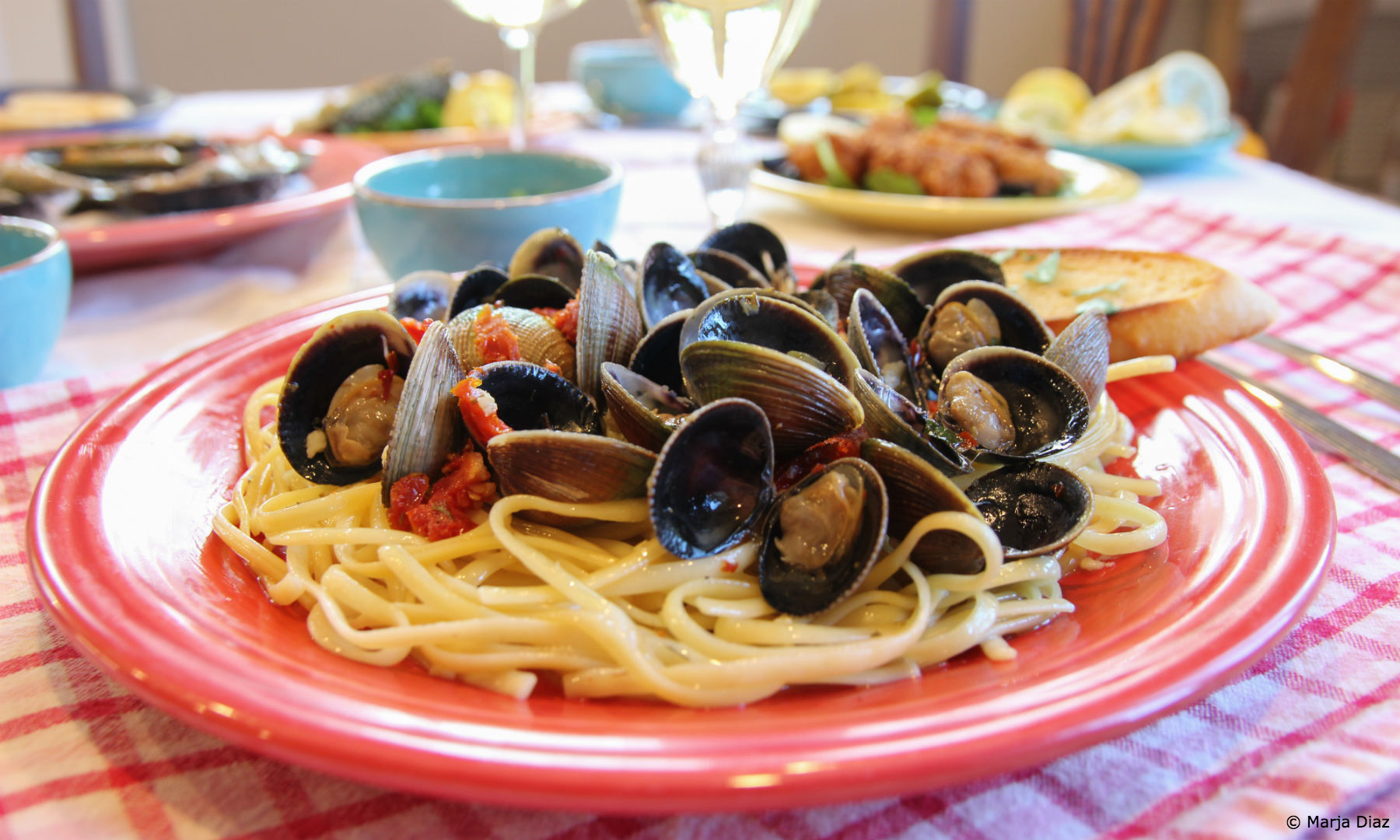 Manila Clams with Sundried Tomatoes and Riesling (Recipe from the PCSGA)
Serves 5-10
5 lbs Manila clams, rinsed
½ cup butter
¼ cup olive oil
1/8 cup garlic, minced
1/3 cup sundried tomatoes, diced (dried, not in oil)
1 cup Riesling
¼ tsp black pepper
1/8 tsp kosher salt
1 tbsp fresh oregano, chopped
½ tsp red pepper flakes
1 tbsp fresh Italian parsley, chopped
Melt butter and olive oil in a large sauté pan on stovetop. Add garlic and tomatoes; sauté for 2 minutes. Add Riesling, pepper, salt, oregano, red pepper flakes and parsley; sauté for 1 minute. Add clams; cover and cook until all clams are open, stirring once or twice. Discard any unopened clams. Serve with warm, crusty bread and dig in!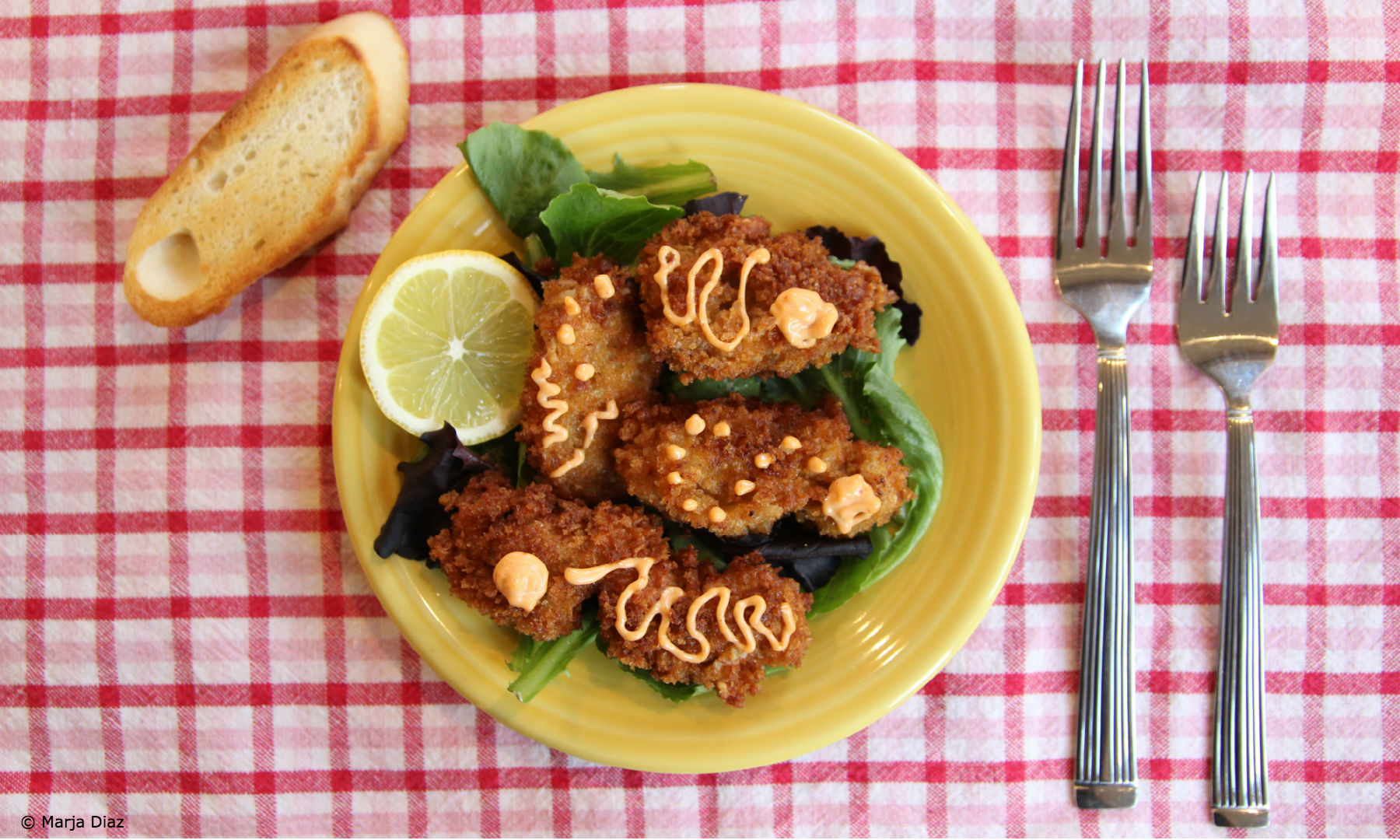 Panko Fried Oysters (Recipe from the PCSGA)
Serves 4
Vegetable or canola oil for frying
16 ounces shucked oysters (about 12), drained
2/3 cup flour
½ tsp black pepper
½ tsp salt
¼ tsp smoked paprika
2 large eggs, slightly beaten
2 tbsp milk
1 ½ cup Panko (Japanese bread crumbs)
Pour 2 inches of oil into a deep pan on stovetop, heat to 375 degrees. Drain oysters and pat dry with a paper towel. Mix flour, pepper, salt and paprika in a medium bowl. In a separate bowl, mix egg and milk. Roll oysters in flour mixture, dip in egg mixture, and then roll in Panko. Fry a few oysters at a time for 2–3 minutes on each side until the batter is golden and crunchy. Serve with tartar sauce or sweet chili sauce mixed with mayonnaise.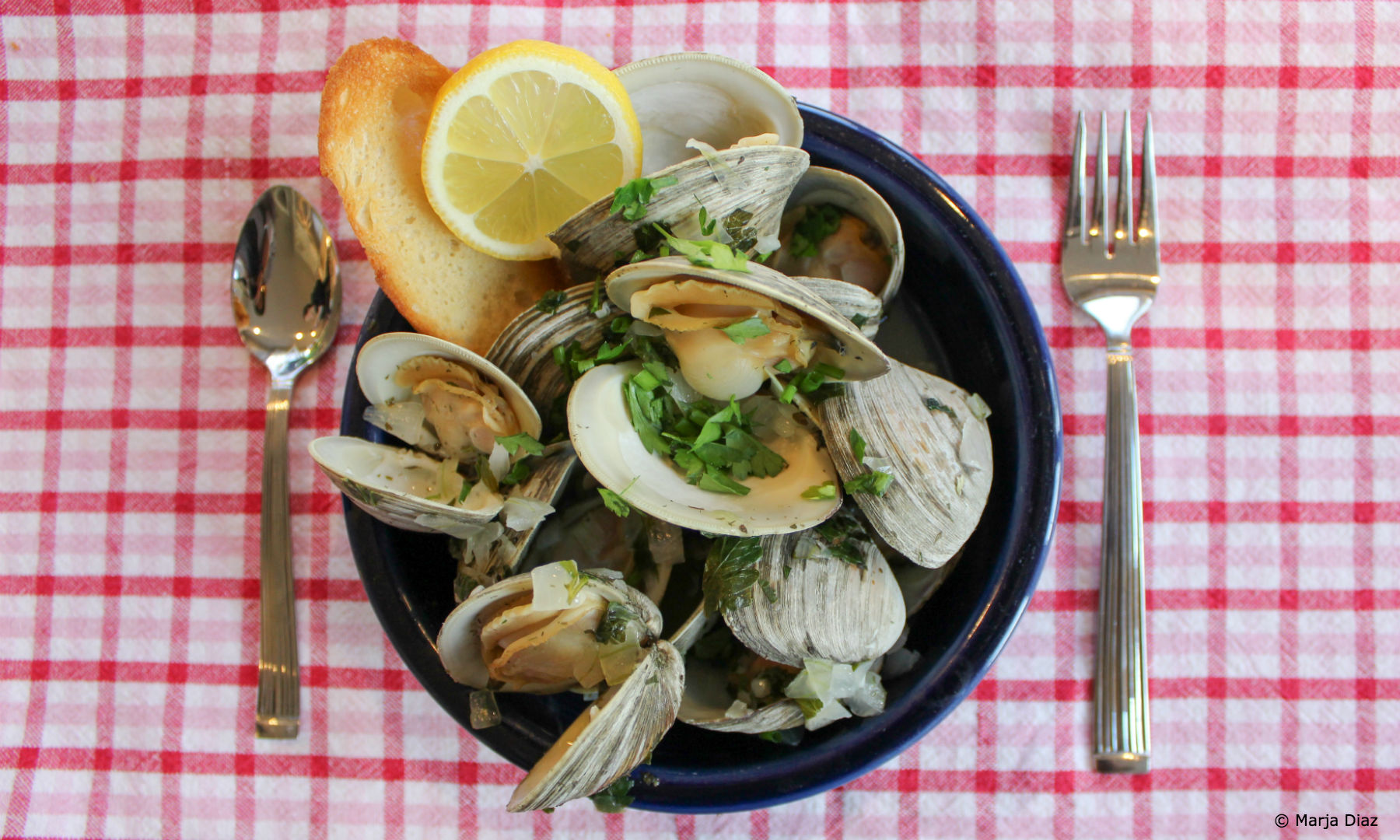 Dave's Steamed Clams (Recipe from Dave Steel)
Serves 5-10
5-10 lbs. clams
1 cube of butter
½ tsp dried basil
1 cup dry white wine
¼ cup finely chopped parsley
½ onion, finely chopped
½ tsp dill weed
2 large cloves of garlic, minced
1 bay leaf
Place the clams in a steamer kettle. Fill with 2-3 cups water. Chop up the butter. Put it and remaining ingredients on top of the clams. Steam clams, stirring occasionally until all clams open (about 10 min after rapid steaming begins). Serve with juice poured over the clams. For larger quantities, you can reuse the liquor (juice) from the first batch and steam a second batch or use a larger container with proportionately more ingredients.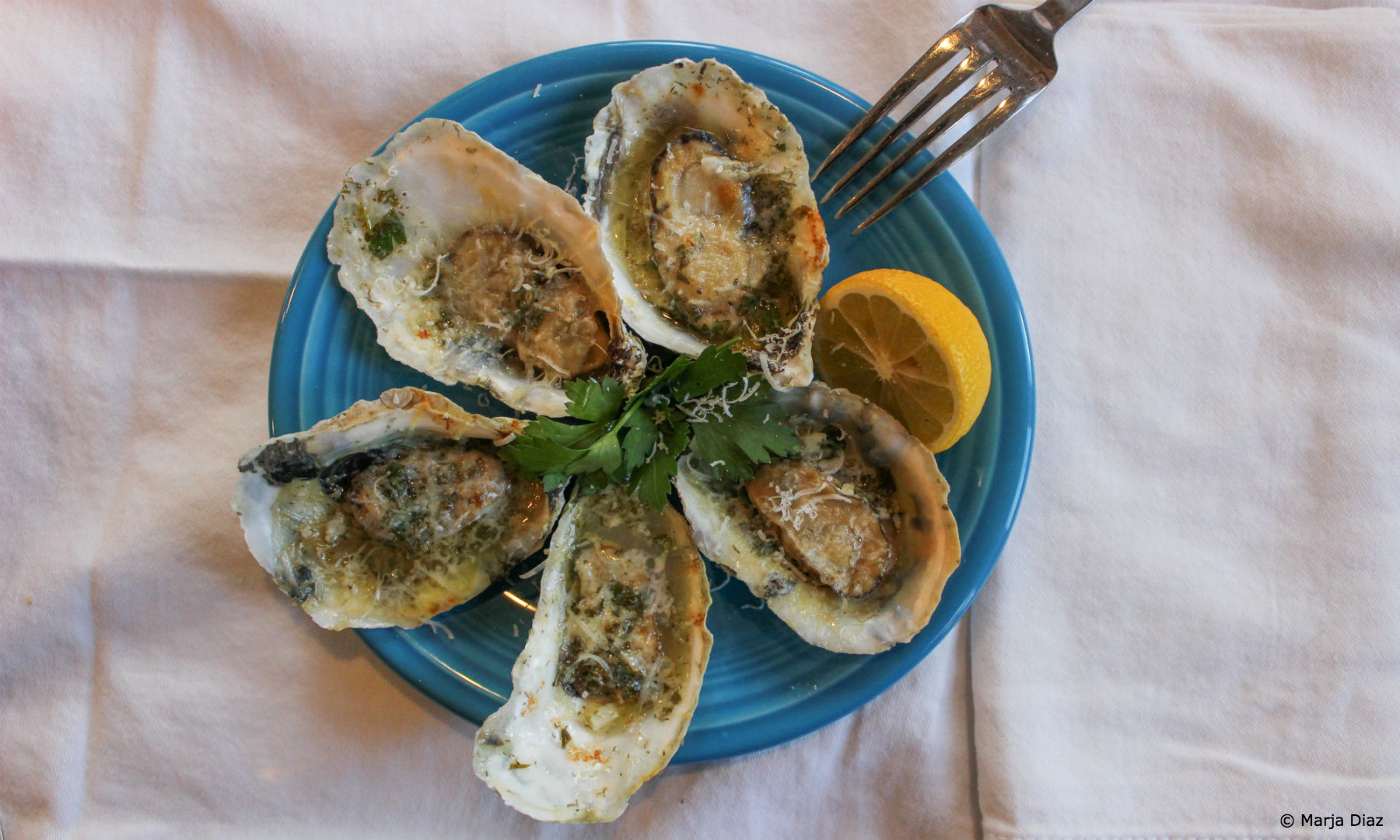 Dave's Broiled (or Grilled) Oysters in Herbed-Butter Sauce
Serves 4
1 quart shucked (for broiling) or 2-3 dozen medium or small oysters (for grilling)
1 cube butter, melted or ½ cup olive oil
2 tbsp lemon juice
3 tbsp dry sherry
¼ tsp black pepper
¾ tsp garlic powder or 1 clove minced
2 tbsp chopped parsley or 2 tsp of dry parsley
¼ tsp dill weed
Parmesan cheese, grated
Heat the butter until melted, or oil and add all other ingredients in a saucepan. Keep warm.
For oysters already out of the shell, rinse and drain oysters well. Place oysters in broiler pan and broil until brown (about 3 minutes), placing baking pan on the rack in the middle of the oven. When brown, drain off liquid from oysters. Return oysters to the pan, raw-side up. Pour the sauce over the oysters. Return the oysters to the broiler and when browned (about 2 minutes), sprinkle with Parmesan cheese. Broil just until cheese is lightly browned.
For oysters in the shell, steam in a pot with about 1-2 quarts of water until they begin to open. Remove the oyster meat from the shell and clean the cupped half of the shell for grilling. Rinse and drain oysters well. Place the oysters in the half shell on the grill; add the sauce, sprinkle with Parmesan cheese and cook over medium heat until browned. Do not allow the heat to increase to the point the shells begin to explode as this will result in shell fragments in the oysters. Serve on the half shell.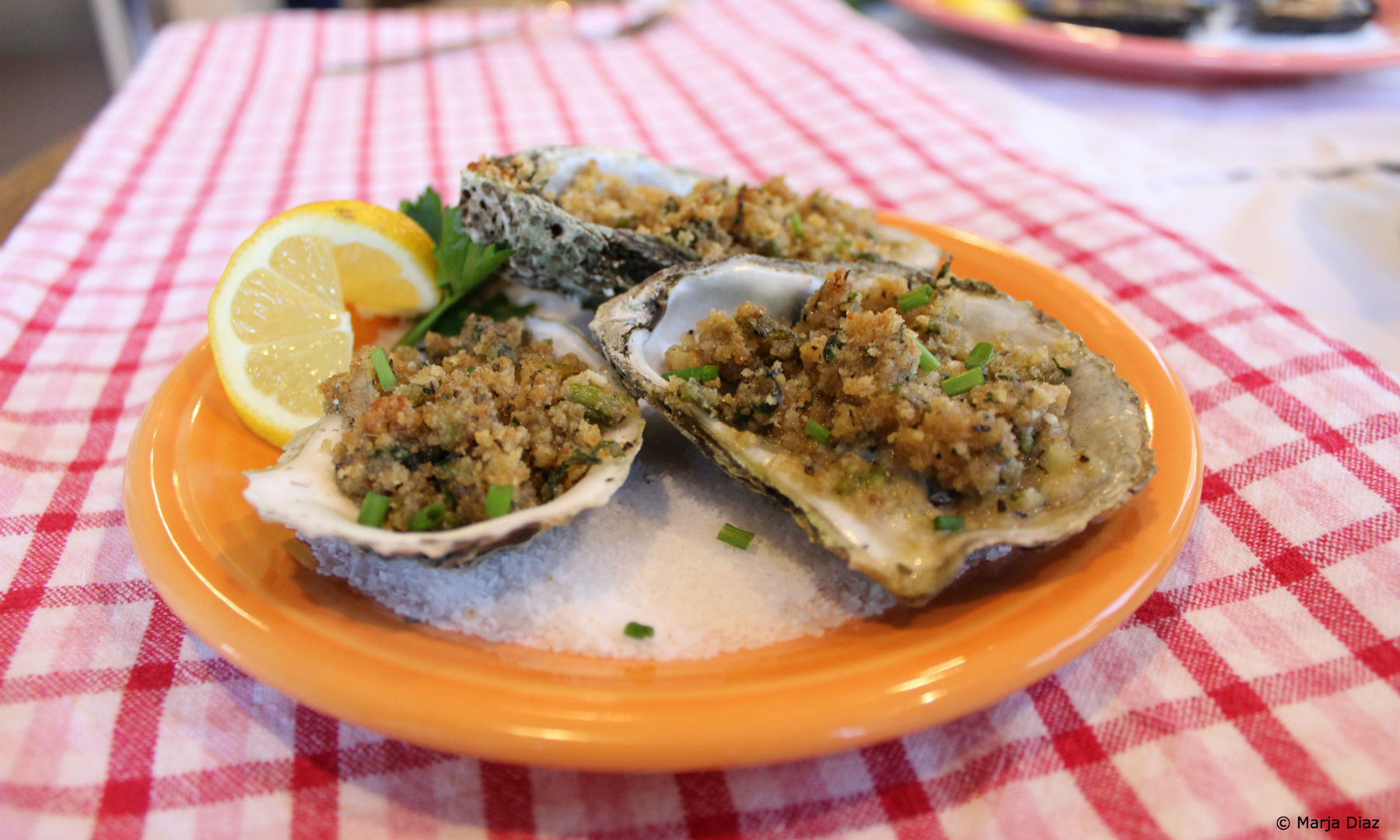 Maryland Oysters Mosca (Recipe from Tal Petty)
Serves 4
10–12 freshly shucked oysters, drained
1/4 cup olive oil
1/4 cup butter
1/4 cup finely chopped green onions
2 tablespoons finely chopped parsley
1 tablespoon finely chopped garlic
1/2 tsp salt
1/4 tsp black pepper
1/8 tsp cayenne pepper
1/2 tsp dried basil
1/2 tsp dried oregano
2/3 cup Italian-seasoned bread crumbs
1/4 cup grated Parmesan cheese
Preheat the oven to 425 degrees. Heat the olive oil and butter in a large, heavy skillet. Add the green onions, parsley and garlic and cook, stirring, until they are soft and translucent. Blend in the rest of the seasoning ingredients, bread crumbs and Parmesan. Arrange the half-shell oysters in one layer in a baking dish. Sprinkle with the seasoned crumb mixture. Bake until bubbly and hot, about 15 minutes.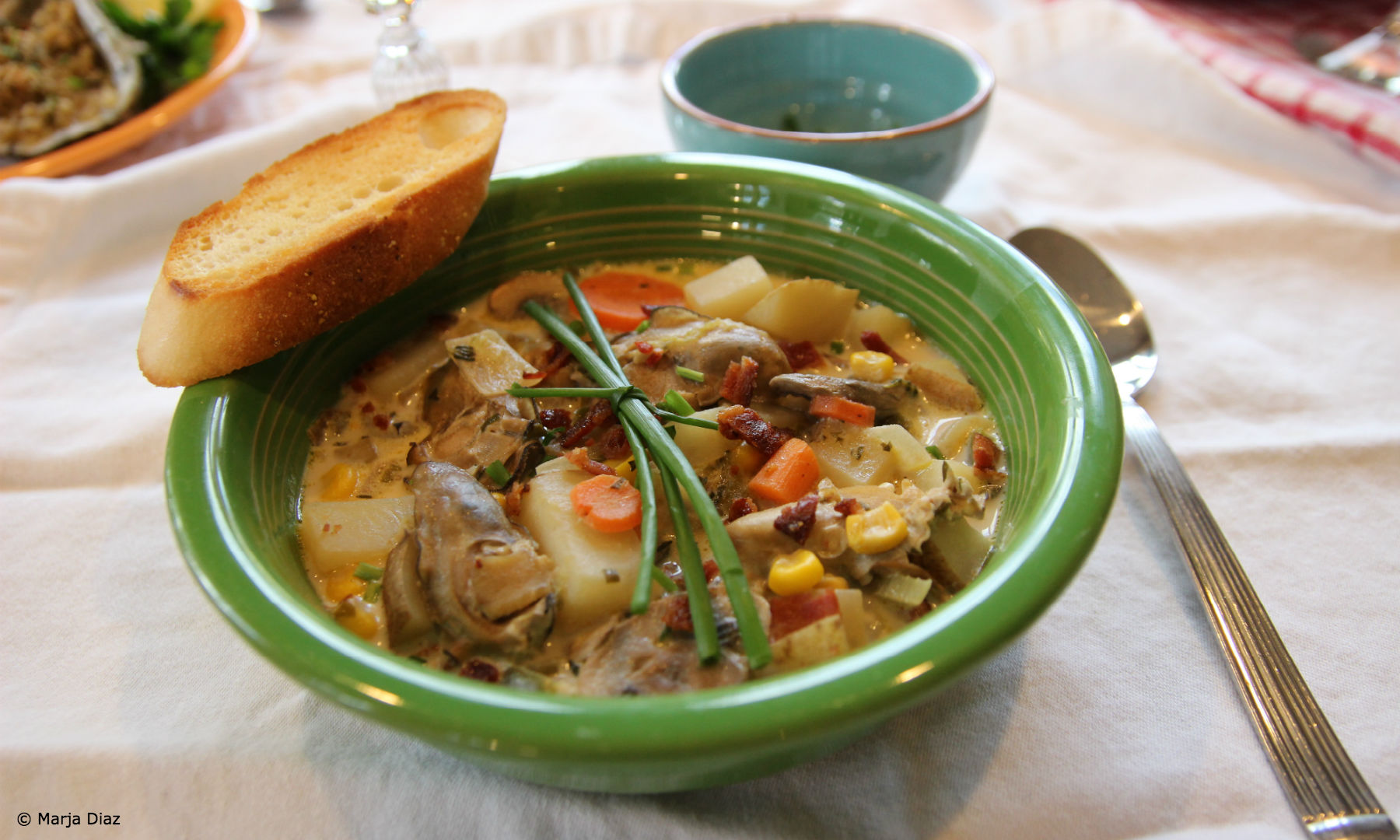 Mike's Super Oyster Stew (Recipe from Mike Oesterling)
Serves 10
1–2 quarts oysters with liquor
2 medium potatoes, diced
1/4 pound butter
1/2 cup chopped onion
1/2 cup thinly sliced celery
1/2 cup diced green peppers
1/2 cup thinly sliced carrots
1/2 cup cooked yellow corn
1 quart half-and-half
1 can (12 ounces) evaporated milk
1 tsp salt
1/2 tsp white pepper
1 tablespoon Worcestershire sauce
1/8 tsp thyme
1/4 tsp sweet basil
1/4 tsp dried chives
1/2 cup sliced mushrooms
8 strips crisp cooked bacon (optional)
Red pepper flakes (optional)
Drop oysters and liquor into 2 cups salted, boiling water, in 2-quart pot. Cook no more than 5 minutes; edges of oysters should be "curled". Remove oysters and cook potatoes in same liquid until firm, but not "crunchy" or "mushy." Sauté onion, celery, green pepper, carrots and corn in butter in large stew pot. While cooking vegetables, begin adding salt, pepper, Worcestershire sauce, thyme, basil and chives. Herbs and spices can be adjusted to taste; rosemary adds a different dimension. Once vegetables are cooked, reduce heat, add oysters, potatoes plus half their liquid, and remaining ingredients. Gently heat; do NOT boil. It's tastier the second day after gentle reheating!
Optional: Garnish with bacon and spicy red pepper.