Tackling Marine Debris at Our Ocean 2017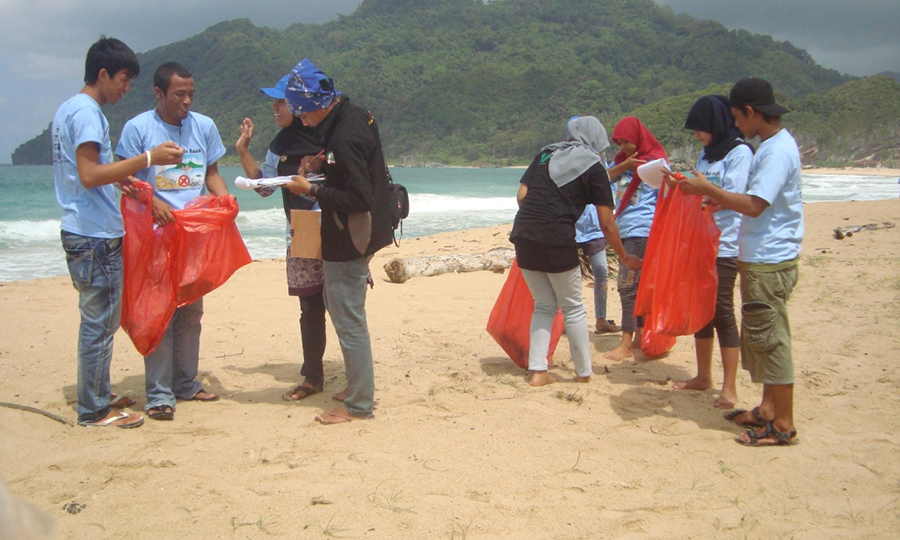 A few months ago, I stated the obvious in an article for Greenbiz: non-governmental organizations (NGOs) alone will not turn the tide on ocean trash.
Ocean Conservancy has always believed in strength in numbers when it comes to our International Coastal Cleanup. A few days ago, hundreds of thousands of volunteers dedicated their Saturday to collecting trash from their beaches, waterways and coasts. By working together, we stopped thousands of pounds of trash from leaking into the ocean.
Recognized as the largest volunteer effort on behalf of the ocean, our cleanups are monumental efforts. They are a testament to the passion we feel for the ocean, and a tangible way we can reduce the amount of plastic flowing into the sea. And yet they are not enough to stop the global crisis of marine debris. What the world needs now is large-scale action, particularly from businesses and industry, that can get us closer to making a meaningful difference in stemming the tide of trash in our ocean.
Marine debris will be a key topic of conversation this week at the Our Ocean conference in Malta. And it's clear that this problem needs the attention of global leaders, because every year an estimated 8 million metric tons of plastic enters our ocean. This is not just an environmental issue that makes us cringe with horror at a photograph of a seahorse latched onto a discarded Q-tip off the coast of Indonesia. This is a human health issue, too. The implications of uncollected or undisposed-of waste, especially in Southeast Asia, are staggering. In 2008, marine debris was estimated to have directly cost the 21 Asia-Pacific Economic Cooperation (APEC) member economies approximately $1.3 billion (U.S.). That is a big number, but it doesn't tell the whole story. It translates into real impacts on real people–from those who suffer floods caused by drains clogged with plastic to those who have to walk or paddle through plastic to make their livelihoods along the coasts.
These impacts were front and center last month in Bali, when the Indonesian government announced the launch of the Alliance for Marine Plastic Solutions (AMPS). Indonesia has a vested interest in ridding its waters of plastic, given the critical role that tourism and fisheries play in its economy, and the fact that a study last year found that 25% of fish in Indonesian markets was found with plastic in its guts. This new partnership, launched with the Trash Free Seas Alliance®, aims to bring together private sector companies with local governments and organizations to catalyze on-the-ground solutions and accelerate opportunities to scale up projects that work. The goal of AMPS is to be a model that other countries like the Philippines and Vietnam could adapt to their situations. Those two countries share a story similar to that in Indonesia, with rapidly growing economies outpacing the national ability to properly collect and dispose of waste.
I'm encouraged that the world is waking up to the crisis of plastic waste in our ocean and that people are working together to resolve it. The recent East Asia Summit Conference on Marine Debris, hosted by Indonesia and New Zealand, focused on taking regional action on this issue while applying lessons learned from different regions of the world to the challenge ahead. I heard much-needed common sense proposals clearly backed by a lot of political will and personal concern, not only from numerous countries but also from major corporations like Dell, as well as key actors like the Closed Loop Fund, the World Bank and the World Economic Forum.
All of this is moving us in the right direction. But there is a big, looming question that remains: where or who or how will we pay for these ideas if we are to move them from concept to reality?
One of the opportunities that could turn the tide for Southeast Asia is creating a flow of bankable waste management and infrastructure projects to demonstrate investment viability and maximize recycling profitability–and keep plastic in the system and out of the ocean. There is no time like the present to create the right structure to catalyze new investments from the private sector, governments and development finance institutions. The expertise already exists. Groups like the Closed Loop Fund have applied a similar model in cities across the United States. I believe we possess all the elements for success: active corporate engagement from key industry leaders like Proctor & Gamble, 3M and PepsiCo; deep expertise and understanding of materials and markets through the World Plastic Council; an ability to leverage public and private capital; and a commitment to demonstrating scale and replicability potential across markets.
What comes next is the critical piece. As world leaders and global titans meet in Malta this week for Our Ocean, I am confident that we will emerge with a bold, new way to drive our intentions and ideas into real action.