Our Ocean at Work: Buoying Boater Safety off Cape Cod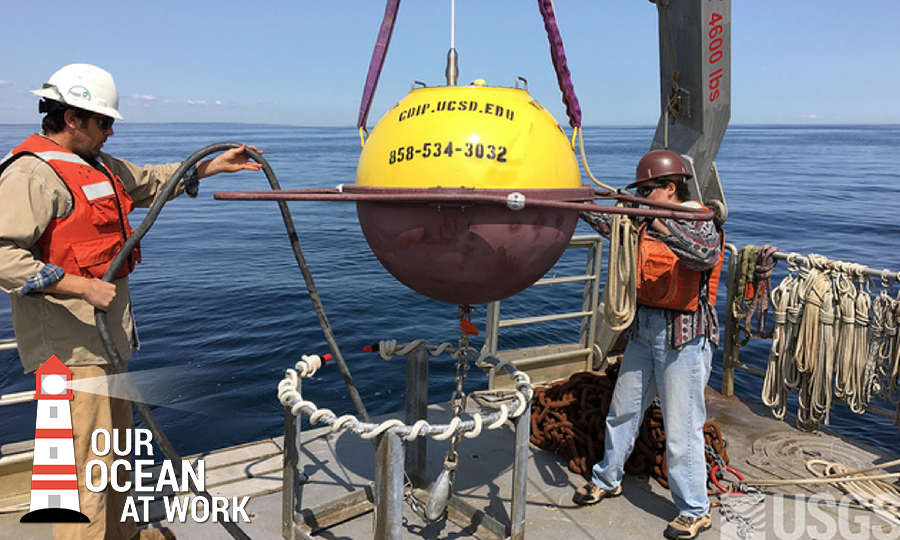 As we watch ships out on our ocean cruise across the sea, navigating with apparent ease, it's tempting to think that piloting ships on our ocean is as simple as driving a car down a road. But the reality is much more complicated. Roads have a system of well-established tools like traffic signals and speed limits to help us drive safely. Out on our ocean is a different story. Knowing current wave conditions is critical for mariners to safely navigate crowded seas. That requires buoys that measure and broadcast those conditions. But where to put these buoys? It's not like placing a traffic light or speed sign, to guide cars in clearly marked lanes on flat asphalt. How do you get a buoy close enough to where ships transit to be useful, but not so close that it might be accidentally run over and destroyed by boats that don't exactly stay in between two white lines?
Enter ocean planning.
In the heavily trafficked waters of Cape Cod Bay, the Cape Cod Canal forms an ocean highway through which ninety-five percent of loaded tugs and barges pass. But until recently, real-time, live data showing weather conditions had not been available, leaving mariners without a critical tool to help them safely navigate the canal. Placing a wave-monitoring buoy was clearly an important safety priority, but where to put it? While the buoy needed to be placed close enough to core shipping routes to provide accurate data for ships, there were concerns about heightened collision risks, which limited the number of places where the buoy could be dropped. Tom Shyka, a scientist with the Northeastern Regional Association of Coastal Ocean Observing Systems (NERACOOS) and was called in to help make the decision.
Shyka knew just what to do. Accessing data from the Northeastern Ocean Data Portal, he pulled up data showing watercraft traffic throughout the bay. The data was displayed on an interactive map, where the scientists' used an interactive 'drawing' feature to mark out potential buoy locations and discuss pros and cons of each based on the other information contained in the Data Portal. With feedback from other project partners including the Massachusetts Department of Environmental Protection, NOAA's National Ocean Service, and several others, the project managers were able to effectively evaluate the options and identify the best possible location for the buoy.
In 2016, the buoy was placed in an area north of the Sandy Neck region of Cape Cod Bay. Today, it continuously measures and provides real-time data on wave and temperature conditions in the bay. This allows ship captains and pilots to safely and efficiently transit through the busy Cape Cod Canal. Not only that, it also allows the National Weather Service to enhance its forecasts, the U.S. Coast Guard to better operate its search-and-rescue operations and the U.S. Geological Survey to plan beach nourishment projects.
Thanks to the ocean planning tools and data used in this project, ship pilots, weather forecasters, fishermen, whale watch operators, recreational boaters and more now have the information they need to stay safe on the waters of Cape Cod Bay.