To the Beach and Beyond: Breaking Down the 2018 International Coastal Cleanup Results
One million people collected over 23 million pounds of trash—here's what they found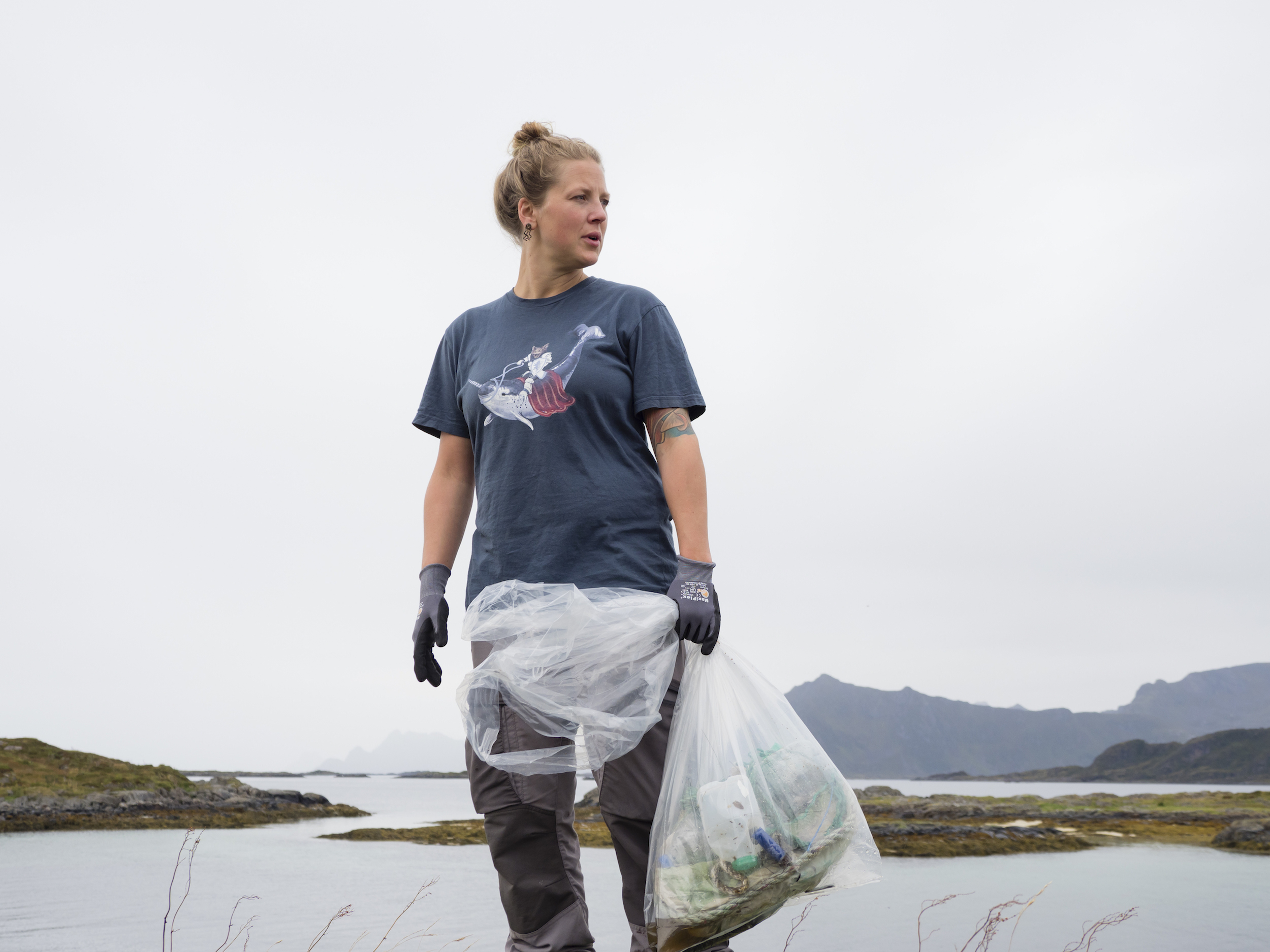 Move over, Aquaman—there  are some new ocean superheroes in town. Today, Ocean Conservancy released our 2019 International Coastal Cleanup (ICC) report showcasing the work of last year's ICC and the results were nothing short of heroic.
Last year, people in 122 countries suited up to join the world's largest single-day volunteer effort for our ocean. From rivers in landlocked states to the coasts of nearly every continent, the movement for a clean ocean truly reached the beach and beyond.
And for the first time in its 34 year history, more than ONE MILLION people joined the ICC, collecting over 23 million pounds of trash across 22,300 miles of beaches, coastlines and waterways. 
Of those 23 million pounds of trash, volunteers collected enough plastic bags to make capes for 1,056,514 superheroes; enough fishing line to lasso a villain over 143 miles away; and enough balloons to make 17 superheroes fly. There were also some bizarre one-off finds: a boombox, a chandelier and a fake Christmas tree were all collected at cleanups around the world.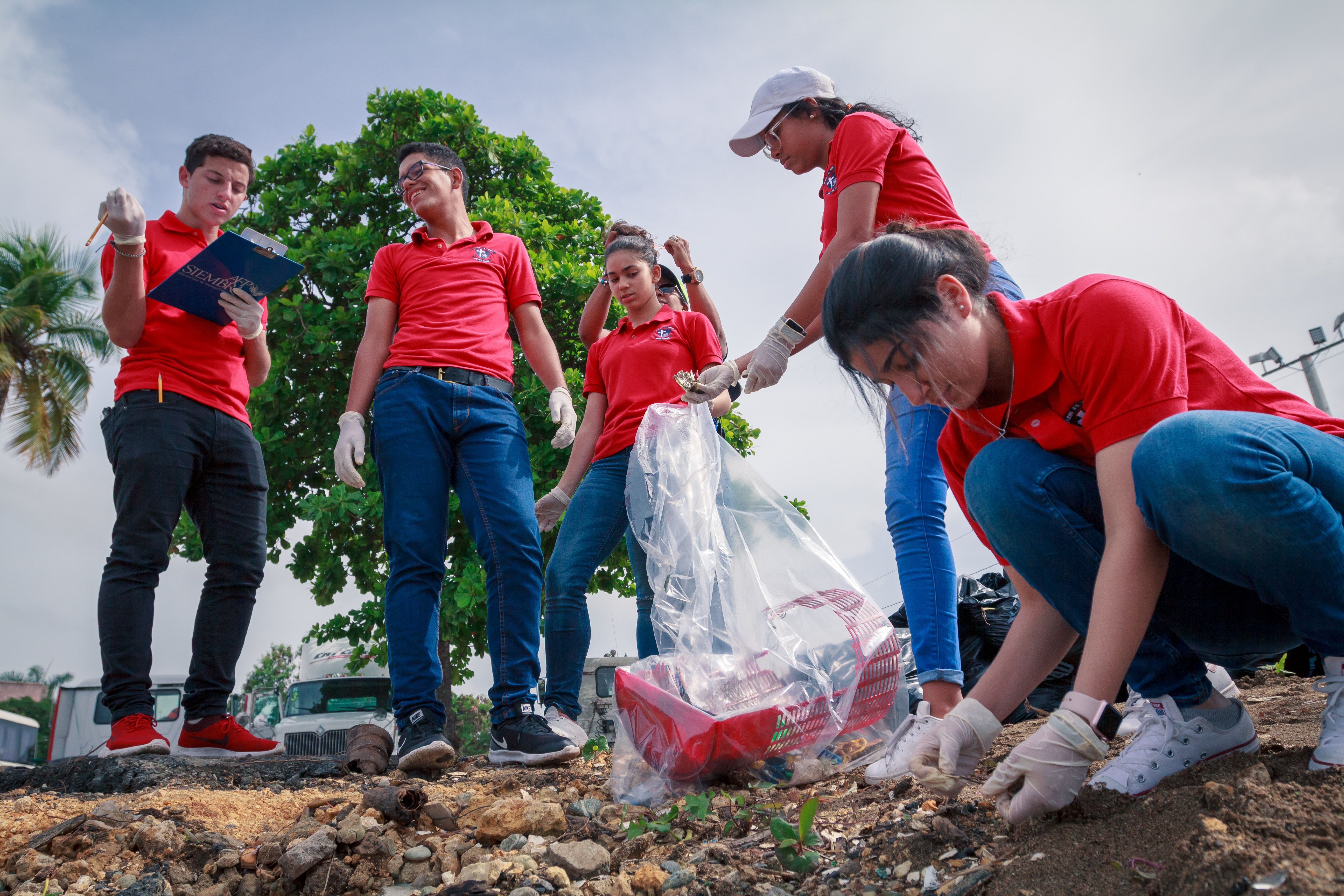 Volunteers used Clean Swell and printed data forms to keep track of the items they were collecting, and the totals were out of this world. More than 97,457,000 individual items were recorded and added to Ocean Conservancy's marine debris database, which informs scientists and lawmakers, allowing them to develop science-driven solutions to the marine debris crisis.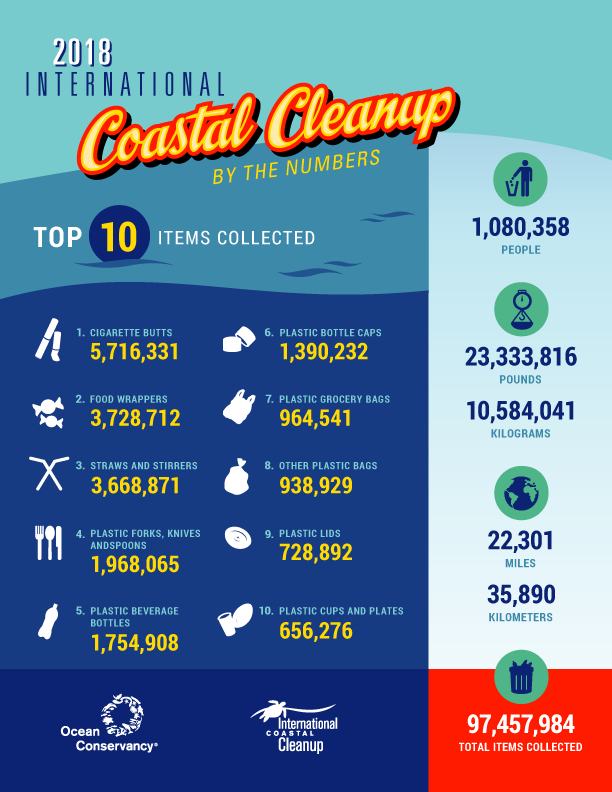 Cigarette butts continued their decades-long streak as the most collected item, with over 5.7 million recorded, and plastics once again dominated the items found, with food wrappers (more than 3.7 million), straws and stirrers (nearly 3.7 million) and beverage bottles (1.7 million) all making the top five. However, one item that was a new—and surprising—addition to the list: plastic forks, knives and spoons cracked the top ten for the first time since 2012 with nearly 2 million collected across the world.
Plastic cutlery is among the most deadly items to marine wildlife according to Ocean Conservancy's 2015 Threat Rank Report. In fact, plastic utensils are likely the most frequently ingested items by animals like sea turtles and seabirds, ahead of the more well-known menaces of plastic bags and straws.
Luckily, there are ways we all can be ocean superheroes and prevent plastic from reaching the water in the first place. Personal choices matter: reducing our consumption of single use plastics can make a big difference for the ocean. In addition to using reusable bags and #SkippingtheStraw, we can choose to #QuittheCutlery, and take our own utensils when getting food on the go. We can also advocate for big, systemic changes by calling our representatives and advocating for legislation like the Save Our Seas Act.
And, of course, we'd love to see everyone at this year's ICC—it's just around the corner. Visit www.signuptocleanup.org to find a cleanup near you.