NFL Players and Broadcaster Support Our Ocean for My Cause My Cleats 2020
Players from Cleveland Browns, Cincinnati Bengals and Sky Sports in the U.K. will be wearing cleats to raise awareness of ocean conservation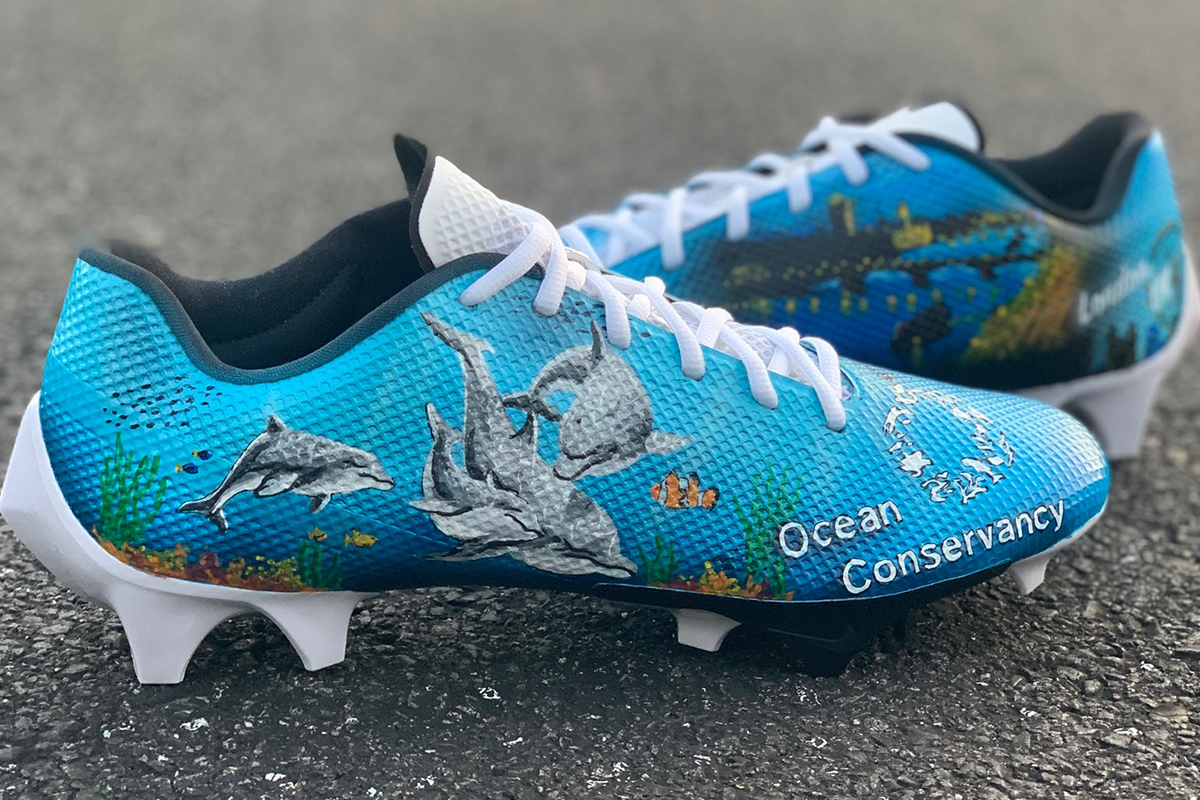 Michigan and Ohio may not be the first places you think of when you think of the impacts of climate change, but according to the Environmental Protection Agency, the Great Lakes region as a whole is "facing more frequent and heavier rainstorms, increased flooding, the ice cover on the Great Lakes is forming later and melting sooner and there are more extreme heat days." What happens inland has an impact offshore—whether it's plastic pollution entering our waterways, nutrient pollution degrading water quality or any other issue facing our ocean. This is why Ocean Conservancy is excited to partner with Cleveland Browns running back, D'Ernest Johnson and Detroit native and Cincinnati Bengals defensive end, Khalid Kareem for the NFL's My Cause My Cleats initiative. Neil Reynolds, Sky Sports NFL reporter and host, also joins Team Ocean. Like the Great Lakes, the United Kingdom is facing a number of climate change impacts from excessive heat to sea level rise. Inspiring action and sharing their personal connections to the ocean makes a difference and we're excited to unveil this year's Team Ocean cleats.
Love our content?
Sign up to never miss an update!
D'Ernest Johnson, running back, Cleveland Browns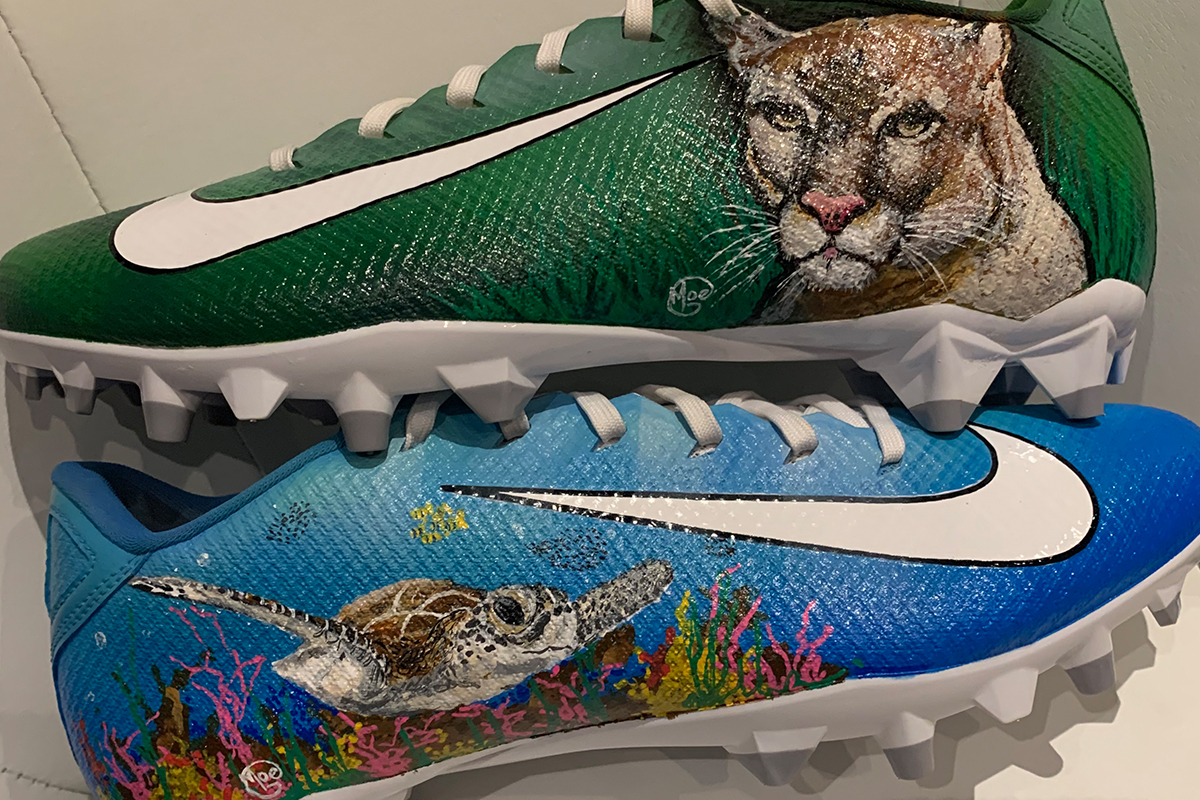 D'Ernest, who hails from Immokalee, Florida chose some of the iconic Florida wildlife for his cleats. His hometown is about an hour's drive from Big Cypress Nature Preserve, home to the Florida Panther. According to the National Park Service, "there are about 150 Florida Panthers in the wild with nearly a third of them use Big Cypress National Preserve as their main habitat."
Moving from inland Florida to the water, D'Ernest wanted to highlight his love for the ocean, specifically his favorite ocean animal, the sea turtle. A loggerhead sea turtle is featured on his other cleat, a nod to the most widespread sea turtle species in the world, and the most abundant of all sea turtle species in the United States.
"I love being on the water and want to make sure everyone is doing all they can to protect our ocean for future generations," says Johnson. "Growing up in Immokalee, going to school at the University of South Florida and spending time in the Keys, the link between my home state and the water surrounding it is critical to our future. I wanted to join Team Ocean because the climate crisis is taking a heavy toll on Florida and I see the work Ocean Conservancy is doing there as a way to make progress on the many issues facing the state."
Game Broadcast Info: Cleveland Browns vs. Tennessee Titans, Sunday 12/6 at 1pm, CBS
Khalid Kareem, defensive end, Cincinnati Bengals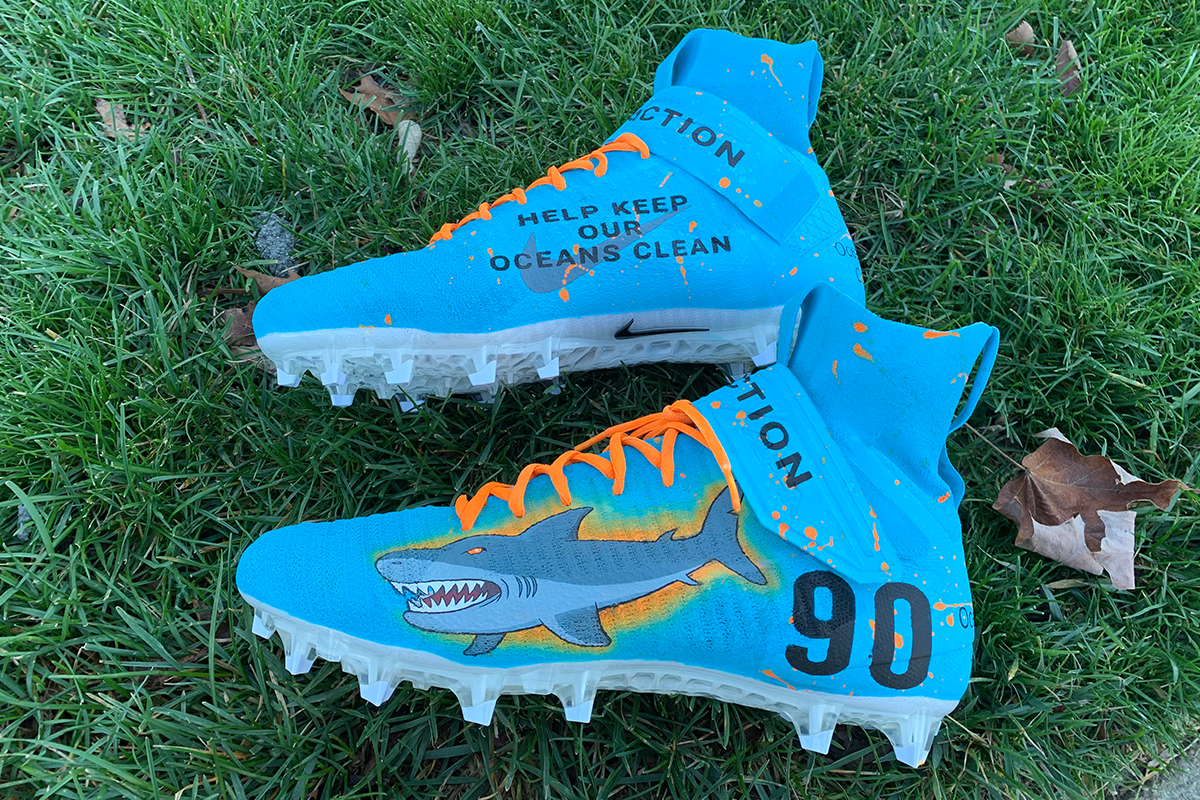 Khalid Kareem spoke to Ocean Conservancy's Chief Scientist, George Leonard, this summer and expressed his dream to see great white sharks breaching off the coast of South Africa. While that's a goal still on Khalid's "to do" list, for now he's channeling his inner shark with a call to action for our ocean on his cleats.
"Whether it was spending time on the Great Lakes or family vacations to the Bahamas, I've spent my life fascinated with the ocean and everything that lives beneath the surface," says Kareem. "Sharks are my favorite and I know their livelihood as well as all sea life and all of us who depend on a healthy ocean are at the point where action is necessary. I'm happy to be a part of Team Ocean and support Ocean Conservancy's work on the climate crisis and all of the issues facing our ocean."
Game Broadcast Info: Cincinnati Bengals vs. Miami Dolphins, Sunday 12/6 at 1pm, CBS
Neil Reynolds, NFL Reporter and Host, Sky Sports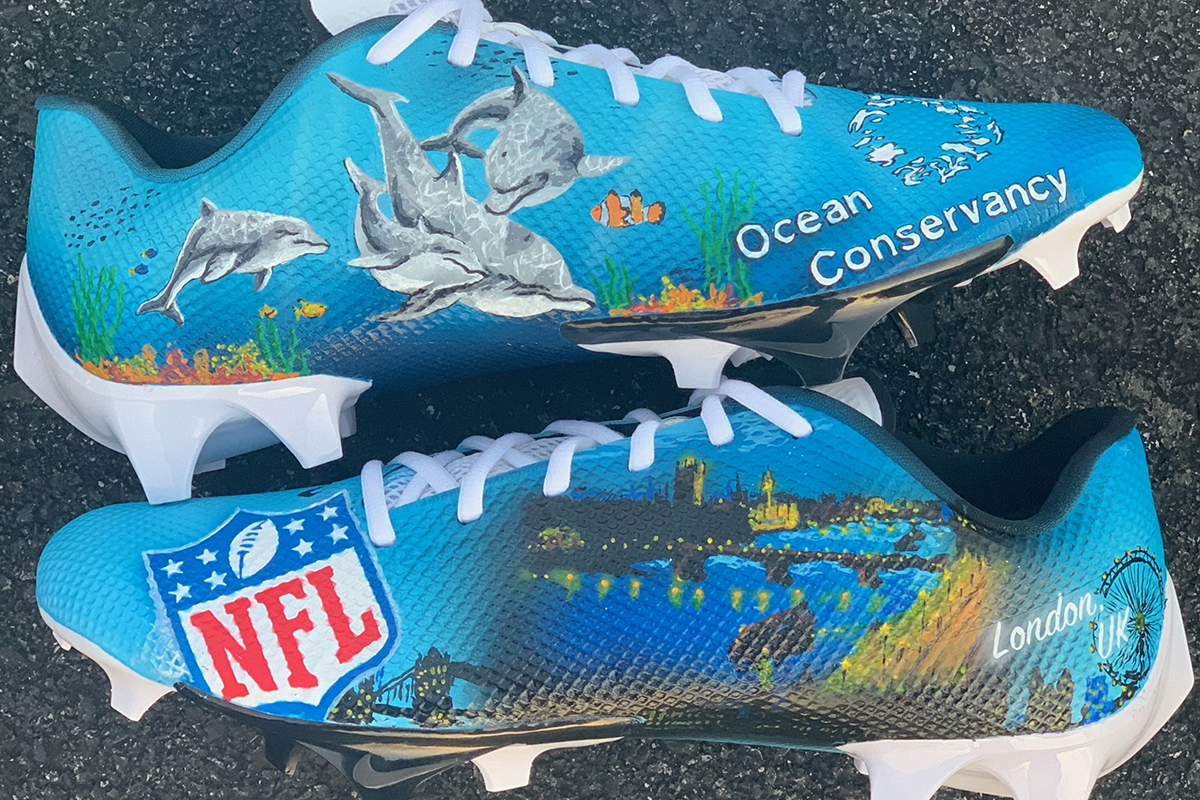 Last season, Neil saw firsthand Ocean Conservancy's work with the Miami Super Bowl Host Committee, NFL, players and partners to remove 54 tons of debris from Florida's coasts. Ocean Conservancy also provided scientific guidance to Hard Rock Stadium, resulting in a significant reduction of single use plastic in time for Super Bowl LIV. After interviewing other Team Ocean members like Arizona Cardinals RB Kenyan Drake and San Francisco 49ers RB Raheem Mostert and hearing how passionate players were about this, he was eager to join this year's team.
"I've always enjoyed spending time by the sea and whenever my family and I are at the beach or even out a park, we are amazed by the amount of trash we find washed up," says Reynolds. "I know that my platform allows for more people to see what's going on and take action and I'm thrilled to join Khalid and D'Ernest for this year's Team Ocean campaign."
Broadcast Info: Sky Sports NFL Gameday coverage
D'Ernest, Khalid and Neil are standing up for our ocean and action on climate change. Along with last year's Team Ocean members and our new additions, athletes and the world of sports are showing that they can make things happen on the field and off.
Love our content?
Sign up to never miss an update!