Is Recycling Broken? Yes
Do we need to fix it to solve the ocean plastic pollution crisis? Absolutely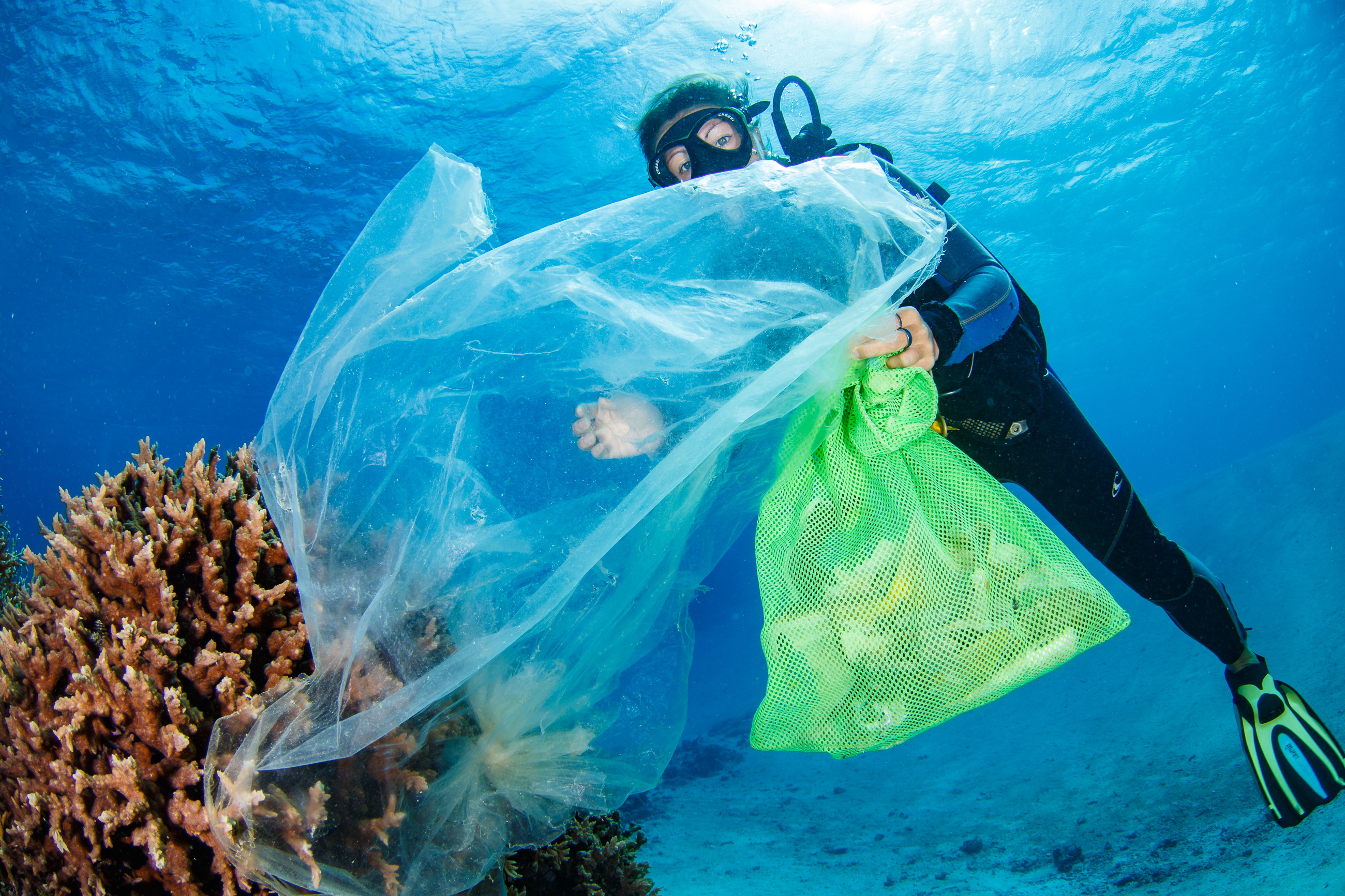 On World Oceans Day 2019, we celebrate all that is wonderful about the ocean while not losing our focus on the challenges facing the ocean—especially ocean plastic pollution.
Ocean Conservancy has witnessed impacts from ocean plastic firsthand over our 45-year history. We have a bold goal to stop the flow of plastic into the ocean by 2030. This is critical for the ocean, and in our fight against climate change.
Approximately 6,300 million metric tons of plastic waste has been generated since the creation of plastics in the 1950's. Only 9% of this plastic waste has been recycled, with the remainder incinerated, landfilled or left in the natural environment. Of the roughly 9% that has been recycled, only 10% of that has been recycled more than once; this means that only 1% of all plastic produced has been recycled more than once. This is a massive scourge for our ocean; roughly 150 million metric tons of plastic waste now pollutes our ocean with an additional 8 million metric tons (and growing) spilling into the marine environment from land every year.
Plastics are a contributor to the climate crisis as well. New research from the University of California, Santa Barbara warns that— if left unabated—greenhouse gas emissions (GHGs) from plastic production could reach 15% of our global carbon budget by 2050. That future is unacceptable. The research identifies improvements in recycling as a critical pathway to achieve significant reductions in greenhouse gas emissions. If we recycle all plastic waste, GHGs from plastic would decrease by 25% by mid-century. In stark contrast, incinerating all plastic waste would drive an increase in GHGs in our atmosphere of 22%.
No matter how you slice it, the ocean is put at continued risk from a "business as usual" expansion of plastics production and consumption. And everyone I speak with—people of all walks, NGOs, scientists, consumer goods companies and plastic makers—agree that plastic does not belong in the ocean. But how do we tackle this crisis?
First, we must reduce the amount of plastic being produced.  We need to start with phasing out unnecessary and single-use plastics. Every year, the same disposable products appear on Ocean Conservancy's International Coastal Cleanup Top 10 of the most common items littering our beaches and waterways around the globe—items like plastic bags, foam containers and straws. Our scientists have shown how damaging these products are to marine life and the marine environment.
Bans, fees, and product restrictions are effective ways to have an outsized impact on local communities while reducing the amount of plastic produced. If those products are out of the market altogether, they won't end up in the ocean. For example, if only 2% of retail plastic bags find their way to the ocean each year, a global ban on plastic bags would mean that approximately 10 billion pieces of plastic would no longer be available to impact marine life. Apply that same kind of calculus to straws and that's another 4 to 6 billion pieces of plastic that won't potentially get lodged into sea turtles' nostrils.
Ocean Conservancy has led the way with these efforts with our Skip the Straw campaign that we launched in 2014.Now paper and aluminum straws are all the rage.  As of 2018, 127 out of 192 countries had adopted legislation to ban or tax plastic bags. The European Union just banned 10 single-use plastic products. If we take this kind of action around the world, we keep these harmful products out of the ocean, and we'll have less to pick up during the International Coastal Cleanup.
Second, for recyclable plastics, we must collect and recycle them better and smarter. Ellen MacArthur Foundation's 2017 analysis revealed that about 50% of plastic packaging currently on the market could be economically recycled with concerted efforts by industry to redesign these products. This is absolutely critical to get beyond our current historic 9% global recycling rate for plastic.
But right now even recyclable plastics are piling up at recycling facilities across the U.S. and in countries around the world as China puts strict restrictions on imports of waste into their country. Instead of selling plastics to overseas markets, U.S recycling facilities now have to spend money to get rid of plastics. To have an effective recycling system for plastics, we must have improvements in basic waste management systems to improve collection of materials and enhanced market demand to drive uptake in the recycled content into fully recyclable (and recycled) new products. To address this fundamental market failure, we need policies that fund collection, create incentives for use of recycled content, and create market demand to empower a fully circular economy. Such an approach could create demand for recycled plastics while simultaneously phasing out unnecessary single-use plastics that foul recycling systems.
In the U.S., California is leading the way with proposed legislation that will set mandates to reduce waste from single-use packaging and ensure that the remaining products are effectively recycled. Ocean Conservancy supports this legislation as a serious step in the right direction. We know that even more can be done to build markets for recycled content to help companies meet their sustainability goals while simultaneously stopping plastics from entering the ocean.
To get there, businesses and companies must ensure that the products they're putting into the marketplace can be captured, returned and reused/recycled, instead of landfilled, littering our communities, or going into the ocean.
The tide is beginning to turn. We have seen a number of commitments by companies, including those in our Trash Free Seas Alliance, embracing this challenge. Starbucks and McDonalds' NextGen Cup Challenge will eliminate plastic cup waste altogether by creating a fiber cup that is truly recyclable and compostable. In Indonesia, Danone's AQUA brand bottled water introduced a bottle made from 100% recycled plastic that is also 100% recyclable. While some leaders in the private sector are making progress, many more companies need to join this movement.
We cannot undo the previous 70 years of plastics production that has already damaged our ocean. But we can shape the trajectory of our future. This will require a Herculean effort, and no single solution on its own can succeed. But Ocean Conservancy is committed on all fronts to stop plastics from entering the ocean by 2030.
Will you join us?